Vietnam's Leading Destination Manager Company
Trust is more valuable than gold
About Lily's Travel Agency
Established in 2007, after 15 years of establishment and development, with more than 1400 5* reviews on Tripadvisor, Lily's Travel is one of the best tour operators in Vietnam and always ranked at the TOP of the best travel agencies in Hanoi and the whole North of Vietnam. With 15 years of operation, Lily's Travel Agency has been getting close to the mission of making more and more foreign tourists come to Vietnam, contributing to promoting cultural exchanges and "marketing" the great beauty of Vietnam to international guests in the world.
Why should you choose Lily's Travel?
With 1400+ 5 stars review on Tripadvisor by travellers on all over the world. We very proud to be one of the best travel company in Vietnam. We are keep trying our best everyday to be more and more excellent!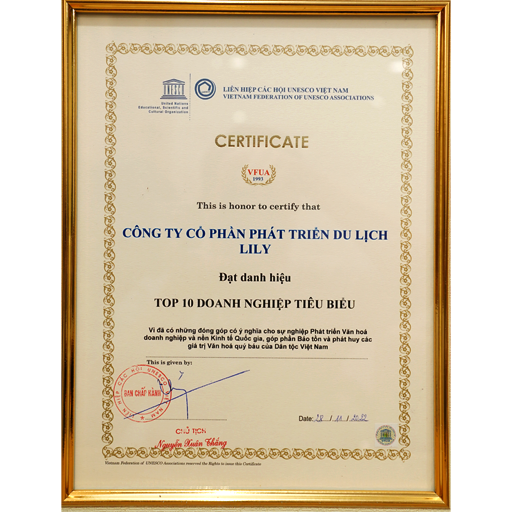 After a long time trying our best, we are proud to be in the top 10 typical enterprises of UNESCO Vietnam 2022. Recognized by Vietnam Union of UNESCO Associations (There are 2415 enterprises)
Recommend by Le Petit Futé - One of the biggest travel guidebooks in France
Lily's Travel is proud to be recommended in one of the world's renowned travel books - Le Petit Fute book. In its 2018 edition, Lily's Travel was also recommended, and in the 2022 edition, we are honored once again to appear in this book!
With more than 600 reviews and 5 stars on google business during 15 years of trying, we always listen to feedback and offer solutions to all of our customers' problems!
Best seller of Lily's Travel
Top Destinations in Vietnam
There are the most attractive spots visitors should visit in Vietnam, includes including masterpieces of nature, cultural-religious constructions or national parks, resorts… that create the beauty of religion – beliefs of each cultural region in Vietnam.
Very easy to book a trip with Lily's Travel!
Follow us on YouTube to understand more about Vietnam!
With more than 15 years experience working in the tourism industry, working as both a tour operator and hotel – restaurant, I am very proud to say that I can give you the best advice for your trip to beautiful Vietnam.
Our team and I pride ourselves in tailor making perfect Vietnam trips to suit all budgets and travel styles.
Lily's Vietnam Travel Advice
All the suggestions, advice and instructions that Lily's Travel has accumulated to become tips to help your trips become more attractive, interesting and significant.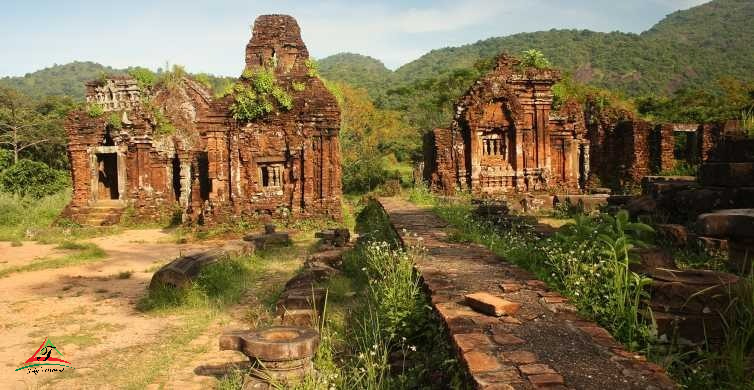 My Son Sanctuary: My Son Hoi An has long been a famous tourist destination nationwide in Quang Nam province. This location is a Cham Pa architectural
Read More »
Tripadvisor: all the high praise and appreciation for Lily's Travel from visitors over the world.
We booked our family trip in Hanoi, Sapa & Ha Long Bay with Lily's agency. Everything was so perfect !  From the moment we decided to engaged them to plan... read more the entire trip, we felt that their so passionate & friendly especially Tim & Doris who have done a very good job. When we arrived Hanoi, I found that there was a typo error in air ticket issued for our return. My niece will face the risk to deny entry to plane due to this error. Doris is so helpful, she help to contact the Vietnam Airlines office to clarify this matter. As a result from this, we are requested to send our passport & booking confirmation to airline office to rectify it. As not to interrupt our trip in Vietnam, Doris offered the help to come & collect the passport & booking confirmation with me in a tourist spot & immediately sent for rectification. I have no words to describe how thankful I am for the service provided. Once again, my family would like to say thank you to them that delivered such a service beyond our expectations. If you're planning a trip to Vietnam, I highly recommend you engaged Lily's Travel Agency to help. You will not regret

charlesncp


May 4, 2023

First trip to Vietnam - This is my first trip to Vietnam and based on online recommendation (I think its reddit or trip advisor?), I choose to booked 2D1N tour on Ha Long bay with... read more Lily's Agency.

As I be arriving to Hanoi towards the end of April, I had a great discussion with Emma and Lucy on my 5 days in Vietnam travel plan. Both ladies ensured that everything will be taken care from airport pick up to my preference in staying on the type of hotel, transport to and from Ha Long bay, cruise ship type, transport from hotel to the airport.

Shout out to Lucy for going above and beyond to ensure everything is in order even though she's back to her hometown and I'm done with the 2D1N tour, and not forgetting answering my question about the trip + random question about Vietnam e.g. tips, food, old quarter location, and the public holidays. I made couple of friends with fellow travelers a ships (solo/friends).

I'll probably booked Lily's travel again on my future trip to Ninh Binh or other places (Yet to plan), and will recommend your company to my friends (especially friends who enjoy travelling solo ).

Mansor M


May 4, 2023

Trip to North Vietnam - We booked our whole trip in North Vietnam with Lily's agency. Everything was PERFECT! They send us a tour program, I had some changes, no problem. The hotels they... read more choose were perfect. Every tour they choose were PERFECT. When I had a question the replied almost immediately!
100% recommendation!!
Big Thank you for a nice trip in North Vietnam!

christinehP2800UA


May 3, 2023
GET HONEST, SINCERE AND ENTHUSIASM ADVICE FROM LILY TRAVEL EXPERT, PLEASE LET US KNOW:
For advertising, SEO, cooperation please sent email to marketing.lilystravel@gmail.com
Thank you for choosing Vietnam as your destination!
Thank you for your kind trust in Lily! With 20 years of experience, Lily travel expert team will contact you soonest for best trips and Advice
For faster advice, you can WhatsApp/Line/Viber us +84 931 152 368 or +84 977 139 655 – Lily Nguyen (Normally reply in 5mins)
For advertising, SEO, cooperation please sent email to marketing.lilystravel@gmail.com