Trust is more valuable than gold
About Lily's Travel Agency
Established in 2007, after 15 years of establishment and development, with more than 1000 5* reviews on Tripadvisor, Lily's Travel is one of the best tour operators in Vietnam and always ranked at the TOP of the best travel agencies in Hanoi and the whole North of Vietnam. With 15 years of operation, Lily's Travel Agency has been getting close to the mission of making more and more foreign tourists come to Vietnam, contributing to promoting cultural exchanges and "marketing" the great beauty of Vietnam to international guests in the world.
Why should you choose Lily's Travel?
With 1000+ 5 stars review on Tripadvisor by travellers on all over the world. We very proud to be one of the best travel company in Vietnam. We are keep trying our best everyday to be more and more excellent!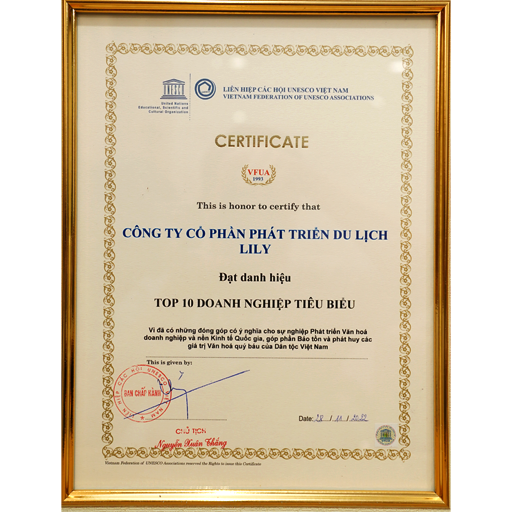 After a long time trying our best, we are proud to be in the top 10 typical enterprises of UNESCO Vietnam 2022. Recognized by Vietnam Union of UNESCO Associations (There are 2415 enterprises)
With more than 400 reviews and 5 stars on google business during 15 years of trying, we always listen to feedback and offer solutions to all of our customers' problems!
Best seller of Lily's Travel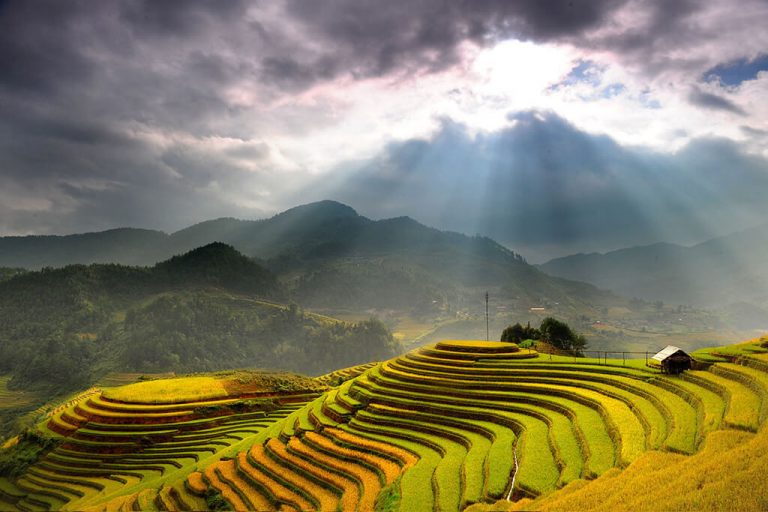 HOW TO DISCOVER THE NORTH OF VIETNAM WITH 7 DAYS
♦ Ha Noi – Ha Long – Sapa – Ninh Binh – Ha Noi             
$426   $315 / Pax
EASY TRIP WITH 7 DAYS IN THE NORTH AND MIDDLE VIETNAM
♦ Ha Noi – Ha Long – Ninh Binh – Da Nang – Hoi An   
$450   $337 / Pax
14 DAYS EXPLORE VIETNAM AND CAMBODIA
♦ Ha Noi- Ha Long – Hoi An – Ho Chi Minh – Cu Chi – Mekong delta – Siemreap – Angkor
$1289   $1160 / Pax
10 DAYS TO DISCOVER THE NORTH AND MIDDLE VIETNAM
♦ Ha Noi- Ha Long – Sapa – Ninh Binh – Da Nang – Hoi An
$550   $499 / Pax
ONLY 14 DAYS TO VISIT WHOLE VIETNAM
♦ Ha Noi- Ha Long – Ninh Binh – Da Nang – Hoi An – Mekong delta – Ho Chi Minh city – Phu Quoc
$889   $774 / Pax
VISIT VIETNAM IN ONLY 5 DAYS

♦ Ha Noi- Ha Long – Ninh Binh
$450   $248 / Pax
Top Destinations in Vietnam
There are the most attractive spots visitors should visit in Vietnam, includes including masterpieces of nature, cultural-religious constructions or national parks, resorts… that create the beauty of religion – beliefs of each cultural region in Vietnam.
Very easy to book a trip with Lily's Travel!
Follow us on YouTube to understand more about Vietnam!
With more than 15 years experience working in the tourism industry, working as both a tour operator and hotel – restaurant, I am very proud to say that I can give you the best advice for your trip to beautiful Vietnam.
Our team and I pride ourselves in tailor making perfect Vietnam trips to suit all budgets and travel styles.
Lily's Vietnam Travel Advice
All the suggestions, advice and instructions that Lily's Travel has accumulated to become tips to help your trips become more attractive, interesting and significant.
Bun bung is a popular dish of Hanoi people. No one knows when it first emerged, but it was sold on the capital's sidewalks in
Read More »
Lily's Most Popular Vietnam Tours
Including all the famous landmarks and tourist attractions in Vietnam selected by Lily's Travel, which you must visit once in your life.
Tripadvisor: all the high praise and appreciation for Lily's Travel from visitors over the world.
We are completing a 10 day tour of Hanoi, Ha Long Bay and Ninh Binh. All of it planed by Mrs Vani of Lily's Travel in Hanoi, Vietnam. Ever detail... read more has been executed down to the precise minute. I was a little worried from the beginning not knowing anything about a travel agent half way around the world but the professionalism and attention to detail put me at ease. Every driver, guide and office staff, (big shout out to Mia who my daughter and her friend became good friends with immediately) did everything and more than expected. Everyone's English was excellent. What is amazing is how Mrs. Lily has instilled in every person at the company a desire to check on you every day. Customer service is a lost art in today's times but not with Lily's Travel. Book with them and you will be very pleased.

Dan C


March 27, 2023

I have been very pleased with all the suggestions and organization that they did!! The most important thing for me is that they are always active so whenever you message... read more them there are always going to reply.
We spent 11 days in vietnam started from the north all the way to the central and it has been an unforgettable experience.
Also when we met them Doris made us feel like we were home which was really nice of her!
We loved all the activities and we warmly thank them!!

134melinab


March 27, 2023

We started working with Lily's Travel the minute we thought about going to Vietnam - and we couldn't imagine our amazing trip without their guidance, local knowledge and kindness. From... read more the first call to learn about our budget, wants and needs, they supported us in planning and facilitating a trip of a lifetime.

We booked 10+ tours through Lily's Travel, and all accommodation and local transportation. This allowed us to relax and really enjoy our trip by reducing the time, effort and stress that often comes with travelling in a new country where you don't speak the language. They were always available to answer our questions leading up to and during our stay - no matter the time and topic, and helped us add even more tours last minute to the end of our trip.

At first we were concerned that working with a travel agency would reduce the authenticity of our time in Vietnam, but it was the exact opposite. Vani and Quinny (the amazing staff at Lily's Travel who we worked with), ensured that we stayed in the right neighborhoods and booked every tour with Vietnamese guides who shared with us their favourite local spots to visit, shop and eat. Our trek in Sapa, especially, allowed us to stay and learn with a local family - while experiencing Vietnam away from the rush of tourists.

When we were in Hanoi, we chose to visit Lily's Travel to meet Vani and Quinny, and were blown away by their warm welcome including treats and tea. Throughout the trip we were also invited to drop off our luggage at their office during tours, and were even offered showers before heading onto a plane and night train.

We have only been home a couple days, and have already encourage our own friends and family to book their itinerary and tours with Lily's Travel and hope this review inspires all travellers to Vietnam to do the same!!!

758leighl


March 26, 2023
GET HONEST, SINCERE AND ENTHUSIASM ADVICE FROM LILY TRAVEL EXPERT, PLEASE LET US KNOW:
For advertising, SEO, cooperation please sent email to marketing.lilystravel@gmail.com
Thank you for choosing Vietnam as your destination!
Thank you for your kind trust in Lily! With 20 years of experience, Lily travel expert team will contact you soonest for best trips and Advice
For faster advice, you can WhatsApp/Line/Viber us +84 931 152 368 or +84 977 139 655 – Lily Nguyen (Normally reply in 5mins)
For advertising, SEO, cooperation please sent email to marketing.lilystravel@gmail.com