Trust is more valuable than gold
About Lily's Travel Agency
Established in 2007, after 15 years of establishment and development, with more than 1000 5* reviews on Tripadvisor, Lily's Travel is one of the best tour operators in Vietnam and always ranked at the TOP of the best travel agencies in Hanoi and the whole North of Vietnam. With 15 years of operation, Lily's Travel Agency has been getting close to the mission of making more and more foreign tourists come to Vietnam, contributing to promoting cultural exchanges and "marketing" the great beauty of Vietnam to international guests in the world.
Why should you choose Lily's Travel?
With 1000+ 5 stars review on Tripadvisor by travellers on all over the world. We very proud to be one of the best travel company in Vietnam. We are keep trying our best everyday to be more and more excellent!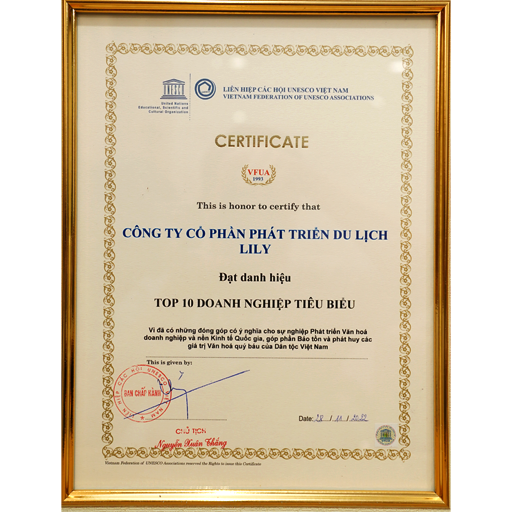 Top 10 UNESCO Vietnam 2022 typical enterprises
After a long time trying our best, we are proud to be in the top 10 typical enterprises of UNESCO Vietnam 2022. Recognized by Vietnam Union of UNESCO Associations (There are 2415 enterprises)
With more than 400 reviews and 5 stars on google business during 15 years of trying, we always listen to feedback and offer solutions to all of our customers' problems!
Top Destinations in Vietnam
There are the most attractive spots visitors should visit in Vietnam, includes including masterpieces of nature, cultural-religious constructions or national parks, resorts… that create the beauty of religion – beliefs of each cultural region in Vietnam.
Very easy to book a trip with Lily's Travel!
Follow us on YouTube to understand more about Vietnam!
With more than 15 years experience working in the tourism industry, working as both a tour operator and hotel – restaurant, I am very proud to say that I can give you the best advice for your trip to beautiful Vietnam.
Our team and I pride ourselves in tailor making perfect Vietnam trips to suit all budgets and travel styles.
Lily's Vietnam Travel Advice
All the suggestions, advice and instructions that Lily's Travel has accumulated to become tips to help your trips become more attractive, interesting and significant.
North of Phu Quoc island is a rich land with primeval forests and pristine, beautiful and poetic beaches. Dubbed as a raw pearl with many mysteries
Read More »
Lily's Most Popular Vietnam Tours
Including all the famous landmarks and tourist attractions in Vietnam selected by Lily's Travel, which you must visit once in your life.
Tripadvisor: all the high praise and appreciation for Lily's Travel from visitors over the world.
Self and wife travelled from 6th to 21st January, 2023 in Vietnam & Cambodia.We took the help from Lily's Travel Hanoi to organise our customized trip.They did it very... read more well.Right from the beginning Mr.Lee communicated with me very professionally and well in time.He gave me all the details and made a program for us.
We must say that his selection of hotels, arrangements of the tour programs,vehicles, guides, and even food(we had some preferences) were excellent. Later stage, Dorris also helped us with all the Informations. Throughout the tour, they were always connected over WhatsApp, and whenever any help/clarifications were sought for pat came the replies.Barring a few small hicups here and there(we had to travel in a small bus from Phnom Pen to Seam Rep and then the guide came about half an hour late), every services were very satisfying.
We are very thankful to Lily's Travel for making our travel enjoyable and recommend any person desirous to visit Vietnam/ Cambodia to rake their help

psmallik


January 29, 2023

The best travel agency ever i deal with them!
Specially Vani she was always with me and supported me in any question..
creating group, follow up and check... read more on you was amazing thing

omara955


January 28, 2023

Lily's travel agent provide excellent service. The staff can speak good English and Mandarin. They are reliable.
Highly recommend to anyone who want to travel to Vietnam Hanoi and Ho... read more Chi Ming !

Special thanks to dearest Cat and Van. They helped us a lot. They are considering , hardworking ladies. With their services ,I have a wonderful and adventure time in Vietnam. ️

traveller7772017


January 18, 2023
Let us help you organise your dream trip to Vietnam