Like Da Nang, Hoi An is also ready to please you with An Bang Beach- which has just been voted in the top 25 most beautiful beaches in Asia. Different from the familiar peaceful beauty of the old town, this place is likened to green jade. A long stretch of fine white sand, clear blue water, peaceful waves, … have created a very unique look for this land. If you have a love for the sea, this is an ideal place not to be missed.
General information
An Bang beach is a beautiful beach of Quang Nam, located in Cam An ward, Hoi An city. About 3 km from the center of the old town to the east and about 22 km from the center of Da Nang city. Although located just over 1 km from Cua Dai beach, compared to its brother, An Bang is more peaceful and quiet, different from the vastness and fierceness of Cua Dai beach.
Previously, this beach was a place where people often came to bathe in the early morning, there were no tourist activities and services. But over time, especially in recent years, An Bang beach has been known by many tourists, becoming one of the most attractive places for Hoi An tourism. Especially when it was voted by the famous American television channel CNN as the 100 most beautiful beaches on the planet, the TripAdvisor website recognized it in the top 20 most beautiful beaches in Asia and the travel website ranked it in the list of 50 beaches. The most beautiful in the world, An Bang is even more attractive.
This place makes the hearts of domestic and foreign tourists because of its quiet beauty and unspoiled features. Possessing a long picturesque coastline with clear blue sea water, endless sandy beaches, cool blue poplar rows, or old pineapple bushes, making everyone excited. Moreover, when you come here, you will never encounter the phenomenon of attracting guests. The people here are extremely simple, simple and always know how to keep tact. Perhaps that is why An Bang still has its original features, naturally young.
Read more: Location of Non Nuoc Beach in Da Nang and some notes before going
Direction
As mentioned above, the distance from Hoi An and Da Nang to An Bang beach is not far, so you can completely move here in two directions (depending on your schedule). Both of these roads are flat, with convenient traffic, so it is easy to move.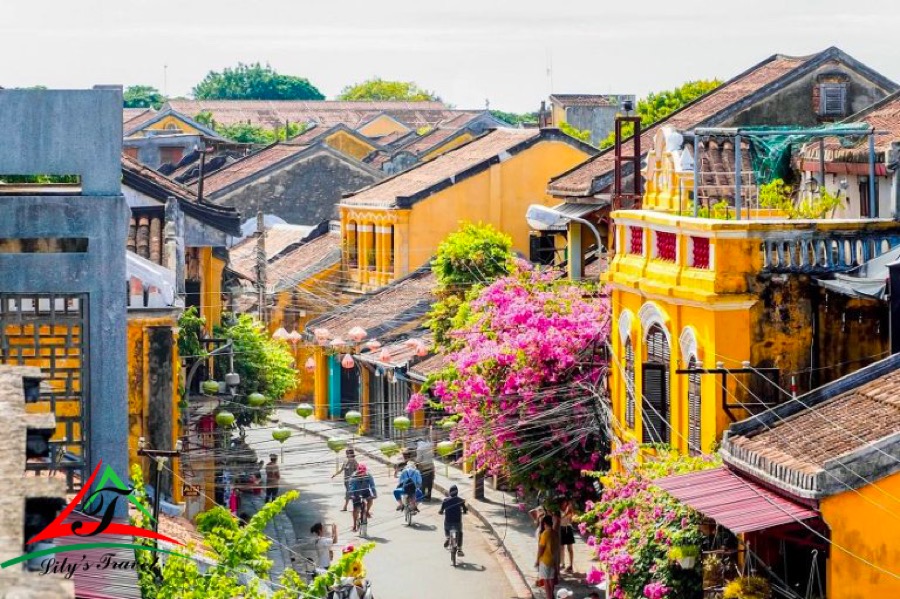 From the center of Da Nang city 
Starting from the center of Da Nang city, you go to the sea and then move along Pham Van Dong route leading to Vo Nguyen Giap – one of the most beautiful sea routes in the city. Central to many beautiful scenes and high-class hotels and resorts. Run to the end of Vo Nguyen Giap, go straight on the Sea road, you will reach Lac Long Quan street. Continue flowing straight until you meet Hai Ba Trung Street, then turn left. At the end of the main road is An Bang beach in Hoi An.
From the central of Hoi An 
If starting from Hoi An, the way will be shorter and easier to move. You just need to follow the route from Hoi An Bridge straight to Hai Ba Trung Street towards Cua Dai Street. At the end of the road, run about 1km more, so you have reached this beautiful beach.
Because the way to An Bang beach is quite simple and easy to go, visitors can easily travel by many different means.
Taxi:
Departing from Da Nang or Hoi An, you can still travel by taxi. Going by taxi has the advantage of being comfortable and convenient because you don't have to find your way, but it also has the disadvantage that the price is a bit high. However, if going with a large number of people (from 4 to 7 people), this is still an option worth considering.
Tourist car
This way is usually for group guests, guests traveling in groups. The price depends on whether you need to go in the form of a private car rental or a pairing. In general, the price is equal to or slightly better than a taxi. Renting a tourist car is proactive in terms of time and schedule, but it will be more suitable if you come from Da Nang.
Motorcycles
Visitors to Hoi An by other means can use Hoi An motorbike rental service. This service in Pho Hoi is also very popular today, you can choose to rent it at motorbike rental shops or right at your hotel. Car rental price ranges from 100 – 150k / car (depending on a scooter or digital car). Or in Da Nang, you can refer to this method, especially for young people who like to be free in terms of time and take the initiative in their schedule. The rental price is similar, very economical, and you can enjoy the scenery along the way.
Bicycle
Traveling by bicycle is only for tourists traveling from Hoi An because the distance from the center of the old town to An Bang beach is not far, so this is a reasonable choice. Bicycle rental in Hoi An is very cheap, only about 20-50k/bike/day. Although a bit tired, it is also very interesting because it is leisurely sightseeing along the way. At the entrance to the beach, there is a very safe and clean car park, you can rest assured to park your car and then freely visit and explore.
Read more: Nam O Reef: – A "rock" paint in the middle of the blue sea
Best time to travel
Time is an important factor that you need to consider if you intend to travel to the sea. Because unlike other places in the city or indoor entertainment spots, it is not possible to go to the beach in the cold rain. You can travel to An Bang beach at any time you want, depending on how you feel and experience.
However, according to Hoi An travel experience, the most beautiful central sea is still in the summer, from March to September every year. This is the time when the sea is the most beautiful, the sky is clear, the sun is yellow and there is little rain. Although it is a bit hot, it is extremely suitable for sightseeing and immersing in the cool water. Or if you are afraid of the sun, you should choose to go in early autumn, the weather is gentler, not too harsh but also less crowded. Create favorable conditions for outdoor activities. Limit travel in the rainy season, from October to January.
Interesting experiences you should know
As a new beach invested in tourism development recently, but not a private beach of a resort or this hotel. This is the beach of the fishing village, so it seems that this place is still quite wild and rustic. Coming to this beach, you will surely be impressed with its idyllic and peaceful look, different from other tourist beaches. But it is also the simplicity and simplicity that makes it have a strange charm.
An Bang attracts with its emerald green sea water, white sand, and lush rows of coconuts and casuarinas. The blue of the sea and the blue of the sky combine to create a brilliant space that makes anyone who comes and does not want to return. Walking along the sea, touch your feet on the gentle, white sand. Inside are strips of green sea spinach as a highlight for that sandy beach more unique.
In particular, on the stork beach there are a few basket boats. This is the means of transportation and fishing of Hoi An fishermen. Small, rustic round-frame boats seem to add more attraction to this place. In addition, this is also a place where many interesting activities are often presented, … that you will surely fall in love with An Bang from the first time you meet.
Find out more about Da Nang tours here: