Coming to Phan Thiet, you will enjoy unique specialties and visit famous places. In addition, near Phan Thiet, some places are popular with young people to have fun, such as Cu Lao Cau island, Tuy Phong Wind Power, Co Thach Pagoda….
Phan Thiet is one of the "hot" places on the tourism map of Vietnam, known for the beautiful land of white dunes, blue and clear sea water, the bottom, golden sunshine and calm wind. If you have yet to imagine the panorama of tourist destinations or are wondering what Phan Thiet tourism has to discover, the following article will be a beneficial resource.
Let Lily's Travel explore all the most attractive features of this beautiful Phan Thiet City. If you need to travel to an engaging Phan Thiet tourism program, please get in touch with Lily's Travel for timely advice.
Choose the most beautiful season to go to Phan Thiet
Phan Thiet is well-known as a tourist destination with significant development potential. This city will soon become a popular tourist destination. As a result, you can visit Phan Thiet during any season of the year. Especially with the heat of summer, it will attract more and more tourists to come here every year.
Accordingly, May, June, and July will be an attractive time to travel to Phan Thiet and bring many great experiences for tourists. You will love the beauty of the sea and the fresh air of this sunny and windy city when you visit.
How is the weather in Phan Thiet?
Phan Thiet is in a dry area in a typical tropical climate with a lot of sunshine and wind, especially with few storms and no fog. The average annual temperature fluctuates between 26 and 27 degrees Celsius. April and May are both the hottest periods in Phan Thiet city. The temperature level can be up to 29 degrees Celsius.
Therefore, before traveling to Phan Thiet, you must carefully check and follow the weather forecast. To get the best preparation and make your trip even better. When traveling in a city with typical hot and humid weather like this, you must prepare all essential items such as hats, caps, sunscreen, sun protection, water bottles…
Phan Thiet's most stunning beaches and beaches
Mui Ne
Phan Thiet tourism should not ignore the beautiful beaches that captivate visitors; one of them is Bai Rang, also known as Mui Ne Beach. This place is considered the most beautiful and clean beach in Phan Thiet.
Were you surprised? Rang beaches in other places reference sites where many corals have died, petrified, or submerged reefs. But Rang Beach in Phan Thiet is mixed in coral reefs, rocky beaches and splendid golden sand beaches.
Phan Thiet has long been famous for its beautiful beaches that captivate visitors, and one of them is Bai Rang, also known as Mui Ne Beach. This place is considered the most beautiful and clean beach when coming and traveling to Phan Thiet.
Rang Beach, in other places, refers to sites where many corals have died, petrified, or submerged reefs. But Rang Beach in Phan Thiet is mixed in coral reefs, rocky beaches and splendid golden sand beaches.
This is a really lush beach with clear and pure water. This place is also famous for the straight rows of coconuts running along the coast. Everyone who comes here is overwhelmed by the thought of being lost in the country of the South American sea.
Hon Rom
Here there is a relatively long tubular grass and termites when the grass is burnt dry yellow in the big sunny season. People go to sea in the sea to look at the golden dry that looks like a giant straw, so it is called Hon Rom. Today, Hon Rom is a tourist "sub-zone" of Mui Ne, with a quiet, beautiful landscape, a beach longer than 17 km with clear blue water, smooth waves, and no reef.
In the morning or afternoon, one can sit here watching the sunrise or sunset; in the evening, watch the moon rise, organize a campfire, bathe, experience a hot air balloon, paraglide and canoeing.
Ong Dien Stone Beach
The impression when traveling to Phan Thiet is visiting Ong Dia rocky beach. This place has the sky's blue color and the sea's turquoise color as one. The dotted point on it is the white clouds drifting. Looking down from above, you can see the whole of Grandpa's rock, just like the lithographic matrix, because the stones are sprawled all over the area.
The picture of nature is full of unique and new places with gray shades of stone, gold-like honey of fine sand, and the color of the blue sea blending into one with the deep sky, all blending to fascinate people.
Check-in on 2 beautiful islands in Phan Thiet
Phu Quy Island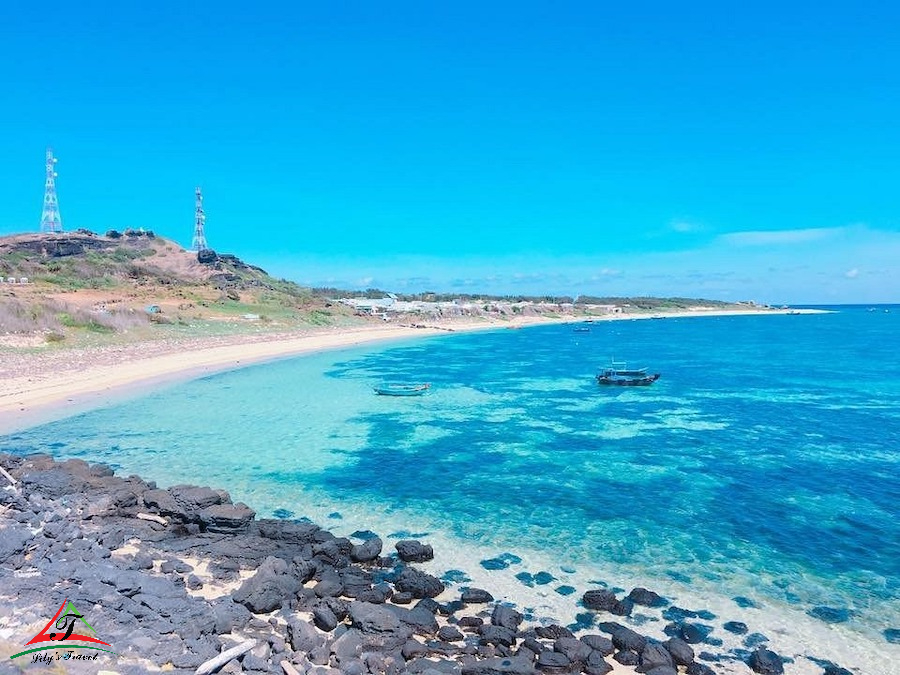 Phu Quy (Cu Lao Thu Island) is beautiful and attractive to all visitors. To get to Phu Quy, you must go to Phan Thiet and take a speedboat to the island.
Traveling to Phan Thiet, if you have a lot of time, you can visit Phu Quy Island, Flag Tower, Small Beach, Cao Cat Mountain, Linh Son Pagoda, Phong Dien, Muong Thay, etc… From the top of Cao Cat Mountain, you can see the panoramic view of Phu Quy island with the rich green space of trees, the blue of the ocean and the blue of the sky.
Cu Lao Cau Island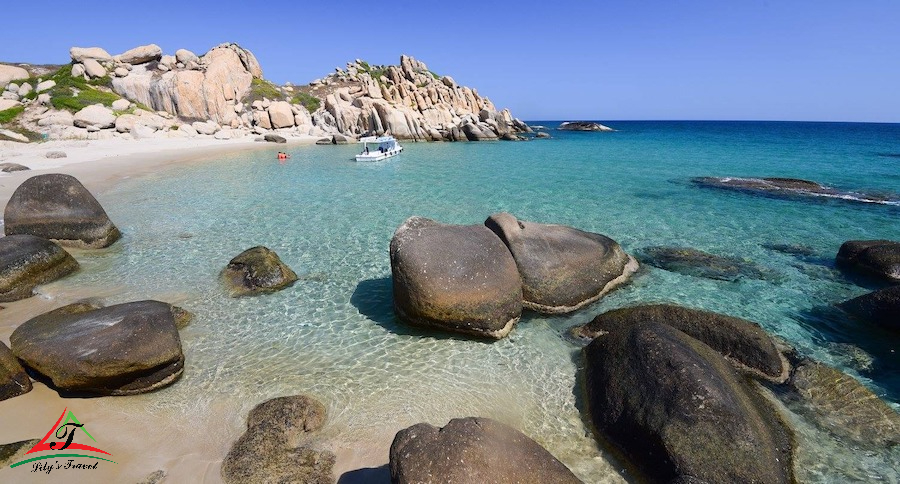 It is suitable for nature lovers, adventurous travelers, and explorers. Cu Lao Cau seems from the mainland to be a "stone kingdom" with odd shapes, drawing visitors with the translucent watercolor staring to the bottom.
Cu Lao Cau is a small island, so you can easily spend a day exploring it. There are some places such as Love Cave, Sung Sung Sung Slot, Tien Bathing Beach, Yen Cave, Ba Hon Cave, coral beach, Nam Hai Temple, and Ca Sau Beach…
You can refer to the Phan Thiet tour to enjoy a thoughtful vacation, but there is no shortage of nature exploration experiences.
What could be more wonderful than spending a long distance on the bus to Phan Thiet and coming here, escaping from the heat, stuffy and noisy in the city to be let loose in the clear, relaxed and peaceful water on the deserted island?
Come in the evening to light a campfire, grill seafood on the beach, and sleep in a tent listening to the sound of the waves. Or if you are a music lover, the guitars are played according to the applause and the murmuring waves.
To be continued