The world's largest Son Doong cave has gotten the attention of the press and communication as the world's number one largest cave, attracting many visitors to experience the discovery. Son Doong Cave is being assigned by Quang Binh Provincial People's Committee to Oxalis Company to exploit in the form of adventure tourism.
The image of Son Doong Cave is famous on google culture, National Geographic, or travel magazines like Tripadvisor, a lonely planet with a large cave system and magnificent stalactites. Pictures of Son Doong cave have been featured on many covers as well as on major TV channels such as BBC or CNN.
In the article about Son Doong Cave, we will list detailed information such as who discovered Son Doong Cave, details about the cave system, and tours to Hang Son Doong.
Location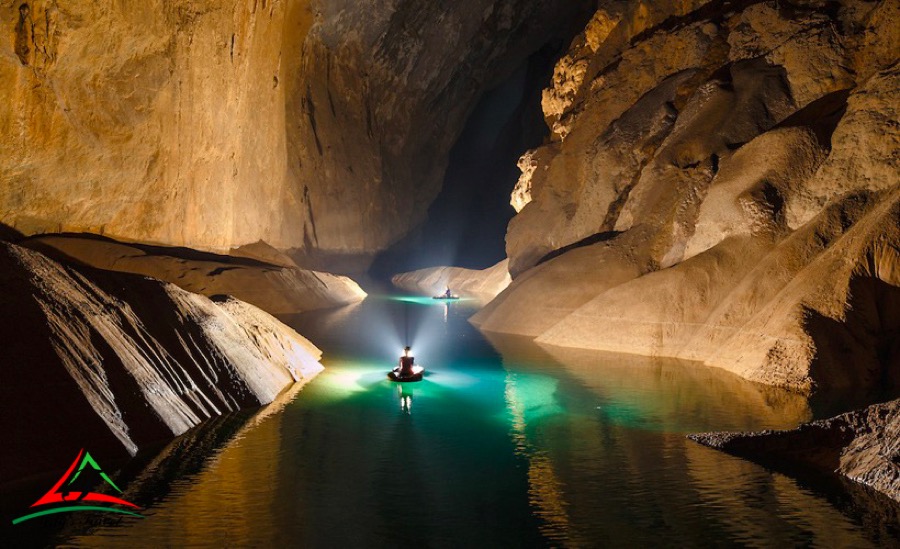 Son Doong Cave has coordinates 17°55'N and 106°14'E, is located in Son Trach commune, Bo Trach district, Quang Binh province. Son Doong Cave is located in the core zone of Phong Nha Ke Bang National Park. The cave is located close to the Vietnam-Laos border. Twice recognized by UNESCO as a World Natural Heritage Site. Son Doong Cave is found in Bo Trach district, Quang Binh province.
When river water flowed through the limestone region underground along a fault line, Son Doong Cave was created around 2 and 5 million years ago. The water flow eroded and created a giant tunnel in the ground under the mountain range. In places where the rock is soft, the ceiling collapses to form sinkholes, forming giant cave arches over time.
The cave has a width of 150 meters, a height of more than 200 meters, a length of nearly 9km. The estimated capacity of Son Doong Cave is 38.5 million cubic meters (equivalent to 15,000 Olympic swimming pools).
How was Son Doong Cave found? The person who discovered Son Doong Cave
Son Doong Cave was first discovered by a jungle named Ho Khanh who lived in Phong Nha Ke Bang. In 1990-1991, during a trip to the forest, he encountered a sudden thunderstorm, while looking for shelter from the rain, he accidentally discovered an arch of a rock cave, above which there were large clouds. He wanted to go deep inside the cave, but he was too terrified, so instead of entering, he hid on the cliff and waited for it to rain.
The British Royal Expedition conducted a fresh cave exploration in Phong Nha-Ke Bang in 2007. Ho Khanh also took them to find Son Doong cave for 2 days but could not find the cave. During that trip, Mr. Howard Limbert himself, when observing natural phenomena in the surrounding area, confirmed to Mr. Khanh that there must be a large cave recently… However, time did not allow, so the expedition was cave must return to England. But before returning to England, Mr. Howard Limbert had time to ask Ho Khanh to try to find that cave.
After that, Ho Khanh continued to go to the forest and found Son Doong cave in 2008. In early 2009, when the expedition of the Royal British Cave Association returned to Vietnam, Ho Khanh led Howard Limbert's team to this cave was opened. named Hang Son Doong.
Read more: 10 Things to Do in Phong Nha
The meaning of Son Doong Cave to the world
After carefully surveying the cave, the group of cave experts from Hoang Gia Anh and Quang Binh province introduced Son Doong cave to the world. Subsequent technical announcements about the world's largest cave, size, and unique ecosystem of Son Doong cave made the whole world amazed. Son Doong cave has been put into operation for adventure tourism since 2013, Son Doong cave adventure tourism has always proved attractive to the domestic and international tourism community with its majestic beauty. and many other great values.
The specific meaning of the name "Son Doong Cave"
Originally, Hang Son Doong was named after the man who discovered Hang Son Doong, Ho Khanh. Then the experts asked permission to change the name to Hang Son Doong because according to experts Hang Son Doong is located in Ha Doong area, in the land of Doong. Near this area, there is an ethnic village called Doong village, and Son means mountain.
Son Doong Cave was discovered and named so far.
Highlights of Son Doong
Son Doong Cave with different experiences than few other caves have. Many of the highlights listed below show the appeal of this cave.
Vietnam Wall
Vietnam Wall is the name of the highest stalactite wall located at the end of Son Doong. The ceiling of the cave section of the Vietnamese wall is about 200 meters high. To get to the wall of Vietnam, you need to go through a rather muddy cave.
The entire process of climbing this 90m-high Vietnam Wall requires the use of protective equipment and is ensured by Oxalis' professional safety team. When you reach the top of the wall of Vietnam you will see the exit of the cave.
Camp ground in the cave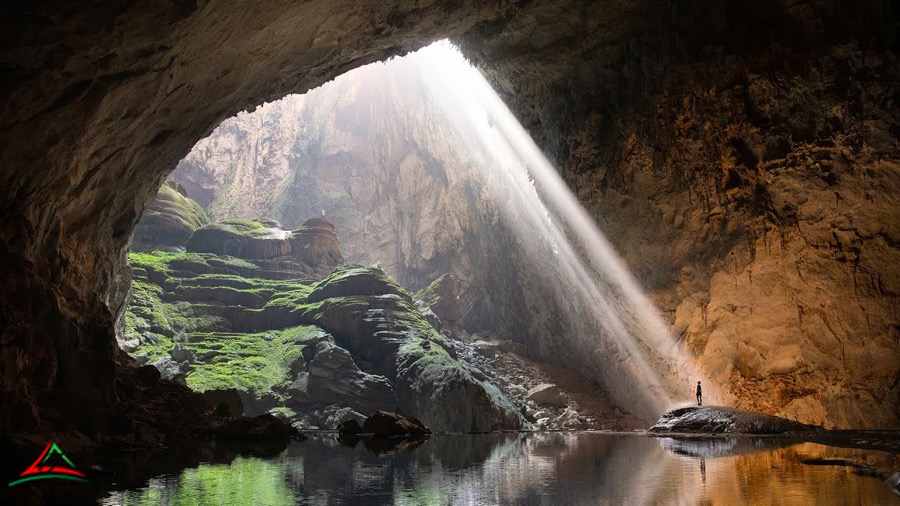 When conquering Son Doong cave, you will have 3 nights to sleep in the cave, the first night to sleep in Hang En, and the remaining 2 nights to sleep in Son Doong cave. The very beautiful Son Doong campsite is an extremely attractive experience that cannot be found anywhere else. 2 campsites 1 and 2 in the cave have a view of the sinkhole and are located on the floor of the cave covered with white sand.
The pictures of camping in Son Doong cave also make everyone want to come and conquer it once.
Dog paws
Dog's foot is a massive natural stalactite block in Son Doong cave. The Dog's Feet stands tall, a majestic sight of the largest cave in the world.
From this position, you can almost admire the panoramic view of Son Doong cave.
Son Doong sinkhole
The two sinkholes of Son Doong are the places with the most beautiful pictures because there is a lot of light coming out. Sinkhole 1 aka Vong Dinosaur. At Ho Suite 1, there is also a large stalactite block that is named "Wedding Cake" by tourists. Sinkhole 2 is also known as the "Garden of Eden".
The formation of the sinkhole allows light to enter the cave and create a small forest. The endemic Son Doong cave ecosystem was able to survive thanks to sunlight. To reach this position, visitors will have to climb a rocky hill with natural steps rising, looking like steps leading to the Garden of Eden.
Climate of Son Doong Cave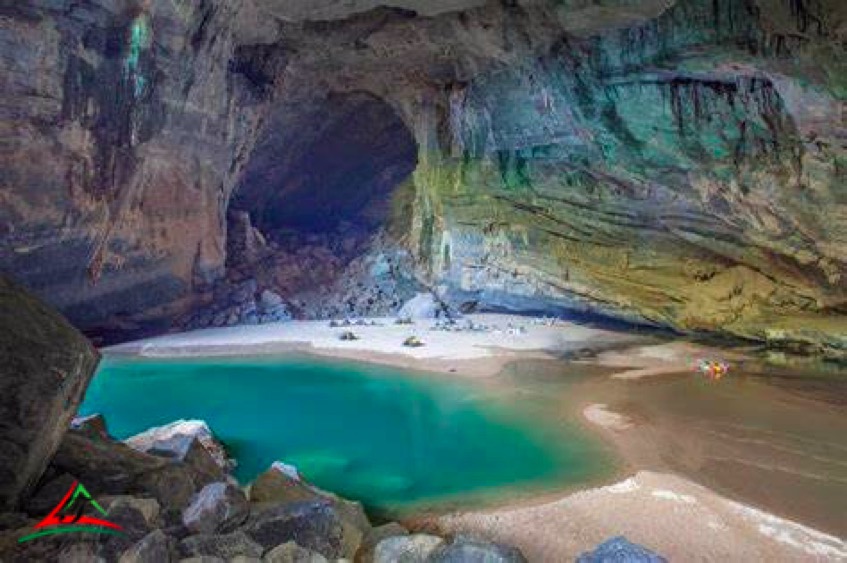 With its location in the ground and large porosity, it is considered that Hang Son Doong has a unique climate. With the size of the Great Cave, which is considered the largest in the world, the inside of the cave forms clouds from underground water sources. The large and seasonal clouds cover the caves, creating a wonderful scene for visitors to admire and check in to take pictures of the cave.
Son Doong Tour
Currently, Son Doong Cave Tour welcomes about 1000 visitors each year. There are healthy options for each participant. Currently, the cave is assigned to Chua Me Dat company to operate and manage exclusively. Therefore, you can not arbitrarily go to Son Doong Cave.
The ticket price for Hang Son Doong tour for 4 days and 3 nights is currently $ 3,000 / 1 person.
Currently, Son Doong Cave in particular and Phong Nha Ke Bang National Park in general are considered as the image of Vietnam's tourism.
Son Doong Tour is currently being held for 4 days and 3 nights, but Oxalis Adventure has built a 6-day 5 night tour.
Son Doong Tour 6 days 5 nights
Day 1: Oxalis Adventure will spread safely in Phong Nha.
Day 2: Trekking Ban Doong – En . cave
Day 3: Cave entrance – Bai Trai sinkhole 1
Day 4: Sinkhole campsite 2 – Garden of Eden
Day 5: The Wall of Vietnam – The exit – Chay Lap Farmstay
Day 6: Chay Lap Farmstay – Dong Hoi
Once conquering this unique and magnificent cave is also an opportunity for you to challenge yourself to conquer.
Read more: Am Tiem Cave: Explore to see the beauty of the deep mountains
The best center Vietnam tour: Tour in Vietnam