No matter what season of the year, Da Nang tour is always very popular with tourists. As a famous tourist city in the South Central Coast region, really creates attraction thanks to its beaches, landscapes, cuisine, culture and high-class resort infrastructure. Not only that but around Da Nang there are also famous World Heritage sites such as My Son Sanctuary and  Da Nang is always an ideal choice for travel enthusiasts. You will feel extremely happy when interacting with friendly, hospitable locals, and enjoying countless delicious specialties. If you are planning to come to Da Nang but don't know where to go, choose the attractive Da Nang tours suggested below so you don't waste much time!
These special Da Nang tours are tours located within the points of Da Nang area. These are usually day tours, departing right in the inner city, so it is very convenient for self-sufficient travelers. You refer to offline.
Read more: Da Nang package tour: 2 popular tours
Da Nang City Tours
Ba Na Hills 1 Day Tour From Da Nang
It is a pity to come to Da Nang without visiting Ba Na Hill. If you don't know how to go, just book Ba Na Hills 1-Day Tour from Da Nang. This tourist destination has long been loved by domestic and foreign tourists for many beautiful scenes such as Sun World Ba Na Hills Cable Car, L'Jardin French Village, Golden Bridge, Deer Garden, Linh Chua Linh Temple From, Le Jardin D'amour flower garden, Fantasy Park,…
At noon we will stop by Ba Na Hills restaurant to enjoy a delicious meal with more than 100 dishes on the menu. At the end of the tour, the group will take you back to the original location. A day in Ba Na Hills will make you feel like going through all 4 seasons of the year thanks to its unique climate!
Danang Sightseeing Day Tour
Spend the day exploring Da Nang with its special historical and spiritual attractions. This is an opportunity for you to understand more about the local culture and blend in with the lifestyle of the people here. Da Nang Day Tour often starts from a Non-Nuoc stone village at the foot of Ngu Hanh Son mountain, Linh Ung Bai But Pagoda – The largest temple in the city.
Next is to move to Thuan Phuoc cable-stayed bridge to see the beauty of the Han River, and visit the Museum of Cham Sculpture to see the preserved customs and artifacts of the ancient Cham people. Noon is the time to rest, have a special meal at the restaurant and visit Han Market for free shopping before the end of the tour.
Da Nang Exploration Tour by Helicopter
It is also a tour to Da Nang, but this time it will be an unforgettable experience when you are transported by helicopter. Da Nang Discovery Tour by Helicopter departs at Nuoc Man airport, flies along the route along the coast of My Khe to Ngu Hanh Son mountain. From this height, you will easily recognize landmarks across the city such as Dragon Bridge, Thuan Phuoc Bridge, Han River, Son Tra Peninsula, Linh Ung Pagoda,… There will be 2 optional packages of 12 flights. minutes or 30 minutes for you who want to experience with longer time.
Danang Food Tour by Motorbike
An exciting trip designed specifically for gourmets who are passionate about enjoying typical regional cuisine. The Da Nang Food Tour by Motorbike will take you through every corner of the street to find delicious local eateries. In total, you will be able to visit 6 places, try 11 of the best dishes in the city. If you go on this tour on Saturday or Sunday, you will pass by the Dragon Bridge, watching the dragon spit fire.
Da Nang City Tour and Evening Han River Cruise with Driver Wearing Ao Dai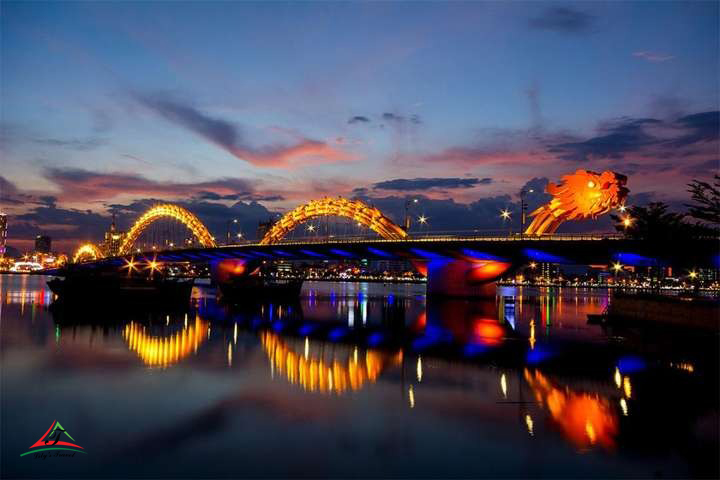 Experience Da Nang City Tour and Evening Han River Cruise with Driver Wearing Ao Dai and you'll spend half a day exploring many of Da Nang's busiest areas, tasting delicious dishes and chatting with locals direction. The friendly female driver takes you to visit famous bridges such as Dragon Bridge, Love Bridge, Thuan Phuoc Bridge. End the journey after a cruise on the Han River, sip a unique drink and enjoy the view of Da Nang at night.
Da Nang And Hoi An Tours Filled with Emotions
Da Nang and Hoi An tours are the perfect combination of two famous landmarks that are very popular with tourists near and far. Because these two points are quite close to each other, you only need to take a day tour of Da Nang. Check out the options below to find the right trip for your interests and budget.
Cham Island Tour Departure From Da Nang
Cu Lao Cham is a tourist area that should not be missed when you have the opportunity to come to Da Nang. You will have a faster and more convenient journey with this Cham Island Departure Tour from Da Nang. The car picks you up at the hotel, moves to Cua Dai port, and takes a speedboat to Cu Lao Cham. After the boat docks, you will be able to walk around the fishing village of fishermen, snorkel or relax on the beach as you like.
Enjoy a lunch of freshly caught seafood. Continue to explore the island and Hai Tang pagoda – a familiar spiritual destination of the islanders. Note, you are not allowed to bring plastic bags or plastic bags on the island because this is the regulation of the reserve.
To be continued
Read more: TOP 13 Da Nang city tour that can give full experience for foreigners (Part 2)
Find out more about Da Nang tours here: