Nha Rong Wharf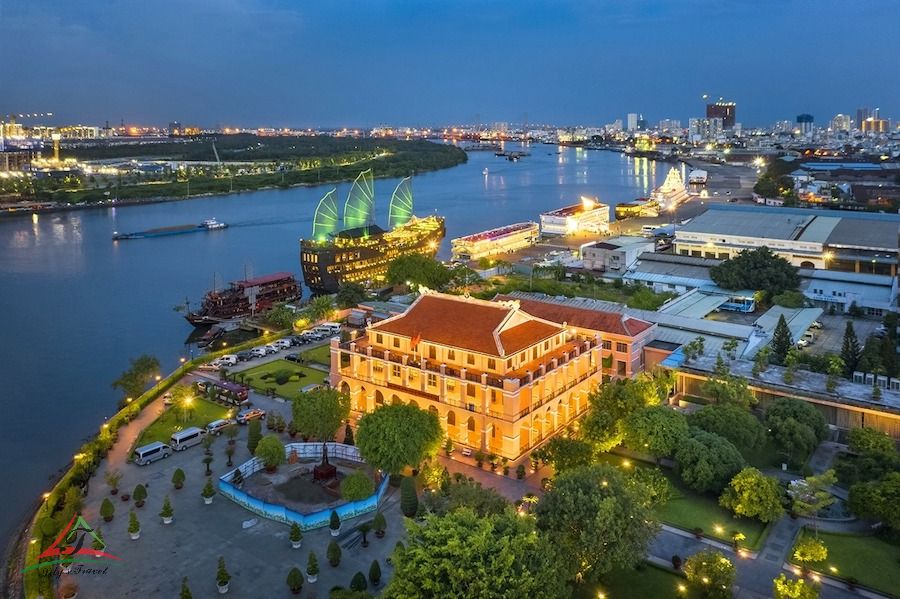 Do you remember the Doi Vien Handbook that mentions the historical event that took place in Nha Rong Harbor in 1911, where Uncle Ho – the beloved old father of the Vietnamese nation, decided to go to find a way to save the country to learn what he thought was "Quintessence and progress." Currently, this place stores and displays many documents, artifacts, memories and photos related to the revolutionary career of the leader of Ho Chi Minh.
Nha Rong Pier is one of the places to go in Saigon that I want to suggest. Because this place has many profound meanings, learning is worth your time. You will gain a better knowledge of the Vietnamese people's heroic past when you visit. Thereby, the more trust, love, remember and teach Uncle Ho's great work. He always devoted himself to the country for the people. The people of Vietnam will forever remember Uncle Ho's noble sacrifice.
Address: 1 Nguyen Tat Thanh Street, Ward 12, District 4
Hours of operation: 7h00 – 11h30 and 13h30 – 17h00 (Tuesday to Sunday).
Ticket price for parking reference: 2000 VND/car/turn.
Ho Chi Minh City Museum of History
Thousands of domestic and international visitors are drawn to one of Saigon's historical tourism attractions. Among them, the Vietnam History Museum was built in 1929 and is one of the most famous places in Ho Chi Minh City known by many people.
Visitors have seen thousands of historical artifacts, 25,000 books and precious documents since they first entered here. In addition to sightseeing and exploring, this is also a place for visitors to learn more about archaeology, history and ethnography. If you love history and want to find an ideal tourist destination to supplement your knowledge, the Vietnam History Museum is a great choice.
    Address: 2 Nguyen Binh Khiem, Ben Nghe Ward, District 1
    Time of operation: 08:00 – 11:30 and 13:30 – 16:30 everyday
   Ticke price: You have to buy if you want to come in. The price is up to date
Saigon Opera House 
The Opera House in Ho Chi Minh City was built in 1900 and restored for the second time in 1988. The current Saigon tourist destination is a typical cultural work dating back to the French colonial period. Located near the central location, this is an entertainment place for art lovers, offering unique and professional performances. Typically speaking dramas, Reform, Opera, Show The Mist,…
The opera house is a good tourist destination that you should go to. It is a unique architectural work showing ancient features, no less monumental. State-of-the-art technical facilities, high-quality audio equipment, spacious theater space, capacity of up to 1,800 people. Visitors reserve tickets to come here with their family to take in the expert performances of local and international art troupes.
Location: Lam Son Square, Ben Nghe Ward, District 1
Hours of operation: 7:00 – 21:00 daily
Reference ticket price: 700,000 VND/person depending on large and small events and performances.
Cu Chi Tunnels
Tourist destinations near Saigon are always an excellent choice for short trips or weekends. One of the iconic historical Saigon sites, the Cu Chi Tunnels draw a sizable number of visitors each day.
The Cu Chi Tunnels served as a defense system and a base of resistance for the Vietnamese army and populace in the past. Many historical accomplishments, relics, and works connected to a period of valiant battle on the part of our troops and people are still preserved in this location.  You can admire the working rooms, cellars, kitchens…
Cu Chi Tunnels is now known as a famous national monument and is an ideal attraction for many tourists visiting Saigon. This allows you to learn about the country's history and gives you dramatic and unique experiences.
    Opening hours: 07:00 – 17:00
    Ticket price: 20,000 VND/Vietnamese, 110,000 VND/foreigner
Can Gio eco-tourism area
If you want to relax on the weekend and are looking for an eco-tourism area near Saigon? Can Gio is a famous place in Saigon that many tourists love. It is far from the city center, about 50 kilometers, about an hour and a half drive. Therefore, you can come here for sightseeing during the day.
Although such a short time, it may make you feel sorry because you have come here but have not hunted all the outstanding check-in points in Can Gio beach district. Visitors will have memorable moments when enjoying the salty atmosphere from the sea, exploring the Vam Sat mangrove forest, and visiting the crocodile farm, Monkey Island, and Bat Lagoon,….
Address: April 30 tourist area, Thanh Thoi Street, Can Gio District
Hours of operation: 8h00 – 17h00 on weekdays
Ticket price to Can Gio tourist area: 35,000 VND/person.
Southern Women's Museum 
If you still need to figure out where to go for a day trip, explore the Southern Women's Museum immediately and experience everything related to the silhouette of Vietnamese women. This place will bring visitors an exciting journey, and the work is built to educate patriotism and preserve the beautiful cultural traditions of women.
After this, the Museum has developed into a remarkable destination in Saigon. With a large display area of up to 3,162m2 and 8 rooms to introduce artifacts, visitors can discover a lot of valuable artifacts, photos and documents. Additional noteworthy features are the President Ho Chi Minh memorial room and the collection of Vietnamese women's traditional clothing.
    202 Vo Thi Sau, Ward 7, District 3
    Opening time: 8:00 – 11:30 and 13:30 – 17:30
    Reference ticket price: 30,000 VND/adult