Want to find a place to take a rest, relax after tiring working hours, away from all the hustles of life but do not know where to go, let Lily's Travel suggest you!
Ecotourism has long been a popular type of tourism and is widely known to domestic and foreign tourists. With the vegetation and habitat of a variety of extremely rich animals, Vietnam ecotourism has also been formed to serve the needs of experience, relaxation and sightseeing of visitors. Stretching from the North to the South, follow Lily's Travel to the suburbs, immerse yourself like plants and rivers and enjoy the exciting journey, are you ready?
Lam Vien Can Gio Biosphere Reserve – Ho Chi Minh City
Located 50km from the center of Ho Chi Minh City to the southeast, Lam Vien Can Gio Biosphere Reserve is an ecological complex consisting of a variety of terrestrial and aquatic species. Dubbed the "green oasis" of the city, this place is one of the famous tourist areas of Vietnam and is recognized by UNESCO as the most typical biosphere reserve in the world. The pristine beauty of this resort welcomes millions of visitors every year, worthy of an ideal stop for the team who love nature and peace.
Address: CV4W+Q8G, Sac Forest, Long Hoa, Can Gio, Ho Chi Minh City
Read more: All the reasons to explain why Vietnam is a good place to visit for foreigners?
Ham Ho Ecotourism Area – Binh Dinh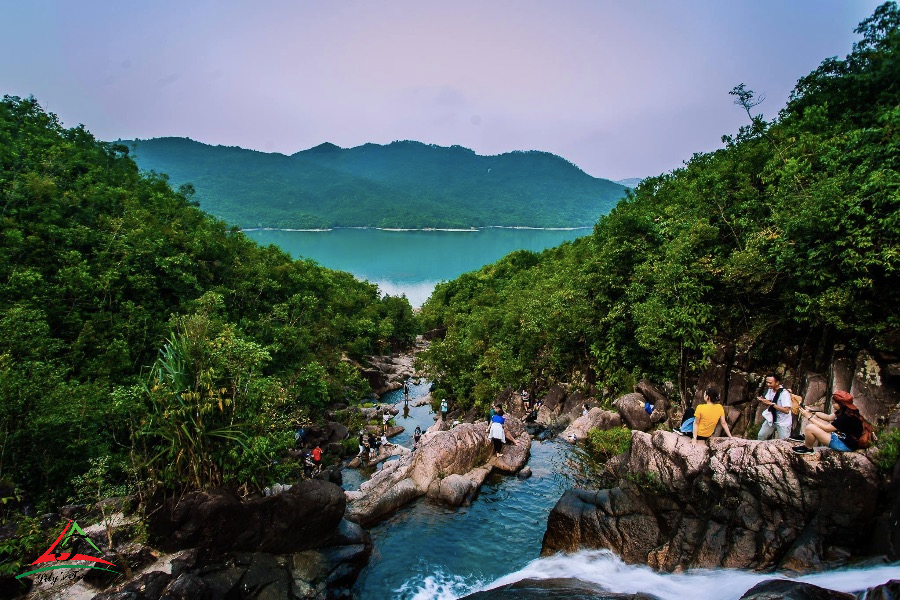 A place not to be missed when coming to Quy Nhon is the ecological tourism area of Ham Ho area. The four seasons here are immersed in a cool blue color, combining the whole of clouds, water, birds, and sky like a fairy. The ideal time to come to Ham Ho is from March to August every year. The cool climate is suitable for outdoor activities. Coming to Ham Ho, you will be able to take a boat on Loc Giang Canal to Kut River, which is like a miniature of "Ha Long Bay", mingling with pristine nature and young plants. In addition, you can visit historical sites and the temples of the "poetic city".
Address: Tay Phu commune, Tay Son district, Binh Dinh province, about 50km northwest of Quy Nhon city center.
Dong Giang Heaven Gate Tourist Area – Quang Nam
Dong Giang Heaven Gate is a complex of leisure tourism, entertainment combined with preserving the traditional culture of the largest ethnic community in the central mountainous region of Vietnam. The unique architecture of the caves has been built for hundreds of years, with unique architecture, promising to make you admire. The cool murmur of streams, the sound of birds lining and the special performances of the Co Tu people are the special spiritual food of this place.
You can also have a chance to watch and join the local dance named Tungtung Yayá of Co Tu ethnic people.
Address: Ma Cooih Commune, Dong Giang District, Quang Nam Province
Kong Forest – Khanh Hoa
Kong Forest Nha Trang is the largest forest adventure tourist park in Vietnam. Located right on Hon Ba mountain more than 1000m from the sea, the atmosphere is extremely airy, cool, and fresh. If you are a fan of adventure games and thrills, besides zipline games, one of the exciting experiences not to be missed here is driving an ATV car. With family and friends enjoying the mountain scenery on the terrain, wading through the stream and taking pictures are unforgettable moments.
Address: Hon Ba Mountain, Cam Lam District, Khanh Hoa
Memento Country Home Ecotourism Area – Khanh Hoa
Memento Country Home is the ideal stopover for those looking for peace away from the hustle and bustle of life. Here, you will enjoy the fresh and quiet atmosphere of the central countryside, sunk-in naps of the cottages and listen to the sound of rooster waking up in the early morning. You will have to recognize the fairy beauty of Yangbay paradise waterfall. Don't miss the crocodile fishing experience and the music program performed by the people here.
Address: 15 Le Chan, Phuoc Tan, Nha Trang, Khanh Hoa.
Trang An Ecotourism Area – Ninh Binh
With stunning beauty, Trang An ecotourism area is truly a charming landscape. It deserves to be the highlight of the ancient capital of Hoa Lu because this population has been recognized by UNESCO as a natural heritage of the world. Come here and visit the ancient temple of Dinh Bo Linh or visit the Mua Cave and the Ngoa Long peak, admire the spectacular beauty, record beautiful clips of each of the rustic antiques of this place.
Address: Trang An, Hoa Lu, Ninh Binh
Mango Garden Ecotourism Area – Dong Nai
Coming to Mango Garden ecotourism area, you are like being lost in a real-life fairy garden. The small paved roads, the murmuring rocks, the brilliant flower beds are always impressive points that the Mango Garden brings to visitors. A combination of many entertaining games, from sliding grass to shooting paint and countless fun things that you can enjoy with your family. Only 40km from the center of Ho Chi Minh City, you can rent a car to go to the tourist area at a very affordable price.
Address:  537 Dinh Quang An, Phuoc Tan, Tan Cang, Dong Nai.
Cao Minh Ecotourism Area – Dong Nai
Famous for its red-tiled houses, rustic bridges over the river, Cao Minh eco-tourism area is located 40 kilometers from Saigon. As a resort that combines fun, there are not too many types of unique entertainment but it is extremely suitable for camping or team building with family and friends. Holdings in the peace of plants, water and birds, this is a destination that brings you a lot of positive energy.
Address: 547 Group 2, Hamlet 2, Vinh Tan Commune, Vinh Cuu, Dong Nai
Ong De Ecotourism Area – Dak Lak
Do you want to go back to the river country, immerse yourself in the western of Vietnam, Ong De eco-tourism area is a destination not to be missed when coming to the beautiful city of Can Tho? Coming here, visitors will experience visiting the fruit-filled orchards, enjoying fresh succulent fruits right in the garden. In addition, canoeing through small ditches, watching the scenery on the banks in the cool, quiet space of the village is a great resort experience that Lily's Travel does not want you to miss.
Address: 789 Pham Van Dong, Ward, Buon Ma Thuot City, Dak Lak.
Kotam Ecotourism Area – Buon Ma Thuat
Owning a large space of up to 13ha, Kotam eco-tourism area is divided into three main spaces: the main garden, bamboo house and fishing area so that visitors can experience it conveniently. This place is covered in gold with wild sunflowers. The right time to come to Kotam is September of every year, the weather is beautiful and cool, not too sultry. This place often takes place in boat racing festivals, elephant worship, bold local ethnic identity, attracting thousands of visitors.
Address: 789 Pham Van Dong, Ward Tan Hoa, Rosy
To be continued
Read more: Vietnam top attractions: One thing you should know before making your journey
The best center Vietnam tour: Tour in Vietnam