Dalat Clay Sculpture Tunnel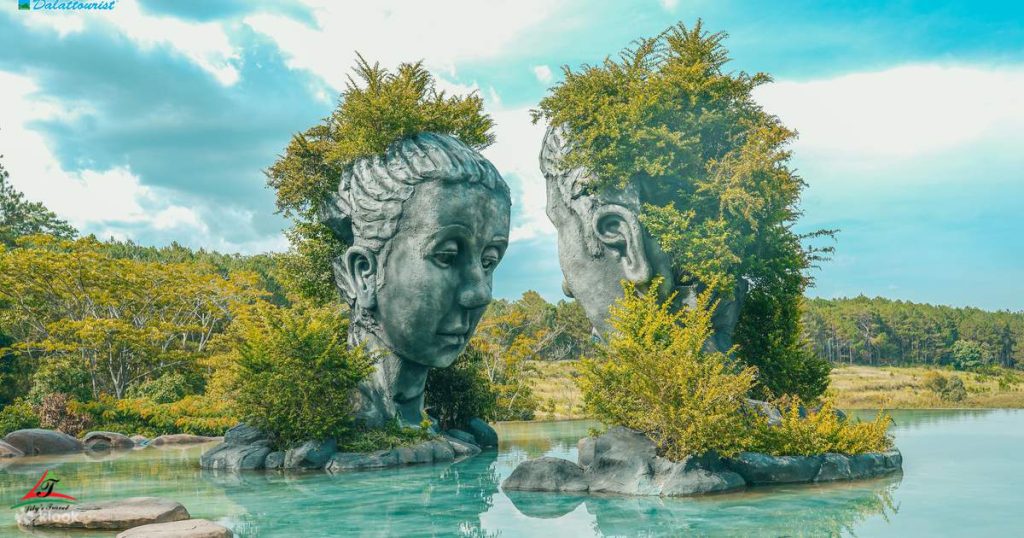 The Sculpture Tunnel sometimes referred to as the Clay Tunnel or the Clay Village, is one of Da Lat's well-known tourist destinations. Da Lat Sculpture Tunnel is the world's longest tunnel made of clay, featuring works depicting nature and the people of Da Lat with characteristic red clay. This tourist area is also a place to recreate the typical works of the city such as the train station, Con Ga church, and Langbiang mountain …
In particular, the infinity area is becoming the hottest "virtual living" place here, with a lake halfway up the hill and the formation of two extremely impressive characters on the water.
Dalat Sculpture Tunnel
Address: Ward 4, Da Lat city
Reference ticket price: Adults: 60,000 VND/person | Children: 30,000 VND/person
Fairytale Land Da Lat
Fairytale Land – Vinh Tien Dalat is a "virtual living utopia" that has recently caused a fever. This resort modeled its dwarven world, adorable fairyland, and vibrant and colorful floral gardens after the Hobbit fairy hamlet in northern New Zealand. sunny.
You can stop at Vinh Tien wine cellar, a lavish and inviting location with 15,000 bottles of wine in various varieties, after touring the hobbit kingdom. You will receive a chilled bottle of Vinh Tien artichoke, in particular, when. This location also has a knowledgeable and attentive guide who will show you to all the tourist attractions.
Address: 1D Hoang Van Thu, Ward 5
Reference ticket price: 50,000 VND/person
QUE Garden Dalat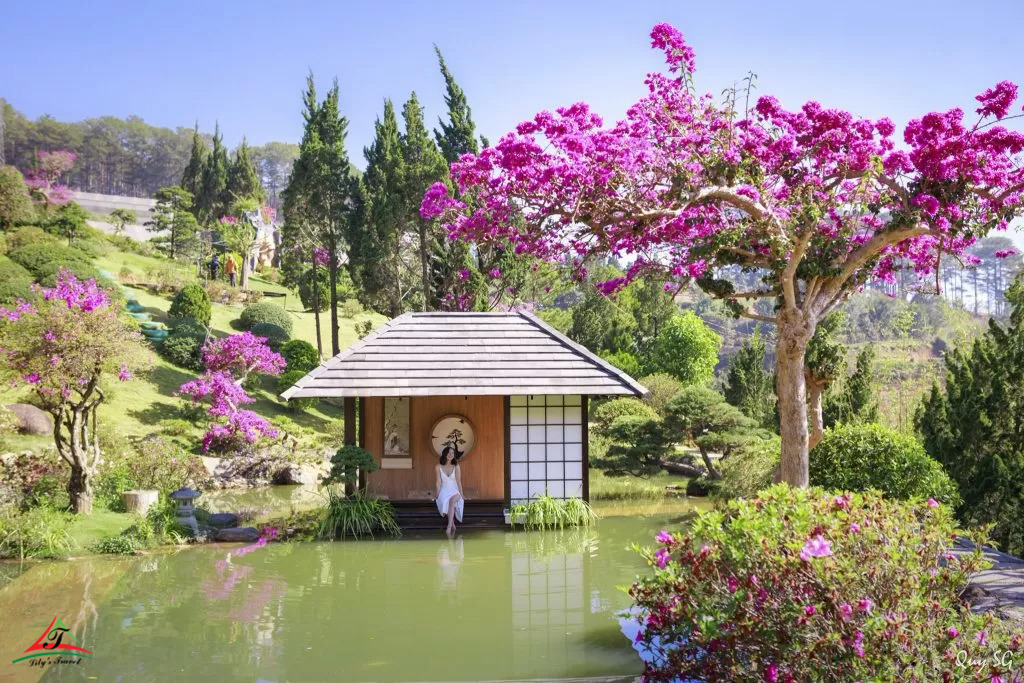 Visit QUE Garden Dalat, the largest coniferous bonsai garden in Vietnam, if you enjoy the art of bonsai. When you arrive you'll have the impression that you're in the land of the rising sun thanks to the stunning bonsai trees that have been lovingly cultivated and shaped, as well as the presence of a large Koi pond built to Japanese standards and home to millions of Koi fish.
You can also indulge in a snack or a cup of coffee in the garden cafe while taking in Da Lat's serene natural surroundings.
Address: Ward 10, Da Lat city
Reference ticket price: 50,000 VND/person
Read more: 30 places to visit in Da Lat that you shouldn't miss (Part 1)
Da lat Puppy Farm
Da lat Puppy Farm is a place that is loved by many people because it is the common home of more than 150 "faint pet" dogs. When you come here, you not only play with cute dogs, but also walk around beautiful flower fields, or agricultural gardens that are grown with modern technology. There is always a staff member available at the farm to help you when you need it.
Location: Ward 7, Mang Lin Village, Cam Ly Street, Da Lat City
Reference ticket price: Adults: 40,000 VND/person | Children: 20,000 VND/person
Domaine De Marie Church Dalat
Located on Mai Anh hill, the church is also known as Mai Anh church. The main chapel and two rows of the Saint Vincent's Charity monastery can be found in this collection of architectural works.
Without a bell tower and constructed in the European style of the 17th century, the church has a stained glass lighting system. Domaine De Marie is famous for its brilliant pink-brown lime color, which stands out among the garden of sea flowers planted a lot on the church grounds.
Address: 1 Ngo Quyen, Da Lat City
Da lat Giant Pumpkin Garden
Da Lat has numerous sites to cultivate pumpkins, but we must highlight the enormous pumpkin garden owned by the Phan family, which contains three different kinds of enormous squash that may weigh up to 100kg each. In addition to giant pumpkins, Mr. Phan's garden also grows many other seasonal vegetables such as kale, broccoli, especially black and yellow tomatoes.
The giant pumpkin garden is still a business vegetable garden supplying agricultural products to the market, so the opening time is limited to the morning, from 8 am to 10:30 am. Please keep this in mind.
Address: 50 Ho Xuan Huong, Ward 12, Da Lat City
Bali Green Hills Da Lat Heaven Gate
Located inside the Greenland 2 resort, Bali Da Lat Heaven Gate, also known as Green Hills Dalat is one of the most popular attractions for young people in Da Lat. Dalat Heaven Gate is the Vietnamese version of Bali Heaven Gate at Pura Lempuyang Luhur temple, Indonesia.
Bali Green Hills Da Lat Heaven Gate is located between the vast green pine forest and the typical hills and mountains of Da Lat. To get magical photos, you should come here in the early morning or late afternoon, to catch the beautiful moments of nature.
Address: Robin Hill, Ward 3, Da Lat City, Lam Dong Province
Da Lat Pongour Waterfall
Da Lat Pongour Waterfall is known by many people for its grandeur, wildness with diverse flora and fauna, and is known as Nam Thien De Nhat Waterfall. The water cascading down seven tiers of mossy rocks is what makes Pongour waterfall distinctive. green, painting a beautiful picture that nature has laboriously crafted. You'll have a fascinating time going to and investigating this waterfall. Additionally, after getting permission from the resort's management, you can plan an overnight camping excursion or bring food to grill on the spot.
You can take part in the festival held by the K'Ho people to honor their revered Chief Kanai, in particular, if you come here on the day of the full moon in January every year.
Address: Tan Nghia Hamlet, Ninh Gia Commune, Duc Trong District
Ticket price: 20,000 VND/person
Prenn Waterfall Dalat
Prenn Waterfall Dalat or Tien Sa Waterfall is one of the most beautiful and pristine waterfalls in Da Lat. TThe natural scenery skillfully combines a leisurely waterfall, bird song, and wind to create an atmosphere.
Prenn waterfall tourist area is a complex with many attractive tourist products such as pontoon boating, elephant riding, ostrich riding, etc. In addition, you can also participate in many other activities such as visiting the garden. animals, visiting orchid gardens, group fun activities, etc.
Address: Ward 3, Da Lat city
Reference ticket price: Adults: 40,000 VND/person | Children: 20,000 VND/person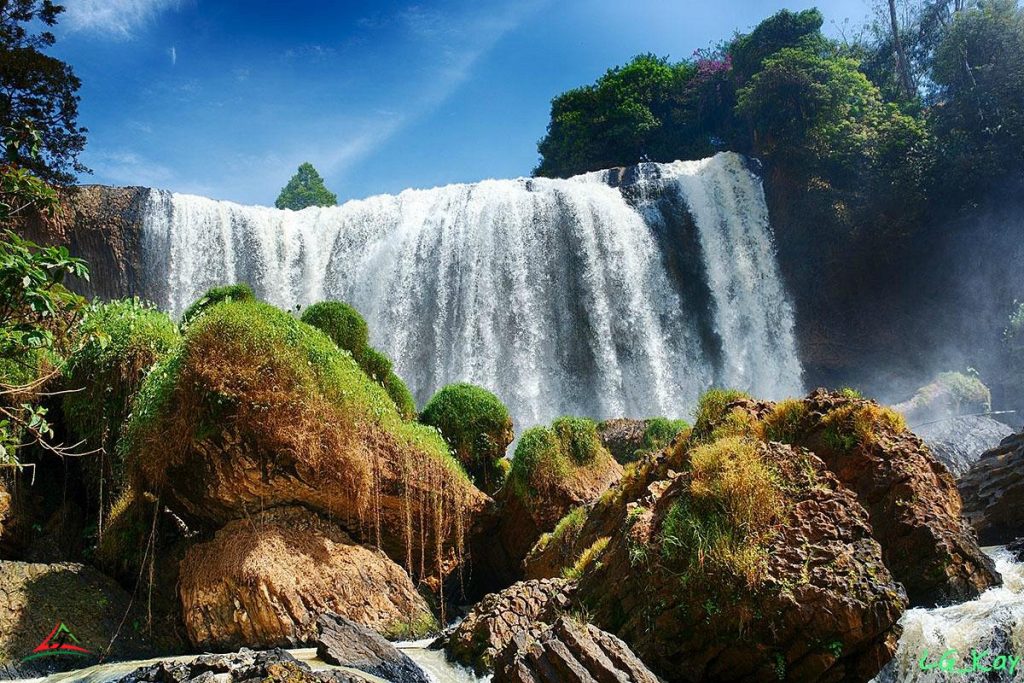 It would be remiss if we did not include, also known as Lieng Rowoa waterfall, on the list of places worth visiting when coming to Da Lat. The best option for those who enjoy adventure is Elephant waterfall.
When you arrive at Elephant Falls, you can attempt to climb the 145 stone steps that are linked to the precipitous cliffs and hear the waterfall booming in your ears. Bat Cave is a location 50m above the ground at the base of the waterfall. The journey of discovery is made more interesting by the numerous tree roots and vines that are crisscrossing each other at the cave's entrance. As you go deeper, you will also feel the cold of the ground and the waterfall more intensely.
Address: Gia Lam commune, Nam Ban town, Lam Ha district
Reference ticket price: Adults: 30.00 VND/person | Children: 15,000 VND/person
Me Linh Café Plantation
Me Linh Coffee Garden, commonly known as Me Linh coffee plantation, is a coffee shop with an airy and quiet space. This location is regarded as a tiny plantation in the countryside with a coffee garden that stretches down the slope and sunflowers, hydrangeas, and wild sunflowers in the distance.
In addition to drinking coffee here, visitors can explore and discover how coffee, particularly weasel coffee, is grown, harvested, and processed. Fresh lam rice and grilled meat are also available at Me Linh Plantation, satisfying even the pickiest eaters.
Address: Group 20, Hamlet 4, Ta Nung commune, Da Lat city
To be continued
Read more: 30 places to visit in Da Lat that you shouldn't miss (Part 3)
Find out more about Da Nang tours here: