Just like other ways of traveling, traveling alone in Vietnam can bring rewarding but equally challenging experiences because you can only rely on yourself. Safety issues are often a concern for solo travelers, especially female travelers in Vietnam.
Safety Issues in Vietnam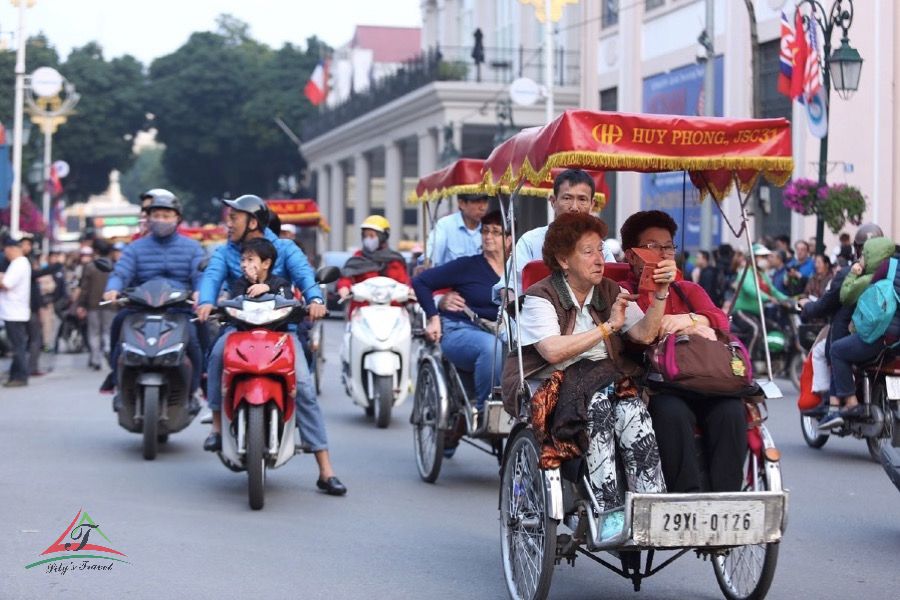 Vietnam is a safe country. Its popularity in itself is like a practical testament to the backpacking paradise in Southeast Asia. Minor crimes occasionally take place but tourists generally do not face any danger. As long as you use a sense of community when in any part of the country, moving around the country safely is not a difficult task.
Theft and other crimes
Violent crime rarely happens. The main safety concern for solo travelers in Vietnam is minor crimes such as pickpocketing, theft, and bag snatching. This problem often occurs in crowded areas and on public transport when tourists are distracted. However, the good news is that the rate of small theft is still relatively low.
Go around the cities
Navigating the chaotic traffic flow in Vietnam can be intimidating. Solo travelers often prefer to travel by taxi to relieve stress. The advice is that you should trust trusted brands such as Mai Linh, VinaSun and Taxi Group to minimize taxi scams. Accordingly, solo travelers do not need to worry about drivers driving around or surreptitiously paying the wrong amount of change.
In addition, you can also book a ride (and even a motorbike) on ride-hailing apps like Grab, Be or Go Viet, the equivalent of Uber in Vietnam.
Safe for female travelers 
Women will generally feel comfortable traveling alone in Vietnam. Harassment and assault are rare incidents. However, to avoid unwanted attention, solo travelers in Vietnam should not wear tight and revealing clothes such as shorts, three-hole shirts…
Have the confidence to leave uncomfortable situations and go to public spaces to let everyone around you know that you are feeling unsafe.
7 tips for travelers in Vietnam
If you are still worried as a solo traveler, here are some tips to keep in mind for a safe and comfortable trip around Vietnam.
Maintain contact with your family and acquaintances
Even if you want to enjoy total freedom in solitude, it's important to keep in touch with friends and family. Be sure to inform someone of your location and where you are going. It helps you get quick assistance in case of an emergency.
It's smart to buy a sim card that has mobile data access as soon as you arrive at the airport to connect wherever you are in Vietnam. Be sure to buy them from genuine vendor kiosks such as Viettel, Mobiphone and Vinaphone, which they offer affordable travel packages.
Understanding the local culture
Traditional values still play an important role in Vietnamese culture. To avoid judgmental glances, it's best to avoid over-boasting. This is similar to your outfit in Vietnam, even if the heat and humidity make you dress differently. Keep in mind that many temples and pagodas require covering hands and feet. Therefore, dressing casually is always a good idea to avoid unintentionally disrespecting the local culture.
Some cultural differences may also surprise international solo travelers. For example, how often Vietnamese people ask personal questions about their age, income level or marital status. These inquiries aren't meant to be rude. That's because Vietnamese people believe that this information helps them become closer to someone. If you don't feel comfortable answering, don't worry, they won't keep asking questions!
Prepare protective equipment
Research is always the best protection method for solo travelers. You need to get to know the neighborhoods around your place in Vietnam. Let's do some investigation on where you will be next, this preparation is very helpful in case of a taxi scam.
When conducting research, you should also record emergency contacts if assistance is needed such as police (113), ambulances (115), and embassy phone numbers. That's your prerogative if you want to arm yourself with a Swiss Army knife or some non-irritating aerosol. However, note that pepper spray and gun ownership are illegal in Vietnam.
Copy of ID and important documents
For solo travelers, losing travel documents can be extremely troublesome if not an unpleasant experience. Help yourself by keeping copies of your ID and important documents with you both hard and digital. It is better to keep the original document in the hotel safe if it is available. If not, always check these items before leaving the room.
Read more: All the reasons to explain why Vietnam is a good place to visit for foreigners?
Protection of personal belongings 
To avoid becoming a victim of petty theft, store valuables such as jewelry, smartphones, and cameras in a discreet place to keep them out of view. Don't make yourself a target even as a solo traveler! Bring some cash. Keep your padlocks locked in your pocket even if they're stored in your hotel room. You also need to take great precautions when getting on and off public transport, taxis and pedicabs because thieves often take advantage of these times to pick up things and run away. Always carry your hand in your pocket and place it in a safe location, especially in crowded areas.
Research your space
You will be intrigued to travel alone in Vietnam but it is best to thoroughly understand your accommodation options first. Avoid last-minute reservations. It's risky to ignore customer reviews because you're more prone to worry when you don't know what to do.
If you prefer, check out the popular Dorm room style for backpackers and solo travelers in Vietnam. Sharing some stories and travel tips with your fellow travelers won't hurt anyone either.
Accountable
The bustling nightlife in famous areas such as Ta Hien beer street – Hanoi and Bui Vien – Ho Chi Minh City allows you to relax and have fun. However, as a solo traveler in Vietnam, only you are responsible for yourself. Drink in moderation and understand that illegal possession of narcotics (including marijuana) can have serious consequences in Vietnam. Alcohol poisoning sometimes occurs due to the sale of counterfeit liquor, so it is best to be wary of some branded wines at too low a price.
Activities for solo travelers in Vietnam
Immerse yourself in the beach sun
Your trip cannot be complete without a day on the Vietnamese beach. First, you can visit My Khe beach in Da Nang to soak in the water. Then enjoy the refreshing feeling of water sports such as paragliding, water motorcycles, all just a few minutes from the city center. For luxury lovers, Intercontinental Danang Sun Peninsula Resort, Asia's top luxury resort, is also about a 30-minute drive away.
Phu Quoc, Vietnam's largest island is another great choice for solo travelers who love the sea. The gateway of this island is home to beautiful beaches such as Bai Sao, Bai Dai and Bai Khem. Immerse yourself in the picturesque scenery of fine white sands and swaying palm trees as you dive deep into the warm pristine waters of the jewel.
Immerse yourself in history and heritage 
A good way to immerse yourself in the vibrant Vietnamese culture and history is to explore eight Vietnamese heritage sites recognized by UNESCO. You can add unique experiences to your travel list, from kayaking through the fishing villages in dear Ha Long Bay to visiting a tailor shop in Hoi An to buying a one-of-a-kind traditional ao dai.
Solo tourists who love food can satisfy their appetite with diverse street food at night markets in HO CHI MINH CITY. Take an excursion the next day by visiting the nearby Mekong Delta. Do not forget to visit the colorful floating markets in the Mekong Delta, including Cai Rang floating market, and Phong Dien floating market…
Volunteer 
For solo travelers, volunteering can enrich the travel experience in ways unimaginable. Make it even more meaningful by making a real impact wherever you go! There are many volunteer opportunities available for solo travelers in Vietnam and most of them can be easily found online. The range of activities is limitless with countless social enterprises, non-profit organizations. We welcome you to teach English to children in Hanoi, rescue animals in Hoi An, pick tea leaves in Ha Giang as well as participate in the medical volunteer program in Ho Chi Minh City.
Join small tours 
Join small-scale tours is a good way for solo travelers to feel safe in organized groups without committing to long trips. In particular, as the number of female solo travelers in Vietnam continues to rise, it is not difficult to find short tours just for women.
Consider taking some female-guided tours by motorbike in Hanoi, Ho Chi Minh City and Hoi An. In addition to regular tours, these tours also allow you to participate in food or photography activities. In addition, unique experiences such as the female guide's hiking tour in Sapa and cooking class in Hoi An are great opportunities to make your trip more memorable.
Read more: Vietnam top attractions: One thing you should know before making your journey
The best center Vietnam tour: Tour in Vietnam