Cu Chi tunnel tourism entails exploring the "underground labyrinth" – one of Saigon's most famous national monuments. This place gives you an exciting adventure in the city named Uncle.
Learn about Cu Chi Tunnels 
The Cu Chi Tunnels are in Ho Chi Minh City, Vietnam, on Provincial Road 15, Phu Hiep Hamlet, Phu My Hung Commune, Cu Chi District. This tourist attraction has a total length of up to 250 kilometers and three distinct depths; the highest level is about 3 meters above ground, the middle floor is about 6 meters above ground, and the lowest floor is around 12 meters above ground. This is one of the world's six most famous man-made structures. Cu Chi Tunnels also made the list of Southeast Asia's top seven most exotic locations.
History of Cu Chi Tunnels 
For a long time, Cu Chi Tunnels has been one of the most exciting destinations in Saigon; however, not everyone can know the history of this tourist destination.
The history of the Cu Chi Tunnels is linked to the French resistance struggle, which lasted from 1946 to 1948. Troops and villagers of the communes of Tan Phu Trung and Phuoc Vinh An collaborated to conceal and store weapons and equipment. Each hamlet had its own base at first, but owing to the need to travel, they connected to form a continuous system. Cu Chi Tunnels now connects six northern communes. The military can easily communicate from this building, hide forces, and hold meetings to discuss revolutionary plans.
This work was evolved into numerous interrelated branches between 1961 and 1965. This project's top is additionally adorned with numerous nail holes, bell tunnels, and minefields… for the fight of our troops and people.
How is the road to Cu Chi Tunnels?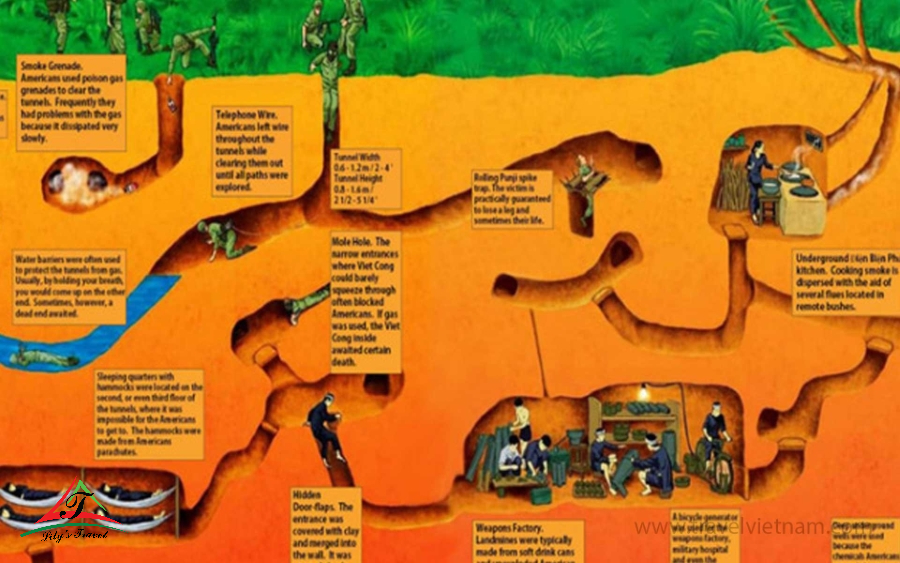 Cu Chi Tunnels is around 70 kilometers northwest of Ho Chi Minh City. To travel the Cu Chi Tunnels, you can pick from a variety of modes of transportation, including motorcycles, self-driving cars, taxis, buses, canoes, and boats. Each vehicle gives you other experiences and memories You can enjoy the lovely countryside on both sides of the river and check in on the boat, just like you would with a canoe or a boat. Learn everything there is to know about the Cu Chi Tunnels. Visit the Cu Chi Tunnels. Cu Chi tunnel tourism will be incomplete unless you explore the underground tunnels.
Read more: Saigon tourist Vietnam: 8 ways to discover "all of Saigon"
Discover Cu Chi Tunnels in detail 
Visit Cu Chi Tunnels 
Cu Chi tunnel tourism will be flawed if you miss exploring inside the underground tunnels. Visitors can see the tunnels, which were used by our troops and civilians throughout the conflict. The 120m tunnel with two floors will provide you with a variety of fascinating activities. Furthermore, you may taste dishes with a local flavor here – these are the dishes that people used to eat under the tunnel, such as potatoes, cassava, and pickled salt…
The Cu Chi Tunnels Tourist Area features a depiction of a battle zone
The significance of the Cu Chi Tunnels, as one of the most famous historical sites, is also linked to history and battle. When you visit this location, you should explore the reenactment of a war zone. You will witness slow-motion film of our troops and people's lives while living on this area here. Furthermore, several famous antiques and historical models from Vietnam, such as Long Bien Bridge, One Pillar Pagoda, Nha Rong Wharf, and Saigon Bridge, have been recreated in this tourist attraction.
Try the shooting area inside the Cu Chi tunnel
Tourists who come to Cu Chi tunnels are also interested in disassembling guns and trying to shoot. The employees at this resort will happily guide you. This location typically draws a large number of tourists, particularly foreign tourists.
A Cu Chi tunnel ticket to experience this activity costs 50,000 VND/person/60 minutes.
Read more: Ho Chi Minh Tourist attractions: 2 places you have to visit, and 3 ways to help you explore all attractions
Visit the East Sea's simulated swimming pool
Cu Chi Tunnels is also a well-known tourist destination in Cu Chi, offering a variety of activities. The cost of this activity is 20,000 VND per person.
Try fresh fruits in Trung An Fruit Garden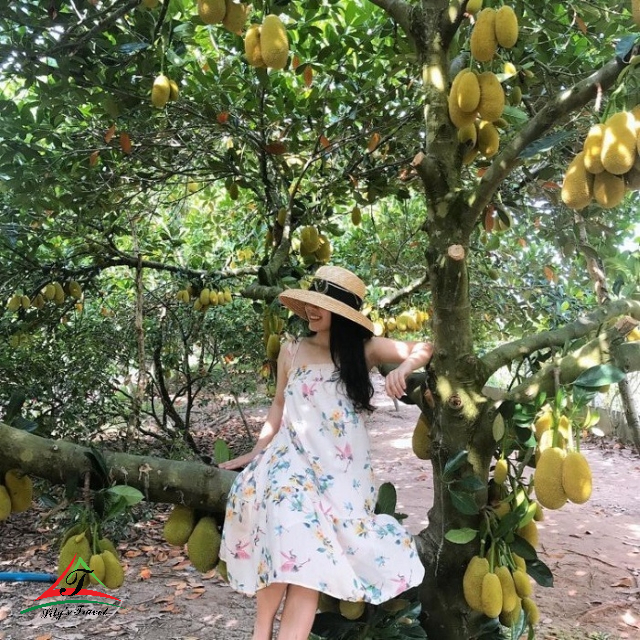 Visitors to this tourist spot are particularly interested in seeing the gardens and sampling numerous delectable fruits. Trung An Fruit Garden is well-known in the area; visitors can select and eat a variety of tasty fruits in the park, including rambutan, plum, jackfruit, and durian,…
Visiting a wildlife rehabilitation center Cu Chi Tunnels 
Many experienced travellers expressed interest in many tasty eateries and fascinating meals on the road to this tourist spot when seeing the Cu Chi Tunnels.
You can specifically like the following foods: Minh Quy pork noodle soup: This is arguably the best cuisine for the morning trip to the Cu Chi Tunnels. You can eat anytime you want because the restaurant is open all day. Boiled potatoes with salt: This dish is linked with many locals and our troops while they lived beneath this tunnel.
What should you buy as a present when visiting the Cu Chi tunnels
When visiting tourist spots in Saigon, most visitors wish to buy gifts for family and friends. Visitors visiting the Cu Chi Tunnels historical relic can purchase goods made from shells such as lighters, pencils, lamps, and so on as souvenirs for their trip.
Things to know when coming to Cu Chi tunnels 
Ticket pricing and hours of operation for the Cu Chi Tunnels
Visitors should note the opening hours when traveling to Cu Chi tunnels: 7h00 – 17h00 daily. As a result, you should plan your trip so that you may thoroughly enjoy this tourist attraction. Furthermore, the Cu Chi tunnel tourist area admission fee ranges from 20,000 to 30,000 VND/per person, the subterranean 20,000 VND/per person, and the games 50,000 VND/per person. This pricing is clearly governed by the relic's management, with no additional charges imposed, so you can preview the financial side when traveling.
Keep this in mind before visiting the Cu Chi tunnels
Visitors can read more about the notes and a few advice below to receive the most thorough and convenient Cu Chi Tunnels tour:
This tourist destination does not have a dress code when visiting. Visitors will travel underground to explore and experience, therefore dress neatly and in dark clothes to move around easily and avoid dirt.
To move more comfortably, it is recommended that you use sports shoes.
Visitors should bring sunblock and insect repellent with them on their vacation.
Do not enter small tunnels if you are terrified of tight places or have low blood pressure.
The best center Vietnam tour: Tour in Vietnam