Da Lat is the capital of Lam Dong province, located on the Lam Vien plateau at an altitude of 1,500m above sea level. It is about 300 km from Ho Chi Minh City and has a cool climate in the year, so Da Lat is an ideal vacation spot, helping visitors escape the heat of the South.
Read more: Dalat travel at the end of the year: 3 reasons to go
Which beautiful season in Da Lat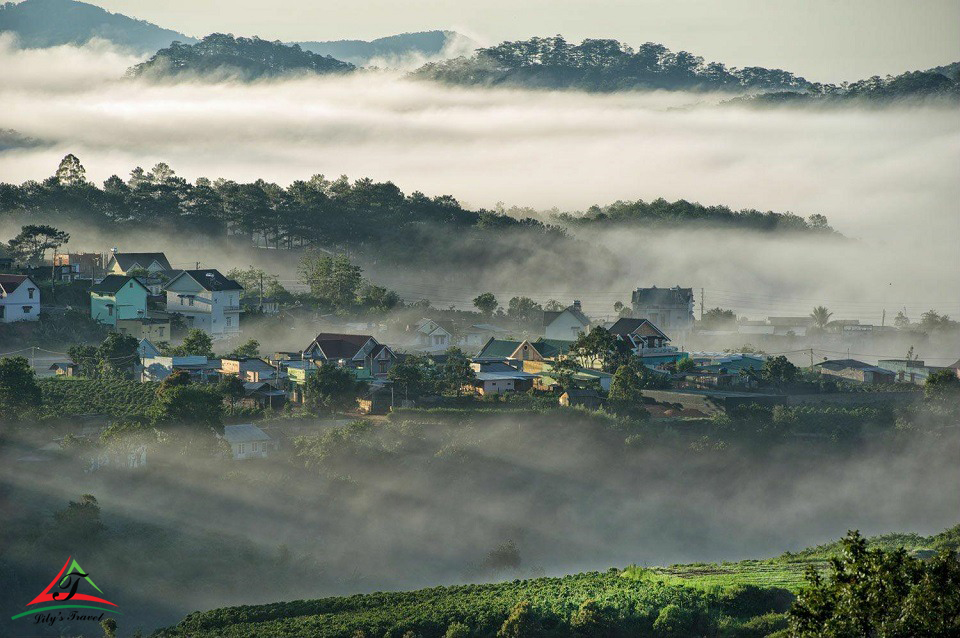 The climate of Dalat is cool all year round thanks to the geographical location in the highlands of the Central Highlands.
January-April is spring, so the mountain town is colorful with many flowers such as cherry apricot, Orchid tree flower, purple phoenix…
May-September is summer at the same time as the peak of tourism when tourists everywhere go to hide from the heat. However, this is the rainy season in Da Lat, so people always have to bring raincoats or umbrellas.
October-December is Dalat in the dry and cold season. Visitors going on this occasion will have the opportunity to see the brilliant yellow wild sunflowers, the pink grass hills shimmering in the morning dew or the clouds covering the hills in the suburbs.
Transportation
Most tourists in the North and North Central provinces choose to fly to Da Lat directly. The South and South Central regions can be reached by plane or car.
Hanoi – Da Lat tickets from 900,000 VND/one way
Da Nang – Da Lat tickets from 1 million VND/one way
HCM City – Da Lat tickets from 500,000 VND/ one way
Can Tho-Da Lat tickets from 1.1 million VND/ one way
From Ho Chi Minh City, the most economical way to travel is the night bus that will arrive in Da Lat in the early morning. Bed tickets for one person from 270,000 VND/one-way.
In Dalat, tourists rent motorbikes, cars, taxis or use technology ride-hailing apps to move between attractions. Motorbike rental from 120,000 VND/day. Self-driving car rental from 700,000 VND/day.
Hotels and Homestay
Depending on your budget and preferences, you can choose from guesthouses, homestays to hotels, resorts, luxury villas. Guests who like to shop and eat in the city should choose to stay near the center, but for nature lovers who avoid the hustle, book a room in the suburbs.
Glamping camping is also a new trend for tourists staying in Da Lat. This form is suitable for young people, small families going on weekends and holidays to both want to be close to nature and have basic amenities. Some points to mention such as Twin Beans Farm, CampArt #Aunt Jen, Dalat Camp…
Attractions
Historical, Architectural, Religion
The city of Da Lat was established in 1893, the time when Doctor Alexandre Yersin first set foot on Lam Vien plateau. The French arrived in Da Lat in the mid-1910s and transformed it not only into a resort paradise but also into a gorgeous metropolis complete with villas, offices, schools, and hotels…
Many works at that time have become attractive tourist attractions such as Dalat Railway Station with Dalat tourist train line – Mat Camping Area, Central Highlands Institute of Biology (Central Highlands Biological Museum), Tea Museum in Cau Dat, Da Lat Pedagogical College, Da Lat Cathedral, Domaine de Marie Church…
The system of Palace I, II, II in the reign of Bao Dai emperor, Tinh Truong Palace, Tran Le Xuan Palace, Nguyen Huu Hao Palace… is also an attractive destination for lovers of history and ancient architecture. In addition, visitors can visit more unique architecture such as Hang Nga Villa, Linh Phuoc pagoda, Linh Quy Phap An pagoda, or Lumiere Light Garden.
Read more: Dalat day tour: Save 39 hottest tourist spots in Da Lat to explore in one day (part 1)
Nature Destinations
Da Lat has many natural destinations to explore in a day or 1-2 days such as Bidoup National Park – Nui Ba, Tuyen Lam Lake, Datanla Waterfall, Prenn, Elephant, Pongour, Suoi Vang Lake…
For those who love to hunt clouds, dew, sunset and camp overnight on the mountain, Da Phu hill, Thien Phuc Duc, Trach, Cau Dat tea hill, and Hon Bo peak… are the most suitable places.
Visitors with young children who like to explore the animals can visit Zoodoo Zoo, Dog Farm, Chika Farm…
In addition, the city flower garden, hydrangea garden in Mat Camping Area, lavender garden in Tuyen Lam lake, and Van Thanh flower village… are also check-in points not to be missed in Da Lat.
Food
Uot Cake is a dish with a sour taste due to eating with chicken salad, unlike wet cake eaten with not often seen. When eating diners, they will feel the fragrant wet cake, chicken, chicken heart mixed in moderate sweet and sour fish sauce with the flavor of herbs.
Xiu Mai bread is suitable for breakfast visitors must try it. The dish consists of hot bread served with round shumai and a bowl of broth with a little fat, green onions and spicy satay.
Can Cake be imported into Da Lat from other regions, processing is not too fussy. The cake is molded with rice flour, but becomes special and leaves an impression on diners when the cake is transformed with a variety of flavors.
Grilled rice paper made from rice paper beats chicken eggs, cheese, liver pate, dried beef, and mayonnaise on top. The charcoal-baked goods are fragrant and hot. Just a few minutes later, a plate of the cake was cut into pieces with chili sauce.
Chicken hotpot with basil leaf is also an imported dish, but it is difficult for any visitor to ignore. The tender chicken, sweet mushrooms, crispy bamboo shoots and the light taste of the leaves make diners unforgettable, especially when enjoying the cold weather.
In addition to the typical dishes above, visitors will walk to the market and the central streets will find from the snack such as crab soup, sticky rice, avocado cream, and soy milk to Crab Paste Vermicelli Soup, beef rice noodles, Vietnamese grilled pork sausage,…
Coffee enthusiasts will realize that Da Lat is also the paradise of this drink. Not only does it make good coffee, but the restaurants and bars here also have attractive spaces and are decorated with a lot of styles,…
Find out more about Da Lat tours here: