Da Nang has many places to visit. In one-day trip to Da Nang, Lily's Travel will suggest some famous tourist attractions that you should not miss when you have the opportunity to visit this beautiful city.
Cu Lao Cham
Vehicles: Motorcycles, Cars, high-speed canoes
Itinanery: Da Nang – Cu Lao Cham
An indispensable destination for your trip to Da Nang more attractive must mention Cu Lao Cham. This island owns a lot of beautiful beaches with clear blue water, white sandy beaches full of poetry, or more interesting when diving to see the colorful coral reefs under the sea. Not only possessing amazing natural beauty but coming to Cu Lao Cham, you can visit some other places that are also extremely attractive.
To get to this place, you will have to move to Cua Dai port, from here to take a high-speed canoe to Cu Lao Cham in 15 – 20 minutes. The experience of canoeing on the sea is also very interesting, this is also the time you can enjoy the beautiful view of the sea and islands of this place. The ship docked you can visit the Marine Protected Area, then go to the ancient Cham–pa well and ancient Tay Tang pagoda. After your visit, find yourself a place to enjoy fresh seafood here. In the afternoon, you can go swimming or snorkeling to see corals in Bai Doi, Hon Dai, and finish a day trip from Da Nang to Cu Lao Cham.
My Son Sanctuary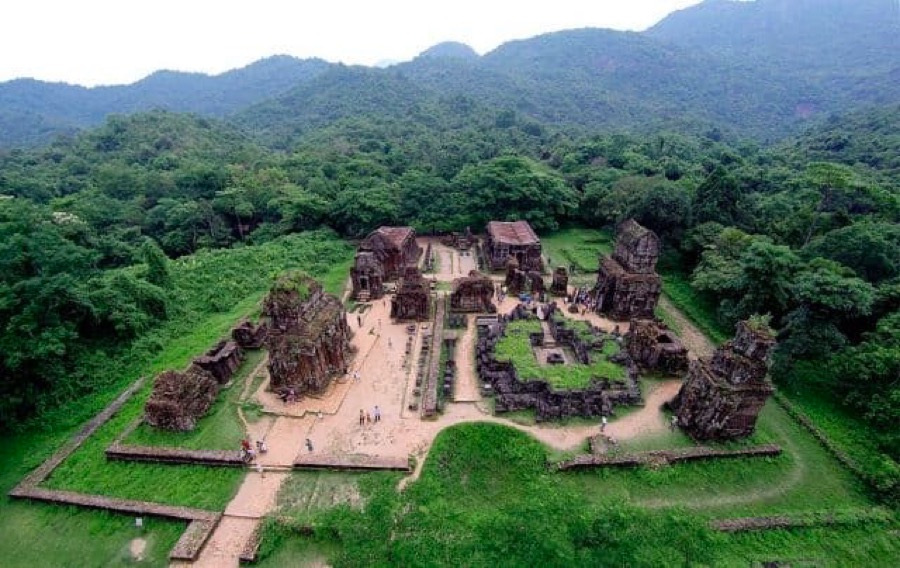 Vehicles: Motorcycles, Cars
Itinanery: Da Nang – Quang Nam
My Son Sanctuary – a complex of relics recognized by UNESCO as a world heritage site, located in a small valley, surrounded by hills, this site is located about 70 km from the center of Da Nang city. This relic complex used to be the place where the sacrifice rituals of the ancient Cham Pa dynasties took place, some works were the tombs of the Cham Pa kings, who were members of the royal family.
Departing from Da Nang city, you can travel here by motorbike, or car, with a distance of about 70 km, it will take you about 2 hours to reach this place. Coming here, you will be able to visit the massive temples, covered with mysterious moss, works built for centuries but still exuding a beautiful, unique and strange..
Son Tra – Linh Ung Pagoda
Vehicles: Motorcycles, Cars
Itinanery: Da Nang – Son Tra
Son Tra Peninsula – the charming "green pearl" of Da Nang is one of the most attractive destinations for visitors to Da Nang. When you visit Son Tra, you will have the opportunity to explore the green primeval forests, extremely varied flora and fauna, and one-of-a-kind architectural works; additionally, this location is connected with a number of significant cultural and historical values in the development of Da Nang today.
Coming to Son Tra on a day excursion from Da Nang, you will experience the cool and fresh atmosphere brought by the forests here, followed by a panoramic view of the city from many different heights, each place bringing you fascinating new experiences. This place also owns for yourself a lot of attractive attractions that you can visit such as Linh Ung Pagoda where owns a 67-meter-tall giant Quan Am statue, the top of Ban Chess with a height of 700 meters is an ideal place to see the whole city or Tien Sa beach where you can immerse yourself in the cool blue water.
Read more: 10 places to get Danang sightseeing overview (Part 1)
Asia amusement park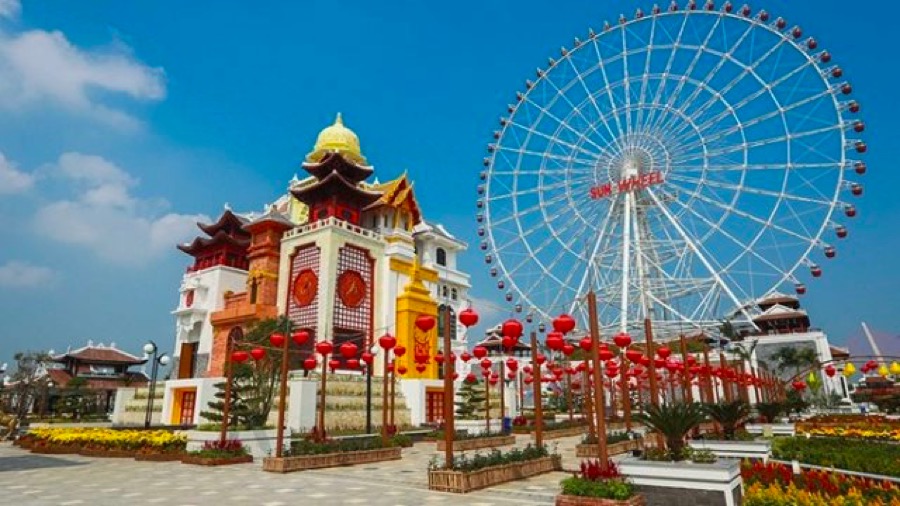 Asia amusement park is a place that attracts a lot of tourists to visit and have fun. On a large scale, this park is separated into 3 main areas including the cultural park, Sunwheel area and Asian amusement park. Come here you will be participating in a lot of exciting games. The games here are diverse and suitable for all ages, from normal games to thrilling games, making visitors overwhelmed. After hours of exciting fun, you can rest your feet, and taste the attractive dishes of many countries around the world at the cultural park.
Ngu Hanh Son Mountain
Vehicles: Motorcycles, Cars
Itinanery: Da Nang – Ngu Hanh Son
If you are wondering where to go for one day in Da Nang, let's visit Ngu Hanh Son mountains which are known as famous places to visit in Da Nang. As the name implies, Ngu Hanh Son Mountains includes five mountains located close together, the name of each mountain is taken from the elements system, this landscape is a unique gift that nature has bestowed on Da Nang city. If viewed from above, these 5 mountains seem to be combined into a giant hand fixed at this place.
Coming to Ngu Hanh Son, you can first visit Non-Nuoc stone art village, the village has a tradition of making handicraft stones since the 18th century, to see unique works made entirely from natural stone with many different shapes and sizes. Then take turns to visit Tam Thai pagoda, Tam Chon cave, Hoa Nghiem cave, Xa Loi stupa, Huyen Khong cave, or to Vong Giang Dai to get a panoramic view of the remaining 4 mountains.
Ba Na Hills
Not coming to visit Ba Na Hills is a great omission. This unique amusement park is built in European architecture, located on high mountains, so it is also like the European sky in the center of Da Nang. You will have to journey by cable car to get here, which is also a very interesting experience as you sit in the cable car cabin and admire the natural beauty of this place.
When you arrive, you will be able to visit and admire the magnificent and magnificent French village with many interesting entertainment activities. Besides, there are many other attractive places such as Fantasy Park, wax museum, Debay wine cellar,… so that you can enjoy the relaxing hours of your 1-day trip to Da Nang.
Da Nang Chicken Church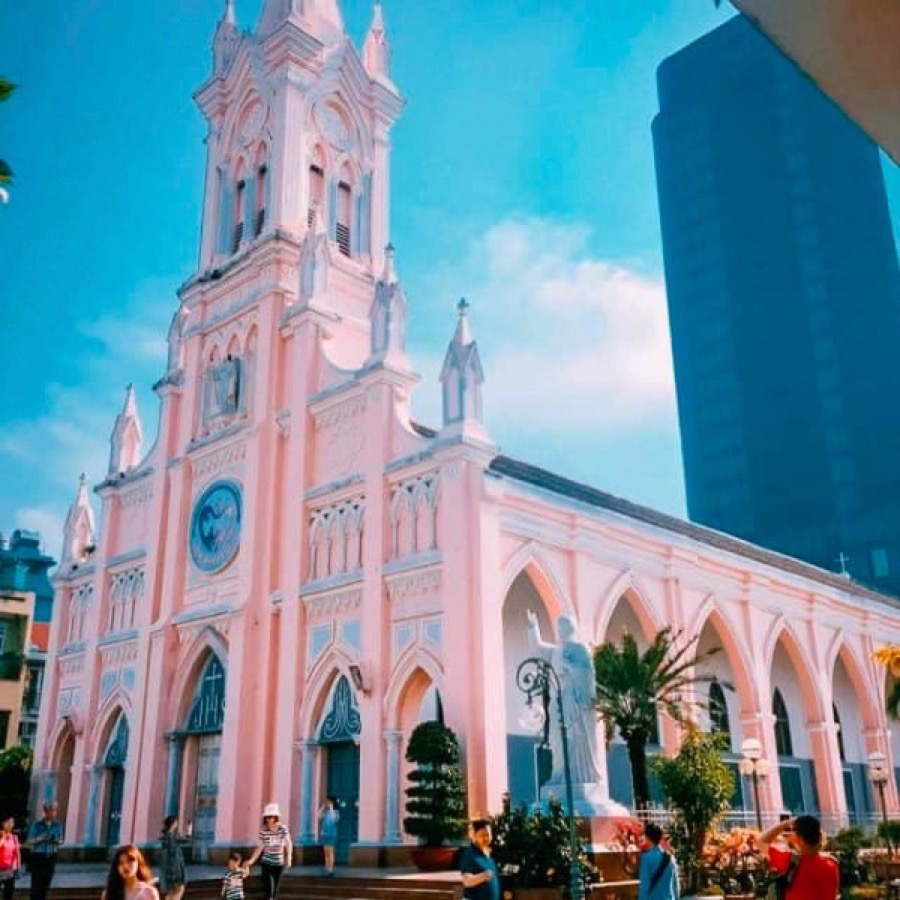 Vehicles: Motorcycles, Cars
The chicken church is also known by many other names such as the Church of the Sacred Heart of Giereessu, the Tourane Church, is a rare construction from the French colonial period left in Da Nang. Not only it's cultural and religious destination of locals, this place also becomes an attractive tourist destination by its unique architecture.
Located on Tran Phu Street, the center of Da Nang City, it is also very convenient to move to this location. For those who like nostalgia, classic French architecture, this is a destination not to be missed in Da Nang. Built according to Gothique architecture often seen in the palaces and churches of Europe, the chicken church is simply decorated but exudes majesty and magnificence that many visitors come here to be surprised.
In this article, Lily's Travel has introduced to you a few tourist destinations that you can refer to for a more interesting day trip to Da Nang. Hopefully with the above information will help you have mre and more attractive trips to Da Nang.
Read more: 10 places to get Danang sightseeing overview (Part 2)
Find out more about Da Nang tours here: