Hoi An (Quang Nam), Sa Pa (Lao Cai) and Hanoi – the Capital city of Vietnam are considered by many foreign tourists the most beautiful tourist photography destinations in Vietnam, according to Booking.com, Agoda.com…
TOP 1: Hoi An
Top of this list is Hoi An (Quang Nam). With its ancient landscape, this is a destination that attracts a large number of foreign tourists to record beautiful images. The ancient tile roofs on the yellow wall of the ancient houses, the bright lanterns on the street corner are difficult for tourists to forget when walking to see the street here. Hoi An offers a variety of perspectives for photographers around the world not only by nature but also by culture, people, cuisine… This destination is voted as one of the 10 most attractive tourist cities in Asia (voted by Smart Travel Asia magazine). The nostalgia, peace and beautiful natural scenery of Hoi An are what attract foreign visitors.
TOP 2: Sa Pa
The second place belongs to the northern mountainous city of Lao Cai province. Sa Pa is a destination that attracts foreign tourists who love to explore nature and majestic mountains. This quiet land is home to many highland tribes, bringing the strange culture of Vietnam to visitors. In particular, the green valleys, terraced fields, and picturesque mountain scenery make visitors want to spend more time exploring and recording beauty through movies and photos.
Once ranked 5th in the top 50 most beautiful places in the world, Sa Pa not only attracts visitors through the beautiful and majestic natural scenery but also through the unique culture of the indigenous people. Located at an altitude of over 1.500m, the weather here all year round is cool, covered with layers of white clouds. One of the favorite experiences of Westerners when traveling here is climbing Fansipan peak, taking pictures with terraces or Homestay with indigenous people.
TOP 3: Hanoi
Hanoi capital is crowded and bustling, leaving many impressions for foreign tourists to visit. The city also appears in many photographers' travel series around the world. The busy neighborhoods of the land of thousands of years of civilization always make international visitors interested. Besides the ancient, elegant features of many architectural styles, local cuisine is something no one can forget when exploring the city. The famous international chefs also have to admire and remember the impressive dishes here such as bun cha, bread, fish paste, pho…
In 2019, Hanoi is honored to rank 15th in the list of 25 most favorite destinations in 2019 voted by the travel site TripAdvisor. Many foreign visitors said they were impressed and attracted by the ancientness of Hanoi, especially the experience of wandering around the streets, enjoying attractive food in the streets.
Top 4: Ha Long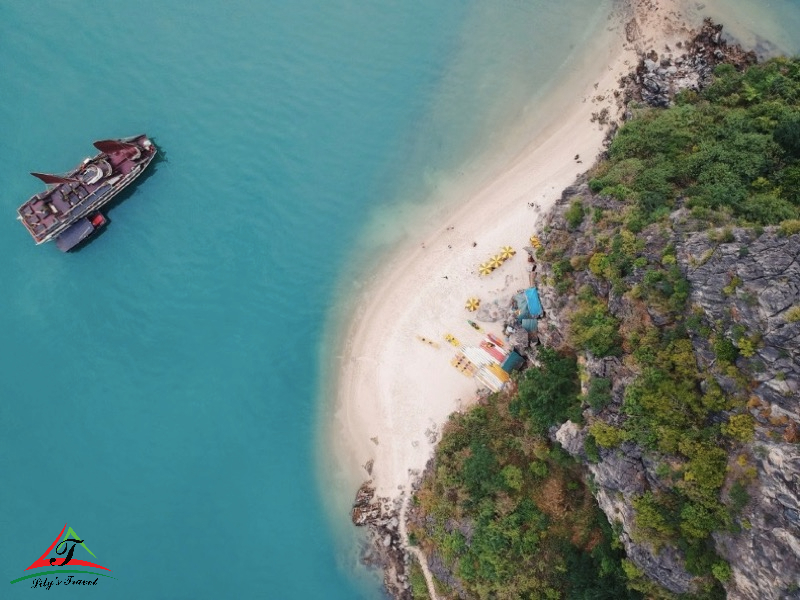 Ranked 4th in the list of destinations highly voted by international travelers is Ha Long Bay (Quang Ninh). Ha Long Bay is one of the world-famous scenic spots, appearing in many check-in photos and photos of photographers from all over. This destination is recognized by UNESCO as a world natural heritage and one of the most beautiful bays in the world. With thousands of large and small rocky islands rising from the turquoise water to create a giant watercolor painting, Ha Long Bay is considered a favorite destination, not to be missed by foreign tourists when coming to Vietnam.
Read more: 16 vietnam beautiful places to visit: How many places have you been?
TOP 5: TP. HCM City
Before the Covid-19 pandemic, Ho Chi Minh City was a bustling stopover for domestic and foreign tourists. This place attracts tourists who like to take pictures of the prosperous and bustling city. When it wasn't "sick," the city had a plethora of entertainment, entertainment, and dining options for visitors to enjoy.
TOP 6: Dalat
Da Lat (Lam Dong) with peaceful beauty, poetic highlands, holds the 6th position in this list. The pine forests are wide and the hills are crowded, the cool weather will make visitors a relaxing experience during the holiday. With beautiful natural scenery, a fresh and cool climate, Dalat has long been a favorite destination of many tourists when coming to Vietnam. Recently, Da Lat is more attractive to foreign tourists because of the type of adventure tourism such as climbing, swinging over waterfalls, mountain bicycles…
Top 7: Ninh Binh
Ninh Binh draws foreign visitors who want to experience ancient and mysterious landscapes. You can enjoy Trang An, visit the ancient Hoa Lu capital and stroll around the quiet temples here. Ninh Binh province, which is only about 100 kilometers from Hanoi, is an appealing tourist destination for both domestic and foreign visitors due to its beautiful scenery and numerous renowned cultural and spiritual tourist destinations.
Top 8: Da Nang
The livable city of Da Nang fascinates domestic and foreign tourists because of its beautiful beaches and harmonious and pleasant weather. The poetic features of the neighboring and bustling places in the city center are the factors that always keep visitors coming back many times to enjoy the holiday here.
Top 9: Binh Thuan
Binh Thuan is located in the sunny land of the South Central Coast, which is famous for its beautiful beaches and coastal roads, Binh Thuan is one of the localities with a diverse landscape and unique culture. This is also a favorite destination of many foreign tourists when coming to Vietnam.
All excursions and resorts of foreign tourists are often indispensable to explore and adventure. Therefore, explorers choose Mui Ne (Binh Thuan) as a place for them to experience unforgettable experiences in Vietnam, from sandy hills stretching with unique terrain changes to private beaches.
Top 10: Hue
The dreamy and quiet beauty of Hue is marked in the hearts of foreign tourists not only by works associated with Vietnamese history but also by the peacefulness of the landscape and people here. To ancient Hue Capital, everyone is gradually conquered by the poetic features of Huong River, Ngu Mountain and Hue Citadel, Khiem Lang… Located in the narrow strip of central Vietnam, Thua Thien Hue is one of the three major tourist areas of Vietnam, a city with a long cultural history, a beautiful and charming natural landscape and a world-recognized historical complex. For many foreign tourists, this is an indispensable stop in the journey to discover Vietnam.
Read more: 10 places to get Danang sightseeing overview
The best center Vietnam tour: Tour in Vietnam