Dam Sen water park has another name Dam Sen Cultural Park. With its large hall and green space, Dam Sen Water Park attracts thousands of visitors, especially on the weekend. To have the full experience, you should also take the time to read the article about this amusement park below.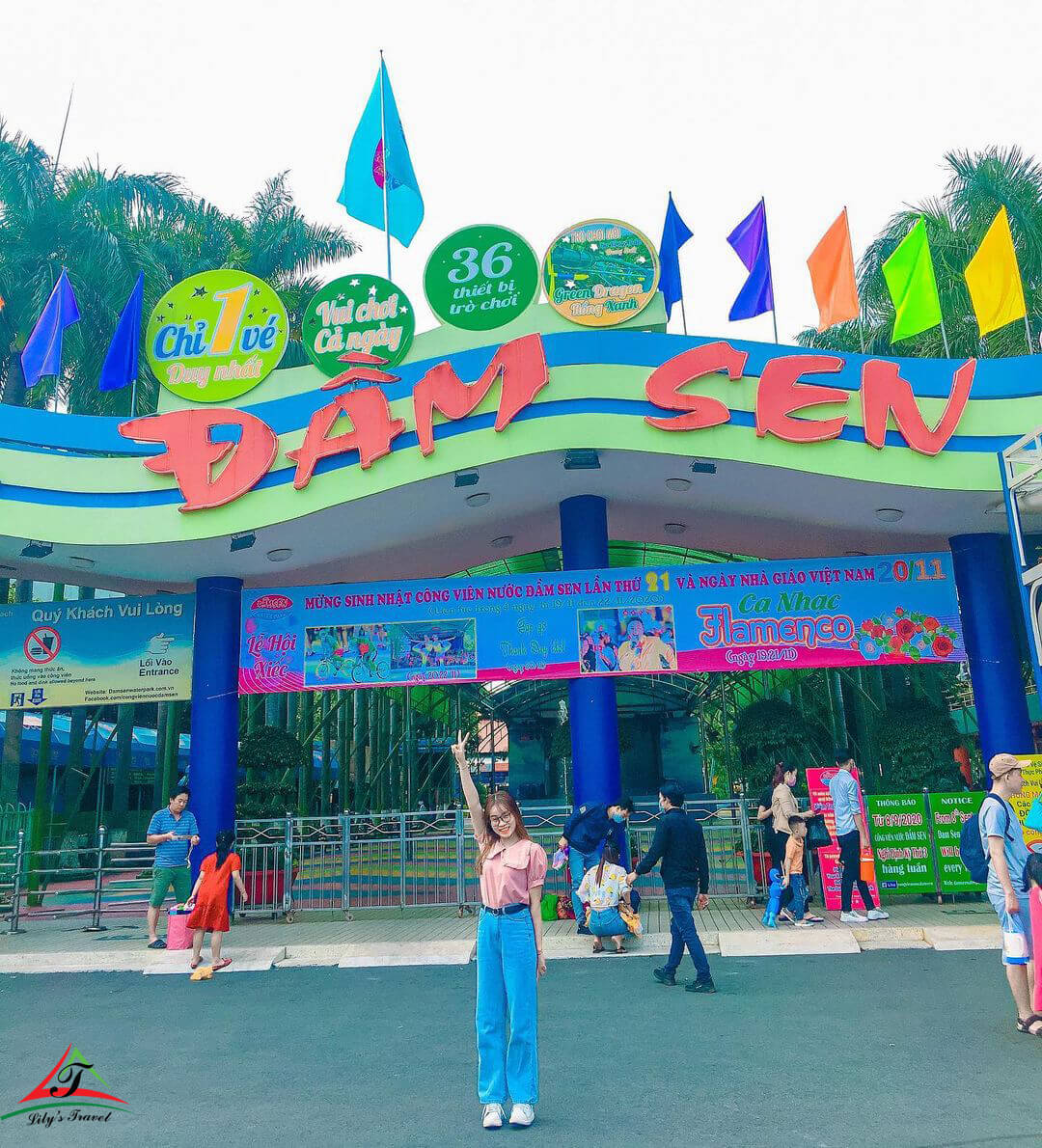 General information
Location
Dam Sen Park is located on Hoa Binh Street, Ward 3, District 11, Ho Chi Minh City. The location of Dam Sen Park is about 7.6km from the Independence Palace, 3km from Cho Lon Market.
The park was built in 1976 and has always been a symbol of tourism and entertainment in Ho Chi Minh over the years.
Special information
Dam Sen Water Park is a complex of works built and designed in a variety of ways, including miniatures from Asian to European styles, from nostalgia to modern, rich games for all audiences. Including a green garden, zoo, aquarium, stage, restaurant …, the water park will satisfy every entertainment need of visitors.
The total area of Dam Sen water park is about 50ha and is one of the largest amusement parks in Vietnam. The park is divided into 2 parts: water park – dry lotus park (amusement and entertainment complex). 
The main entrance to Dam Sen complex is located on Hoa Binh Street, Ward 3, District 11, Ho Chi Minh City. In addition, visitors can choose the gate located on Hoa Binh street (next to Thuy Ta restaurant) to get in.
Read more: Suoi Tien Theme Park: a tourist complex combing Festivals – Games – Sightseeing for everyone
Operation time:
Monday, Wednesday, Thursday, Friday: open from 8.00 to 18.00
– Saturday – Sunday: open from 7:30 to 21:00
– Public Holidays/New Year's Eve: Open 7:30 – 22:00
You can get into the park from 3 gates: 
– Gate at No. 1, Lac Long Quan Street
– Gate at No. 1A, Hoa Binh Street
– Gate 2 on Hoa Binh Street (also the gate of Thuy Ta restaurant)
The ticket price
– The entrance ticket for adults and children is over 1m. With this ticket, you will be able to enter the entrance to visit Dam Sen Park and watch performances.
– The package tickets for children (from 1 to 1.4m) and adults. With this ticket, you can get access to the whole Dam Sen park, participate in 35 games and watch shows outdoors.
– Evening ticket (18h – 21h) includes: 
The entrance ticket includes visiting and playing 1 game in the children's area

The package ticket includes visiting and playing all games in the children's area.
– Note:
Children under 1m are free for entrance tickets and free participation in appropriate games.

Currently, there is no package ticket for both parks (water park and if you want to visit both places above, you can buy 2 kinds of tickets: buy a ticket to get to Dam Sen Cultural Park (amusement and entertainment complex) to have fun. After that, you buy a ticket to go to Dam Sen Water Park at Lien Thong Gate (near Thuy Ta restaurant)

The price may be changed. You should access Dam Sen Water Park's website to update. 
Experience outdoor games at Dam Sen Water Park
Dam Sen water park is divided into 7 subdivisions with 7 types of entertainment to ensure visitors of all different ages.
13 thrilling Games
Those games equipped with modern machines will help you to challenge your courage. You will feel both nervous, scared and also excited when overcoming the games. The most favorite games are: fast rotation, waterfall train, Power Surge, …
However, you should consider joining a game that is suitable for your health. 
Technology and virtual games
There are 5 interactive games with the most modern and advanced technology that are loved by many children and young tourists such as: 8D cinema, exciting castle, Run Raider shooting, racing car… Visitors will experience the most advanced technology today like stepping into a new and exciting world.
Children's play area
The games most loved by children have tags such as: train, childhood circle, dragon gliding or angel dance. That is the reason why this place is always an attractive weekend destination for young families.
Aquarium
An aquarium with an area of 3,000m2 converges many marine species. This place is designed Especially the exterior design, like a giant crab with a large claw, two eyes and a rather fancy blue shell. There are up to 6,000 aquatic species, 150 species of animals, and 40 precious plants. Entering the aquarium, visitors will feel like "walking under the sea".
Read more: Saigon Zoo and Botanical Gardens: The place for spending time on the weekend
Botanical Zoo
At the zoo, children will be able to see and interact with lovely animals. Lovely giraffes, mountain goats, long-tailed monkeys, bird gardens, etc. are raised in a green space with many vibrant colors, etc. It will be a memorable trip for the children.
Experiential education zone
In particular, the experiential activity area is also very attractive to children such as: trying to be a farmer, visiting aquatic vegetable gardens, harvesting vegetables, … visiting and admiring animal models and dinosaur bones, … These will also be memorable experiences for children.
In addition, Dam Sen Dry Park also has some other interesting games such as Art Ice House, a Ferris Wheel – a panoramic view of the park from above…
Some notification
The park does not accept pets so visitors have to leave pets at home. Explosives, stimulants or items that may pose a danger to others are also not allowed into the park.
Actively preserve personal property, leave the car in the parking lot 
Dam Sen Park is quite large with many subdivisions and outdoor games, so visitors need to actively take sun protection measures such as hats, sunscreen…
The large park has many new and interesting games that attract children. Parents need to pay attention to avoid listing children. 
Find out more about Ho Chi Minh city tours here
The best center Vietnam tour: Tours in Vietnam