3D art museums are always popular with visitors because of their unique,  impressive spaces that attract both adults and children. It can take you up to hours, tired to check in every corner of the museum to create hundreds of quality, unmatched photos.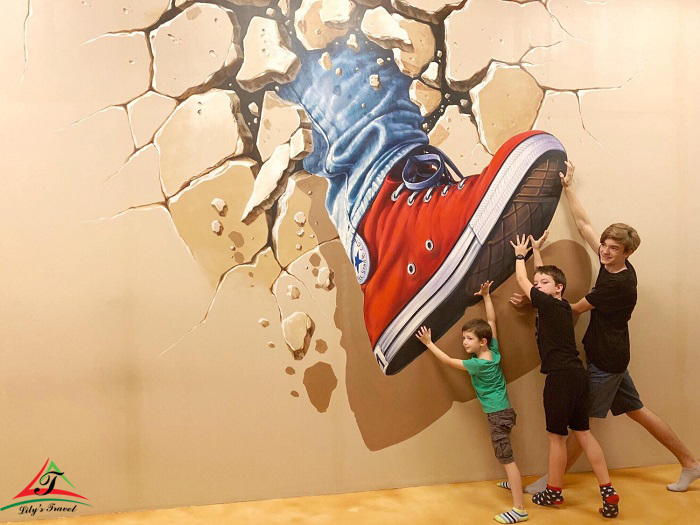 Location
Artimus 3D Art Gallery is located in Him Lam urban area, District 7 is a popular Saigon entertainment place but this place always attracts many foreigners to check in because of the virtual living. With an area of more than 4000m2 and hundreds of huge, unique and vivid 3D works, Artinus Temple will make you feel lost in a mysterious and fanciful space.
Artimus 3D Art Gallery is a business art museum revolving around the theme of 3D Objects and 3D paintings that first appeared in Vietnam. Coming to Artinus, you will experience visiting and preserving unique moments. Immerse yourself in the psychedelic world such as painting, cubism, interior … with each level of emotion: fear or amazement, not inferior to famous 3D art museums in the world.
Artimus promises to be a place of entertainment and sightseeing that is new and for everyone, a place where you can relieve all stress after tiring hours.
Travel guide and museum opening times
Hours of operation: 
9:00 am – 5:00 pm (Monday to Friday)
9:00 – 19:00 (Saturday, Sunday and holidays)
Directions: 
You can travel by taxi or motorbike from the city center to Ong Lanh bridge, turn right onto Hoang Dieu street, continue to turn left at the intersection with Khanh Hoi street across Kenh bridge. Tired. At the intersection of Nguyen Thi Thap – Nguyen Huu Tho, turn right and go to street 9 (near the foot of Him Lam bridge).
Visiting Artinus 3D painting
3D painting is an art form that applies the principle of near and far. The artist will paint on flat surfaces such as walls, ceilings, and floors, combining shading with multi-dimensional paint colors. Under the reflection of light, 3D paintings give the viewer a feeling of lifelike motion effects that make them feel real and extremely alive.
Artimus 3D Painting Museum is a collection of hundreds of paintings made by 15 Korean artists. The rich world of 3D paintings at Artinus is considered to be no less competitive than other famous 3D art museums in the world. The works are made mainly from lacquer, painted directly on the wall and designed at a reasonable height, which will give visitors a sense of visual deception.
With a total area of ​​more than 4,000 m2, the Artimus exhibition area includes 9 separate themes, including: Vietnam, Ocean, Jungle, Painter, Egypt, Fairy, Giant, Love… Most special Here is the area Vietnam is located in the center, with familiar landmarks associated with the country and people of Vietnam.
Read more: Dam Sen water park: The way to explore one day
3D Art Zone
Aqua Zone
Here, you can experience 3D art with special animals living in the underwater world such as sharks, whales, dolphins…
Animal Zone
You can take interesting pictures of animals that are normally inaccessible such as bears, cougars…
Master Piece Zone
You can find paintings containing many historical and human values ​​by artists such as Van Gogh, Botticelli, Michelangelo, Munch, etc.
Vietnam Zone
Visitors will admire the majestic nature of Vietnam, besides that you can have vivid photos even if you have not had the opportunity to set foot.
Fantage Zone
Open the fairy door to the unthinkable.
Egypt Adventure Zone
The image of Egypt appears mysteriously.
Giant Zone
You can lie in the hands of the giant King Kong or be chased by a cat.
Strange House Zone
The scene that appears is a strange house, the hippo bathing in the bathroom reflects the image of someone different from you, where there is a strange room, the smaller the person becomes the bigger.
Love Zone
An ideal place for you to freely pose for photos to make memories with a poetic scene.
Read more: Suoi Tien Theme Park: a tourist complex combing Festivals – Games – Sightseeing for everyone
Tips for you when visiting the Artinus 3D painting museum
Artimus 3D painting museum has a fairly large area with many sightseeing areas. So, to have the most fun and complete discovery trip, please immediately pocket a few notes below.
– Fully charge your phone or camera before visiting so that you can comfortably keep your souvenir photos in the entire exhibition area.
– For the most perfect virtual live photos, you should stand at the Photo Points to capture the right 3D angle.
– At the museum, visitors are not allowed to bring food and drinks inside, that's why you should visit Saigon breakfast shops before coming. After the tour is over, you can also enjoy some delicious Saigon lunch at the sale locations around the museum area.
– Always comply with all regulations and do not arbitrarily damage the paintings.
– Do not bring shoes into the museum, you must leave them in the locker outside.
– Bring necessary documents such as passport, identity card, …
– In particular, it is not recommended to buy tickets to visit the 3D Artinus museum through unofficial websites to avoid being scammed.
Find out more about Ho Chi Minh city tours here: Click here
The best center Vietnam tour: Tour in Vietnam