Ha Giang loop tour is one of the most rewarding journeys in Vietnam. You can make a short trip to Ha Giang at the weekend according to the following schedule.
Ha Giang is a land that attracts many young people who love freedom and immerse themselves in nature. In particular, when autumn comes, buckwheat flowers bloom all over the road, prompting visitors to come to the top of the country to immerse themselves in the beauty of the majestic mountains.
Foreign tourists call the road Ha Giang – Quan Ba ​​- Dong Van – Meo Vac "Ha Giang Loop" (roughly translated: a round of Ha Giang). This is also the most interesting road in the North.
If there are not many days off, visitors can schedule a schedule to explore Ha Giang Loop from Friday night and return on Sunday. Thus, you can go to school or work on Monday morning as usual.
The first night, from Hanoi, you catch a bus at My Dinh bus station to go to Ha Giang city. Many bus companies specialize in this route for you to choose from. Get on the bus at about 20:30, take a nap and arrive in Ha Giang city at about 4 am.
Read more: The best tourist spot in Vietnam: The marvelous walking route conquering "Ha Giang White Cliffs"
Day 1 of  the Ha Giang loop tour
In the morning of the first day (Saturday), you follow the route: Ha Giang city – Quan Ba ​​- Dong Van – Lung Cu flagpole – Dong Van.
Arriving in Ha Giang City, tourists rent motorbikes and fill up their fuel tanks. Be sure to ask the lessor to provide a tourist map, repair kit and repair shop information along the way in case of problems.
Departing at 5 am, you go to Bac Sum slope to watch the sunrise. In the early morning, this place often has a dreamy sea of ​​clouds. The next destination is Quyet Tien commune (Quan Ba ​​district), where there are one of the 4 most beautiful buckwheat flower fields in Ha Giang.
Then you come to Tam Son town (Quan Ba). On the way down to town, you stop to take pictures with Doi mountain (also known as Co Tien mountain). To Tam Son, you eat and rest in the town.
The next journey is to Yen Minh. You can stop to check in at Yen Minh pine forest and take a lunch break under the shade of tall trees.
In the afternoon, you go up the slopes of Tham Ma, Chin Khoanh, then go to Sung La valley. Here, you go to Lung Cam village to check in buckwheat flowers, rose garden and buy tickets to visit Pao's house. Another must-see destination is the Vuong family mansion, the most unique ancient architecture in Ha Giang.
Finally, you drive up to Lung Cu flagpole and see a spectacular Ha Giang from above.
At the end of the journey on the first day of discovery, you go back to Dong Van town. Because the road is long, you need to move quickly and carefully before it gets too dark. Arriving in Dong Van town, you check in at a homestay, eat, walk around the old town and rest early to keep your energy up for the next day.
Day 2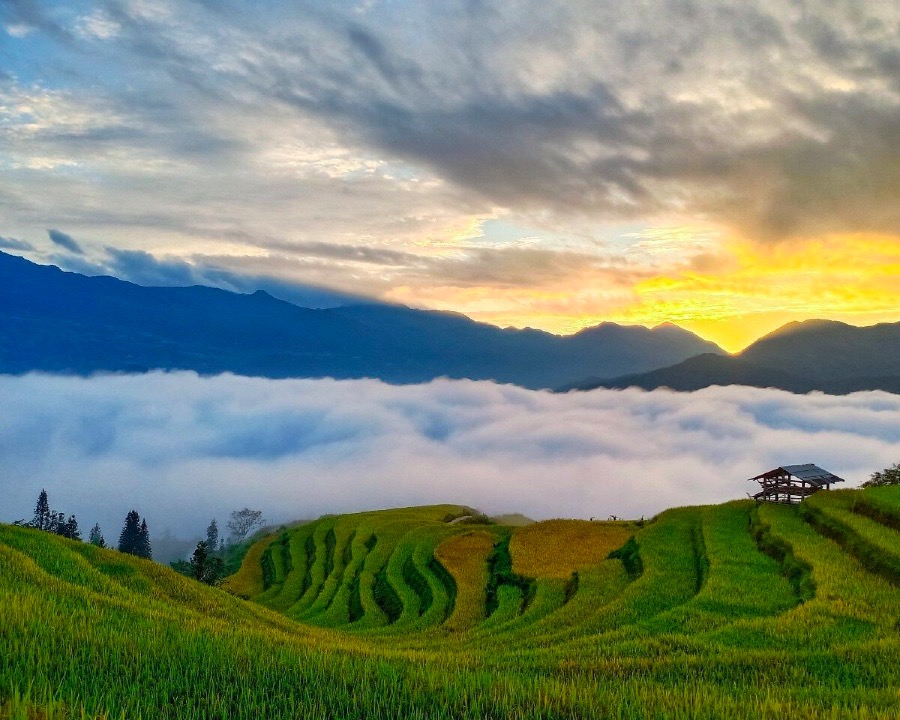 Sunday's schedule is Dong Van – Ma Pi Leng – Pa Vi – Meo Vac – Ha Giang City – Hanoi. Starting a new day of experience, you can enjoy breakfast with the famous Ha Giang roll cake. The famous restaurant that many people whisper to each other is Ba Bich roll cake right in the old town.
The road that must be followed when coming to Ha Giang is Ma Pi Leng, the most beautiful and majestic pass in Vietnam. You will enjoy admiring the "legendary" beauty along the way. In addition, Tu San alley is also a check-in point that is hard to miss. You can rent a boat down Nho Que river and watch the magnificence of the cliffs here.
From Ma Pi Leng, you descend towards Meo Vac. At the foot of the pass, you will encounter the largest field of buckwheat flowers in Ha Giang and Pa Vi. With a background of rolling mountains and poetic buckwheat flowers, Pa Vi is a place where you can "buy" a charming photo album.
Arriving in Meo Vac, you have lunch, rest and go back to Ha Giang city. This road will go through Lung Phin, Mau Due, Upper Street, Lung Tam to Quan Ba ​​and finally Ha Giang City.
You can still stop the car to check in with beautiful scenes along the way. In particular, Lung Tam and Quang Ba heaven gate are two places where you can enjoy a peaceful and "extremely chill" sunset before parting with this majestic land. Arriving in Ha Giang, you take advantage of dinner and get on the bus to move back to Hanoi.
Cultural values: Ha Giang people
– Diverse cultural identity with 17 ethnic groups.
– Ha Giang is the home of 17 ethnic groups… The most common and easy-to-recognize groups in Dong Van Ha Giang are the Mong people (often wearing spread skirts), Tay people and Dao Cham people. The popular group on the side of Hoang Su Phi and Xin Man is: Mong Red people (wearing a red dress different from the Mong people in Dong Van), Dao Cham, La Chi people …
The ethnic minorities in Ha Giang maintain a very good cultural identity. For example, the Mong people still have the custom of pulling their wives, eating mung, drinking corn wine, growing fabric woven. The La Chi, an ethnic minority group with just over 10,000 people, has a custom of drinking wine with buffalo horn, when they die, they are buffalo horns in front of the grave, they are called buffalo horn cemetery. Or Dao Cham people wear indigo-colored clothes, special embroidery hats, on the house of the wall, and the Tay people in the roof stilt house…
Read more: Ha Giang travel guide: Experience, Itinerary and prices
Some notes when traveling to Ha Giang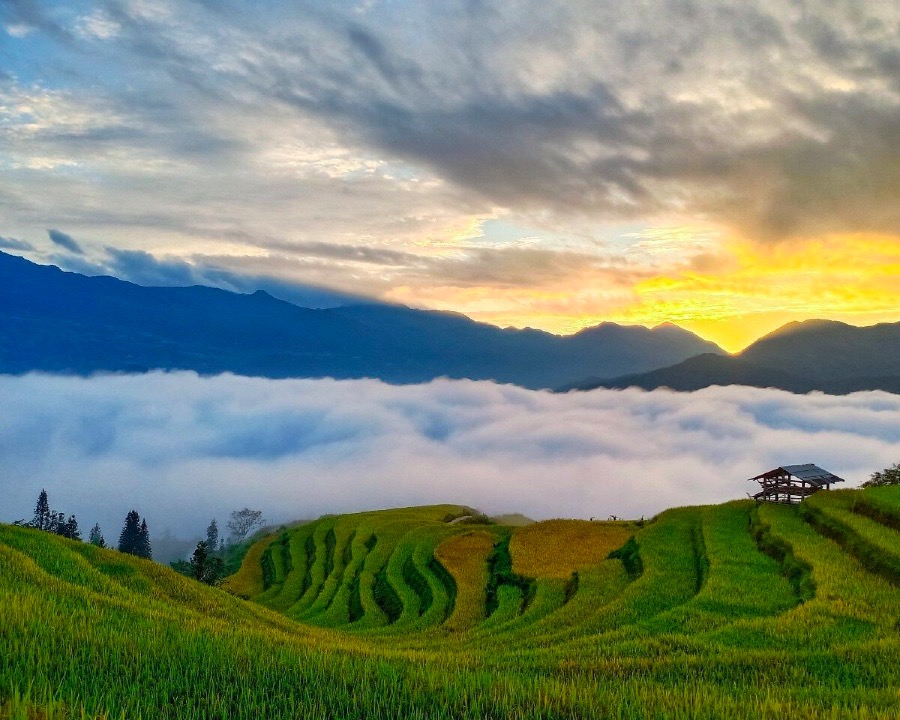 Here are some notes for you to be more active in your trip to Ha Giang:
– The weather here is sunny and rainy, you need to apply sunscreen and equip a raincoat to cover your luggage.
– The pass is very steep and cornering, you should choose to ride a gear car and always go to number 2 to avoid slipping down the pass. Whenever you see a strange road or go the wrong way, ask people to avoid getting lost too far. There are very few gas stations on the road, so to be sure, you need to fill up the gas tank when you see any.
– This route has beautiful scenery, you should consider limiting stops at many points because it will take time, leading to having to move to Dong Van or Lung Cu in the evening, quite dangerous.
– In addition, you should bring snacks, bread and water to replenish energy along the way. Besides, you can also prepare some candy for the children here.
Find out more about Ha Giang tours here: