Neither far nor near, Quang Binh tourism has long become a must-visit destination for many tourists. Indeed, with souls passionate about discovery, it will certainly not be possible to sit still when the beautiful frames of Thien Duong Cave, Phong Nha Cave, Quang Phu Sand Dunes, Moc Spring,… shared calendar.
From Hanoi, if you are planning to "explore" all the above destinations of Quang Binh tourism, it is impossible to ignore tourist guide information, beautiful places to take pictures or experiences.
Read more: Bus tour Hanoi: The new experience to overview the capital of Vietnam
Quang Binh's tourist destination
Quang Binh, a poor rural district in central Vietnam, has a leader who has likened the Central region to "a pole, holding the two ends of the country" of the Red River Delta, and the delta was the same. The Mekong River is the two granaries of the country, the Central region is a double-headed pole that is soaked with the sweat of the people here.
And Quang Binh is like an inseparable joint connecting to create the "burden" of the Central region, this place is characterized by a harsh land, the East borders the East Sea, bringing rich seafood resources but also bringing natural disasters. , storms and floods with relatives, the West is adjacent to the majestic Truong Son mountain range, the Lao winds blow inland, creating a harsh climate. The land of Quang Binh is full of difficulties, but the people here do not give up, because of that, so many excellent children have been born here, the most typical and proudest is probably the ancient great emperor. General Vo Nguyen Giap.
Today, Quang Binh is "changing flesh", gradually transforming with large industrial projects or many attractive tourist destinations that have made many good impressions on domestic and foreign tourists. With tourism in particular, Quang Binh is known as "the kingdom of caves" with more than 350 caves discovered and put into tourism exploitation, famous and known by many tourists to mention: Son Doong – The world's largest cave has resonated across five continents, attracting millions of international visitors to register to visit and explore. Along with that, Phong Nha – Ke Bang tourist area, Vung Chua – Yen island tourist area, Thien Duong cave … also contribute to helping Quang Binh become an attractive destination to visit and explore with many domestic tourists as well as international.
Directions for transportation to Quang Binh from Hanoi
The way to move from Hanoi to Quang Binh is very convenient, according to the suggestion of the article, visitors can buy train tickets to travel to Quang Binh. If taking a bus, we recommend that you buy a sleeper ticket at Nuoc Ngam, Giap Bat bus station to Quang Binh, Quang Tri, Hue or North-South buses can reach Quang Binh.
Many tourists like the challenge of the Central route and are passionate about backpacking, so they choose to go to Quang Binh by personal means, we tell you, just download the Google Maps app for directions on your smartphone and then choose your destination. and means of transportation is that you will receive detailed and extremely accurate instructions. From Hanoi, according to the fastest navigation suggestions of Google Maps, you will run 504 km and take 9 hours and 30 minutes to reach Dong Hoi city, Quang Binh if you run all the time.
What are the attractions of Quang Binh's tourism and entertainment experience?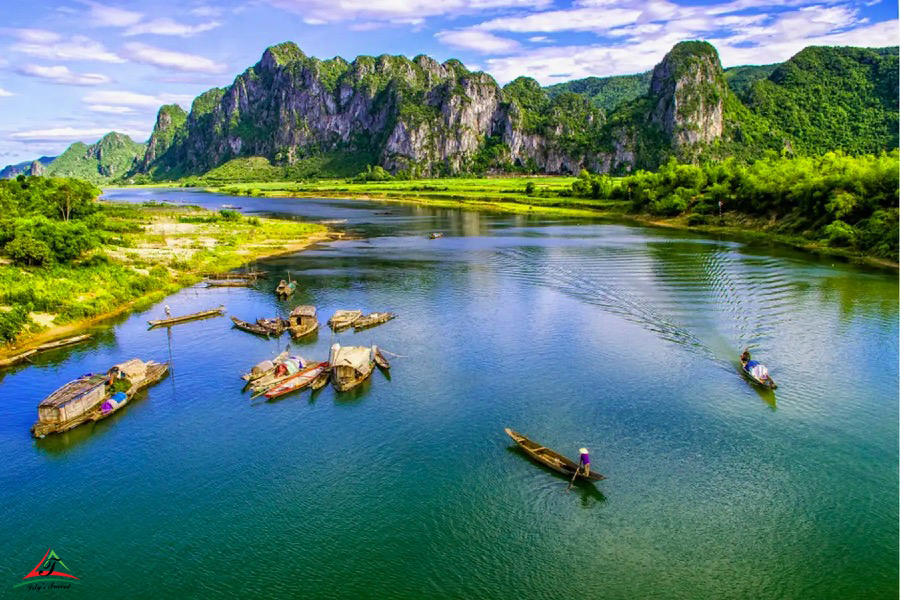 With the Hanoi – Quang Binh travel schedule according to our suggestions above, in 4 days, visitors can fully explore most of the most famous landmarks in Quang Binh. All venues are appropriately selected and considered according to the contributions of the delegations that we have organized. Here are some famous places that must be discovered, visited and enjoyed when traveling to Quang Binh.
+ Phong Nha – Ke Bang tourist area
+ Paradise Cave
+ Eight Co Caves
+ Chay River – Dark Cave
+ Mooc Spring
+ Quang Phu Sand Dunes
+ Yen Island – Vung Chua
+ Mother Suot Monument
+ Quang Binh Quan
Cuisine, delicious food should not be missed when traveling to Quang Binh
Quang Binh, a paradise on earth is not only beautiful in terms of natural scenery but also a destination with rich and unique cuisine, to make the journey more interesting and attractive when coming to this land.
+ Banh Xeo: First on the list is Banh xeo, with a rich flavor of the Central region, this cake is made from deep-fried dough served with shrimp, salad, bean sprouts .. dipped with mixed broth. Special processing creates a unique flavor: crispy, rich and attractive aroma.
+ Son river carp: the beautiful and soft Son river contains a rich source of seafood, Son river carp has long been favored by local people and has now become an indispensable specialty on the rice tray of tourists when visiting Phong Nha – Ke Bang. The carp here only eat natural plants and animals, so the meat is very fragrant and firm, the fish is processed into many dishes such as braised, cooked soup, fried … all of which bring the most satisfaction to diners.
+ Crocodile salad: a unique and strange dish in Quang Binh that perhaps gourmets know about this dish. Clam belongs to the shark family but is much smaller. Clam salad is very delicious, through the skillful hands of the chef, it is even more attractive, cleaned and then sliced ​​thinly and served with peanuts, herbs and dipping sauce. Even the most demanding diners.
+ Sea-breed: this is a small-sized sea snake with a length of 1m – 2m, the most popular and popular dish among tourists is the sea-breeding ram, minced sea-breeding meat mixed with eggs and a small amount of water. Some other foods then deep fried and served with dipping sauce and herbs will be delicious and nutritious. In addition, the sea buckthorn can be soaked in wine called "sea snake blood" which is very good for bones and joints and is popular with many tourists.
+ Snakehead fish soup: a must-try specialty dish when coming to Quang Binh, called porridge, but this dish is made from wheat flour processed into vermicelli-like fibers, cooked with fresh snakehead fish, pork bone broth. , served with onions, herbs, when eating, diners can feel the sweetness of bone broth mixed with the taste of rich fish without feeling fat.
+ Filter cake: It is also filter cake, but in Quang Binh, there is a difference compared to filter cake in Hue or other localities. Filtered cake in Quang Binh, in addition to the familiar shrimp filling, has a thin slice of local typical rim meat along with onions, peppers and little herbs, the cake is mixed with a spicy dipping sauce to create an impression. and help visitors have extremely memorable experiences with their meals.
What are the important notes about Quang Binh tourism experience?
+ The first experience is that you should go to Quang Binh around May – June, or in October. The period of weather is extremely favorable, without thunderstorms or bad weather phenomena, especially in October is the day. The general has passed away forever, it is time for visitors to Quang Binh land to remember the hero of the nation.
+ Quang Binh tourism is the best and most chosen by many tourists in the summer, in the central region, the summer is hot and the UV rays are quite high, so you should prepare sunscreen, lotion, and glasses in advance. Shades, wide-brimmed hats… to limit direct sunlight exposure to damage the skin.
Coming to Quang Binh, you will surely visit the typical caves of this place, so you should wear sports shoes with good grip because walking a lot, the cave is easy to slip.
+ At tourist areas, you must promote self-discipline, maintain general hygiene, not litter indiscriminately affecting the surrounding environment, do not smoke in public places, especially in tourist areas. influence the surrounding tourists.
+ Going to spiritual tourist areas, especially like the grave of a general, you should wear proper clothes with fine customs and traditions, not talk loudly affecting the surrounding space, have correct speech when inside the guarded premises.
+ According to the announcement of the general's family, the time for tourists to visit and offer incense starts from 07h00 to 17h00 daily, during the incense offering journey, you go lightly, line up in a line, do not jostle. pushing to ensure order, quiet space at the general's resting place.
+ Swimming in the sea in the summer is very suitable, but the sun is quite harsh, so you should swim at the time after 04:00 because the sun is less intense at this time, less affecting the skin.
Read more: Central vietnam tour: Top 11 ideal destinations for you to travel (Part 1)
The best Center Vietnam tour: Tour in Vietnam