Vung Tau is a popular spot for spontaneous outings. On the one hand, the distance from Saigon to Vung Tau attractions is not too far. On the other hand, this city seems to be renewed day by day. Every day has a destination with unforgettable beauty. Before starting your tour, do not forget to book a hotel room in Vung Tau with Lily's Travel.
Binh Chau National Forest
As a primeval forest running along the coast of Xuyen Moc, Binh Chau National Forest is also a place of harmony between the forest and the ocean. Covering a total area of ​​up to 11,000 hectares, this forest has an extremely diverse ecosystem with vegetation, lakes, and birds. Binh Chau National Forest is one of the most beautiful places to visit when traveling to Vung Tau.
Whether it's the rainy or dry season, nature in Binh Chau National Forest has its color. In particular, the weather and air here are always cool and fresh. So you can check in at this destination almost any time of the year.
Location: Xuyen Moc District, Ba Ria Vung Tau Province
Ticket price: 20,000 VND/person
Read more: Vung Tau Travel: Top 24 hottest destinations in 2023 (Par 1)
Da Xanh lake
Located right next to the slopes of Dinh mountain, Da Xanh lake is a favorite check-in point for photography enthusiasts because of its extremely "virtual" scenery. This place impresses with a large lake space, calm, blue water surrounded by trees and cliffs.
At this point, you just need to raise your hand to have a poetic photo and it doesn't take too long to align the camera angle. In addition, you can also experience boating activities to explore the lake and visit sheep fields.
Address: Tan Thanh district, Kim Dinh, Ba Ria Vung Tau
Opening hours: 8:00 – 18:00
Ticket prices for sightseeing and photography:
Photography fee: 20,000 VND/person
Wedding photography fee: 150,000 VND
Photography fee with sheep: 50,000 VND/person
Ho May tourist area
One of the most famous Vung Tau attractions is Ho May tourist area. Located at an altitude of more than 210m, this place has a cool, temperate climate and can see the whole city from Ho May. Therefore, this place is also known as "miniature Da Lat" of Vung Tau.
To get to Ho May tourist area, you can choose to go by road (car or motorbike) or take the cable car from Big Mountain. Lily's Travel recommends you try the Ho May cable car experience to see Vung Tau's "lovely" nature from above.
Divided into 5 areas, Ho May brings together a lot of interesting games and activities. In which, water skiing, paintball shooting, zipline, 5D cinema … are must-try experiences here. There are 5 restaurants on Ho May's campus, so you won't have to worry about being hungry during your visit.
Location: 1A Tran Phu, Ward 1, Vung Tau City
Opening hours: 8:30 – 18:00 or 8:30 – 22:00
Entrance ticket price:
Adults: 400,000 VND/person/day and 200,000 VND/person/night
Children: 200,000 VND/person/day and 100,000 VND/person/night
Upside down house
The upside-down house in Vung Tau is a 3-story building divided into a coffee and sightseeing area. As soon as you enter this building, you will see a lovely cafe on the first floor. The remaining floors are sightseeing spaces divided into 7 rooms.
As the name suggests, everything inside the rooms is upside down. This reversal makes you feel like you are traveling in space. In particular, the interior and exterior of the upside-down house are decorated very eye-catching and visually attractive. Therefore, you will have a lot of beautiful photos when you check in here.
Address: 66 Co Giang, Ward 4, Vung Tau City
Opening hours: 6:00 – 22:00
Ticket price: 40,000 VND/person
Alley 444 Tran Phu
Those who love the scenery filled with falling yellow leaves in Korean movies will love this place. The way to get here needs a bit arduous, challenging. However, your results are well worth it.
Alley 444 Tran Phu is a small road with two rows of ancient trees surrounding the cliff and the adjacent sea. From here, you can also enjoy the view of the city from above. All create an unforgettable and poetic scene.
The best time to explore alley 444 is early morning and late afternoon when sunrise and sunset cover this place. In addition, March is the time when the trees here turn yellow, creating a beautiful scene like Korea.
Address: alley 444 Tran Phu, Vung Tau City
Opening hours: 24/7
Entrance ticket price: free
Hon Ba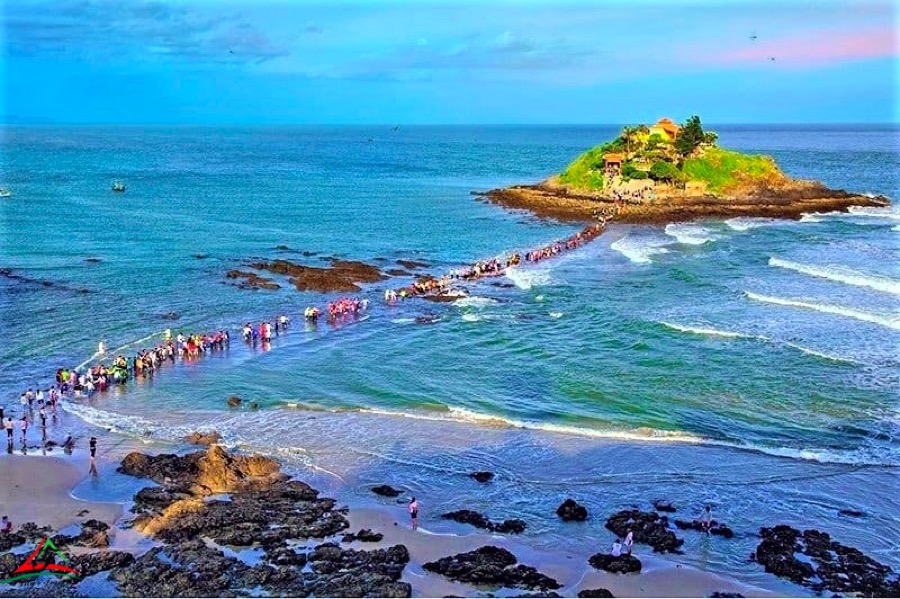 Hon Ba is a small island located in the middle of Vung Tau sea, close to Nghinh Phong cape and about 200m from the foot of Nho mountain. This is a famous spiritual tourist destination of Vung Tau because there is a temple worshiping Thuy Long Goddess on the island.
To reach Hon Ba, you can travel by boat or wait for the water to recede and walk by a small oyster stone path leading to the island. However, the interesting thing is that it is not always possible to walk to the island, so check the sprint schedule before coming here.
Address: Back Beach, Vung Tau City, Ba Ria – Vung Tau
Entrance ticket price: free
Ho Coc
This will be the ideal destination for those who like wild and close natural scenery. You seem to be returning to your childhood with the wooden bridge at Ho Coc. It has a cool climate with green trees everywhere.
In particular, take the time to listen to the sound of the waves. Each sound of the waves is abundant, consecutive as if merging into each other like melodious music. Somewhere in that scene there was a gentle wind. Everything is like a symphony that makes our hearts strangely peaceful.
Locction: Bung Rieng commune, Xuyen Moc district, Ba Ria – Vung Tau province.
Opening hours: 24/7
Entrance ticket price: free
Pig Hill
Completely different from the name, pig hill is a pretty wild hill with a beautiful view – embracing Thuy Van street and Vung Tau sea. This hill still retains its original character with many shrubs and weeds. However, it is the favorite check-in point of Vung Tau youth.
After an extremely hard journey to reach pig hill, you will find it worth it. Because from here, you can see the whole big picture of nature in front of you. The best time to explore this place is sunrise and sunset. In addition, the movement enthusiasts also often camp overnight right on the hill.
Address: alley 222 Phan Chu Trinh, Ward 2, Vung Tau City
Entrance ticket price: free
Marina
This is both the first "lemongrass" marina and the most checked-in Vung Tau attraction. Located on Sinh River and adjacent to Long Son Island, this marina was built to welcome passengers joining riverside tourist routes from Ho Chi Minh City.
The scene of boats and canoes moored behind will be a "background" for taking photos of extreme luxury for the "virtual living" enthusiasts. The identifying feature of this marina is the yellow pier. You can come here both during the day and at night to explore.
In addition, you can also experience surfing or canoeing to explore the Sinh River. In particular, the seafood dishes served at the restaurants on the marina have a very good taste.
Address: No. 1, Dong Xuyen Industrial Park, Rach Dua, Vung Tau
Entrance ticket price:
Canoe Price: 280,000 VND/person
Boat price: 2,700.00 VND/boat
Dong Cuu Suoi Nghe
This is one of the "hot" Vung Tau attractions for travel enthusiasts, especially the paparazzi. This place was originally a vacant lot and gradually became famous when the locals graze sheep here. Currently, there are about 3 flocks of sheep with more than 150 heads.
You don't have to go too far or to Europe to take beautiful photos with sheep anymore. With only about 2 hours of traveling from Saigon, you will reach Dong Cuu Suoi Nghe.
You should come here early in the morning (before 10 am) and in the afternoon (3-4 hours). At this time, sheep are herded the most by the people and the weather is pleasant enough. Don't forget to dress in a nomadic style for the most sparkling photos.
Address: Street No. 11, Suoi Nghe, Chau Duc, Ba Ria – Vung Tau
Opening hours: 6:00 – 17:00
Photography price: 50,000 – 100,000 VND/time
Read more: All the reasons to explain why Vietnam is a good place to visit for foreigners?
Find out more about Vung Tau tours here: Click here