Central Coastal Tourism
Central travel experience in Da Nang
Da Nang has always been one of the familiar destinations when it comes to tourism in the Central region. The proximity and peace of the city plus countless strange and magnificent scenery here is the "paradise" for all visitors from old to young to enjoy exploring and enjoying their journey.
The vibrant metropolis of Da Nang is well-known for its tourist destinations, including:
Ba Na Mountain
My Khe Beach
Linh Ung Pagoda
Marble Mountains
Ly Son Island
Han River Bridge, Quay Bridge, and Dragon Bridge are a trio of standard spans
Visitors who come here cannot forget the typical dishes of this land. Some of the top names that cannot be on the list are Da Nang beef noodle soup, pancakes – spring rolls, rice paper, pork rolls, and Da Nang seafood noodles…
Coming to Da Nang, besides discovering famous scenic spots, visitors can also experience the top resort services at Vinpearl Da Nang. These are luxury resorts with a system of comfortable and airy rooms, diverse services that promise to bring you the most ideal trip.
Central backpacking in Hoi An, Quang Nam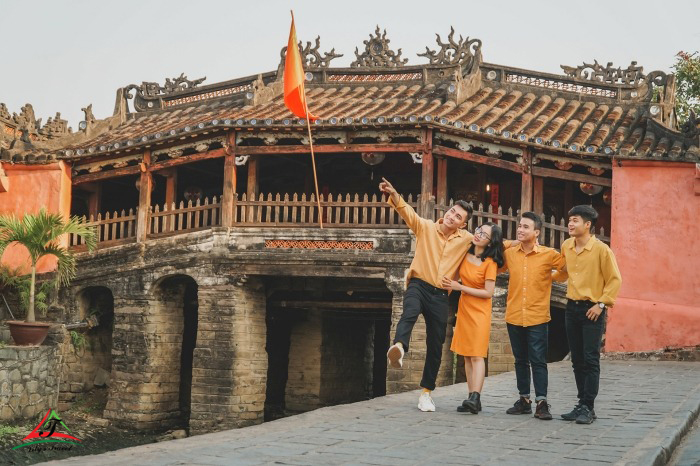 Hoi An city is located on the bank of the Thu Bon River and is famous for the architecture and culture of the old town, which has been preserved since the 80s and late 20th century until now. Hoi An Ancient Town is also the intersection of many different cultures such as Vietnamese, Chinese, Japanese and European in the landscape and the lives of local people.
Coming here, visitors will not be able to stop watching the streets dyed in ancient yellow, the red tile roofs mixed with moss, the rows of red confetti a corner of the sky and the street lights shimmering with colors… All blended into a most beautiful scene, attracting both Vietnamese tourists and international friends.
Not only that, Hoi An – Quang Nam also has a collection of culinary specialties from salty to sweet to drunk people such as Hoi An chicken rice, high-rise, Quang noodles, Phuong bread, cauldron dumplings, stir-fried mussel dumplings…
Read more: Visit Hoi An to find out the name called "The ancient town ranks second in the list of 25 outstanding destinations in 2023"
Phu Yen – A newly emerging cheap central tourist destination
Phu Yen is simple, rustic but no less majestic, vast is becoming an ideal meeting point for visitors from Vietnam and abroad. The rugged rocky rapids, cool passes, blue beaches, gentle bays or pure golden sand dunes… All make up the beauty of the country "yellow flowers on green grass" has conquered so many hearts.
Attractions stretching across Phu Yen "captivating" visitors can be mentioned as:
Dong Cam Dam with 2 water channels in the region
Vung Ro Bay
Mang Lang Church
Van Hoa Plateau
Lamp ridge, Da Dia ridge
Nhan Tower, Nhan Mountain, Da Rang River
Great Leader Lighthouse of the Easternmost Country…
Phu Yen cuisine paradise is not only diverse in types but also extremely affordable. Fresh ingredients have just been caught, processed in all kinds of styles, making the culinary culture of the land refined.
The series of famous dishes you can not ignore here are: O Loan blood clams, pork belly question cake, tuna eyes, thunderstorms, Phu Yen chicken rice…
Nha Trang – The attractive central coastal tourist city
It is not natural that Nha Trang is recognized as one of the most beautiful bays in the world, also a resort paradise in the central strip of Vietnam. There are countless scenic collections that visitors should not miss:
Vinpearl Land Vincharm Spa
Institute of Oceanography
Dam Market
The Ponagar Tower
Nha Trang beaches stretching along the cit
The population of beautiful islands such as Binh Ba Island, Hon Tre, Hon Tam, Diep Son, Hon Mun, Hon Ong…
As a coastal city, the cuisine of Nha Trang also tends to be rich and diverse processed seafood such as fish noodles, jellyfish salad, jellyfish noodles, apricot fish salad, baked jellyfish, Nha Trang soup cake…
Nha Trang is also famous as a city for tourism development, so the system of international standard hotels and resorts here is also an attractive feature of many resort devotees.
Central Quy Nhon – Binh Dinh tourism
Quy Nhon City, Binh Dinh is called the land of poetry, it is not wrong to own a charming, poetic and relaxing scenery. The beauty here is summed up from many famous landmarks such as:
Yen Quy Nhon Island
Thi Nai lagoon bridge
Eo Gio
The twin towers are located in the ancient Cham Pa relics
Cu Lao Xanh Lighthouse
Ky Co Island
Phuong Mai Sand Dunes
Ghenh Rang tourist area…
Quy Nhon city also owns countless delicious specialties for you to recharge your energy during your "here and there" expedition such as ground shrimp ram, shrimp pancakes, porridge cake, baked spring rolls, fish vermicelli, lagu bread…
Tourism in the central highlands
Da Lat, Lam Dong – Central Vietnam tourism 2 days 1 night ideal
Referring to Da Lat, visitors can easily imagine a beautiful, interesting scene, hidden behind the fanciful fog. This land is favored by nature with a lot of typical beauty, plus a mild climate and creative hands of people. All in harmony with each other, turning Da Lat into a dream-loss area for both domestic and foreign tourists.
"Collection" of certain must-visit places for visitors include:
Valley of Love
Dalat Railway Station
Lam Vien Square
Clay village
Dalat Night Market
The Chicken Church
College of Education
The Langbiang Mountain
Tuyet Tinh Coc
Truc Lam Zen Monastery
Bao Dai King's palace…
Referring to Da Lat, one cannot ignore the very own street specialties of this foggy city such as grilled spring rolls, pancakes, chicken leaves hotpot, grilled skewers, Thai Khap Bun Kha hotpot, Japanese hotpot, fruit jams, Da Lat strawberries…
Buon Ma Thuot tourism, Dak Lak
Referring to this place, people immediately remember the vast coffee fields or pictures of majestic mountains and forests, legendary waterfalls. To be able to discover the typical beauty of this place, the team who love "moving" should save the list of famous places such as:
Coffee Museum
Trung Nguyen Coffee Village
Mother Elephant Stone is located in Yang Tao commune
Ko Tam Resort
Dak Lak Museum, also known as the Museum of Culture of the Central Highlands
Ea Kao Lake, Ea Kao Commune
Ban Don…
Visiting the red land, you also have to taste the highland specialty, red vermicelli. The bowl of vermicelli has a bright red color of the broth, served with a variety of rich ingredients such as quail eggs, crab bricks, vegetables… In addition, the list of typical dishes here also includes vermicelli, wet barbecue cakes, blue rice, broiled chicken, Ede's leaf hotpot, sour soup of sausage, tamarind beef, dried pho…
Coming to the central tourism journey, each province on this strip of land has unique and unmistakable beauty from landscapes and landscapes to the culinary elite of each region. It is also the most attractive attraction, making all domestic and foreign tourists can not help but fall in love with the Central region.
Read more: Truly Vietnam travel: 8 places in Vietnam can give you the true value in each of your trips
Find out more about Da Nang tours here: