Hoi An travel guide that helps you to be more convenient in your journey to discover the old town, craft villages, cuisine, … in Hoi An town. Before entering the heritage area, there are a few things you should be aware of. Hopefully, the following comprehensive Hoi An travel guide will help you plan well for your future Hoi An travel adventure and prevent unpleasant surprises. You will have a full journey with plenty of special memories after that.
The most fantastic season to travel to Hoi An?
According to the Hoi An travel experience of many travel enthusiasts, Hoi An is beautiful every season. However, the most ideal time to visit the old town is from February to April. Specifically, Hoi An weather at each time of the year is as follows:
Dry season (February – August):
February to the end of April: The best time to visit Hoi An is between the end of February to early May. Early spring is characterized by cold temperatures, mild sun, and little rain.
May to August: Hoi An weather in the summer months is always sunny and no rain. On the other hand, certain days might be exceedingly hot and uncomfortable.
The rainy season (September to the end of January):
This time often has prolonged rains. You need to monitor the weather forecast information and must consider it carefully when planning to come to Hoi An.
Transportation to Hoi An
Airplane: The fastest way to Hoi An. You can purchase a ticket to Da Nang from Ho Chi Minh City or Hanoi and then proceed to Hoi An by bus or taxi. The travel time only takes about a 1-hour flight and the ticket price ranges from 400,000 – 1,600,000 VND/way. There are several more ways to go to Hoi An besides planes. The following options are available for how to move:
Train: Hoi An self-sufficient travel itinerary by train departs from Ho Chi Minh City/Hanoi and stops at Da Nang or Tra Kieu station (Quang Nam). Travel time takes about 15 – 20 hours with ticket prices from 230,000 – 2,224,000 VND/way, depending on the itinerary and seat type.
Bus: You can go to Hoi An by bus routes from Ho Chi Minh City – Hoi An, Hanoi – Hoi An with fares from 320,000 – 480,000 VND/way.
Personal vehicles (cars, motorbikes): Cars, motorbikes are an interesting choice if you are a genuine backpacker or live in the neighboring provinces of Hoi An such as Da Nang, and Quang Ngai,
Means of transportation to move between locations in Hoi An
Bicycle: This is the best means for you to walk around the old town, cool off and feel the peaceful life here. Some hotels in Hoi An have free bicycles for guests to stay in, or you can rent them for about 40,000 VND/day.
Motorbike: You will easily rent a motorbike to conveniently move to the attractions in Hoi An with the price from 120,000 – 150,000 VND/day.
"Xich lo" – Cyclo: Cyclo is a typical image in the old town, giving visitors poetic and memorable experiences. According to the Hoi An travel experience of those who went before, you should take a cyclo at Phan Chau Trinh and Tran Phu streets with the market price of about 150,000 VND / hour/car.
Taxi: To travel between Hoi An tourist destinations, you can travel by taxi with familiar and reputable car companies. However, the Hoi An travel experience for you is to find out in advance about taxi prices here. For example, the price of a 4-seater taxi in Hoi An ranges from 11,000 – 15,000 VND/km for the 30km journey, 9,000 – 12,000 VND/km for the distance from 31km onwards.
Boat: Taking a boat on Hoai River or Thu Bon River is a journey to visit Hoi An with many experiences that you should not miss. You can easily catch ships and boats at the river wharf in the center of the old town the price of a boat trip in Hoi An is 50,000 VND / 2 people with small boats, going on weekdays without guests. In the peak season, a boat for 4 people costs about 200,000 VND, sitting within 20 minutes.
Read more: 5 Vietnam main tourist city you must explore
Hotels in Hoi An are diverse and suitable for travel needs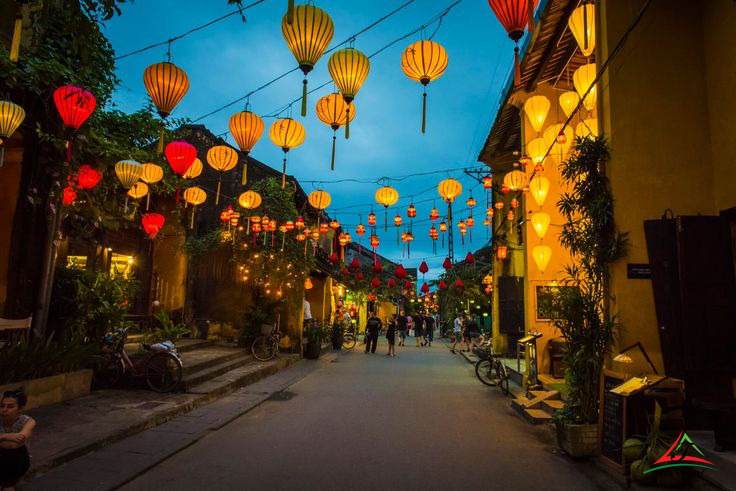 Although Hoi An is small, it is always a tourist "hot spot". -3 stars, or choose cute and lovely homestays, you will have a "basket" of quality check-in photos! In the Travel – Travel section, you can choose from a wide range of attractive hotel deals!
Hotels, resorts in Hoi An
The hotels and resorts in Hoi An are where you can enjoy a peaceful, slow and uncluttered vacation. You can book rooms at resorts such as Four Seasons, The Nam Hai Hoi An, Anantara Hoi An resort, Hoi An Coco River Resort and Spa, Boutique Hoi An Resort, or Hoi An Ancient House Village Resort and Spa at extremely affordable prices. offers on MoMo Wallet.
2-3 star hotel
In addition to resort hotels, you can also choose 2-3 star hotels to be more affordable. There are some very famous names in the travel world such as The Mansion Hoi An, Hoi An Village Villas, The Moon Villa Hoi An… Just walking around MoMo Wallet, you can see hundreds of different options. , easy for you to reference and compare prices.
Homestay
Homestay is also a very interesting choice when coming to Hoi An because often the homestays here are decorated in a lovely Indochine style. The names you can refer to for your self-sufficient Hoi An trip are An Bang retreat Homestay Hoi An, Tue Tam Garden Villa, Tropical Garden Homestay Villa… During the peak season from February to June, the number of tourists flocking to Hoi An is very large. You should book as soon as possible if you don't want to be "burned out"!
Must-try dishes and specialties in Hoi An
Famous for its cultural interference, there is a lot that diners can look forward to in terms of cuisine in Hoi An
Cao Lau – Quang Noodles
Cao Lau is probably one of the dishes symbolizing the unique cultural interference of Hoi An. Large soft Japanese noodles soaked in sauce served with Chinese char siu meat, rice paper and Vietnamese herbs.
At first glance, Quang noodles are similar to Cao Lau, but these are two completely different dishes that when you taste them, you will immediately recognize them. Shrimp, pork, and necessary little quail eggs are served with the noodle dish in Quang along with rice paper and raw veggies.
Banh Dam – Dam Cake
Banh Dam is a unique combination of dry and wet rice paper, when eaten, it must be lightly beaten to break apart and stick to each other. Banh dam is often eaten with fish sauce or served with fried mussels fragrant with onions and lemongrass.
Chicken rice
Hoi An chicken rice is the most memorable specialty, although it sounds simple, it is quite fussy and laborious. Sticky rice will be cooked with chicken broth and turmeric, both fragrant by turmeric, and fat by broth and chicken fat. Shredded boiled chicken is mixed with salad and onions, served with shredded papaya, herbs, and sweet and sour fish sauce.
Hoi An rice cake
Small bowls with shrimp, meat, a little bit of grease and green onions, when eaten, take the "bamboo knife" and then dip it in fish sauce. Just thinking about it makes diners miss Hoi An.
Hoi An Bread
Although it has been considered the national dish of Vietnamese cuisine and is present in all regions of the country, Hoi An bread still has a firm foothold in the hearts of culinary believers. A loaf of "u nu" bread with grilled meat, sausages, char siu, pickles, indispensable pate and homemade butter sauce; When eaten, cooked over charcoal to make it hot and crispy is a must-try dish of every diner when coming to Hoi An.
The best center Vietnam tour: Tour in Vietnam