Happiness is not when you reach the destination, but the experiences and smiles you have on the past journey. Go and experience, experience to be happy. Your travel journey to discover the beautiful Hue Citadel will be more complete and meaningful with 20 things to experience you should do on your Hue trip.
Visit and check in Hue Imperial Citadel flagpole
Hue Citadel is the residence of ancient kings, also the place where the political activities of the Nguyen Dynasty took place for 143 years. Recognized by UNESCO as a world cultural heritage in 1993, Hue Citadel is a symbol and pride of the people of Hue.
The Imperial Citadel of Hue includes the Imperial Citadel and the Forbidden Purple City located in the Imperial Citadel of Hue. When coming here, you will admire more than 100 unique and impressive architectural works such as Ngo Mon Gate, Thai Hoa Palace, Dien Tho Palace, Kien Trung Palace, Phung Tien Palace, Truong Sanh Palace, Hung Mieu, and The Mieu. … All of them have the unique architectural beauty of the palace, preserving the heroic historical imprints of the Nguyen Dynasty.
In particular, if you have the opportunity to visit Hue on every festival occasion, you will often see the image of the ancient mossy roof, filled with shimmering and fanciful lights from the Ngo Mon gate.
Coming here, you will be released into a space full of ancient royal palaces that no other place has. You shouldn't pass up this intriguing experience when visiting Hue.
Wearing "Ao Dai Hue" and taking photos on Truong Tien Bridge – Song Huong – Huong River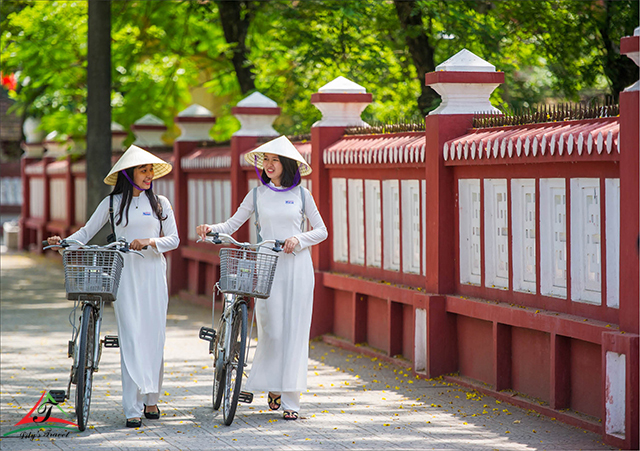 Truong Tien Bridge is a place not to be missed when traveling to Hue. Truong Tien Bridge 6 with 12 spans crosses the gentle and poetic Huong Giang River, creating an image that is both poetic and romantic.
In front of such a peaceful and romantic scene, why don't you try once wearing ao dai, holding a poem hat in your hand, and taking pictures on the bank of Truong Tien bridge like the old Dong Khanh girls? Surely you will have "very" photos of Hue next to the historic bridge of the ancient capital.
Visit the famous mausoleums of Hue
Besides the Citadel, the cluster of tombs of the Nguyen kings is also one of the important destinations that you should not miss when coming to Hue. In the old Nguyen Dynasty, there were 7 mausoleums, of which the 3 most visited mausoleums are Khai Dinh Tomb, Minh Mang Tomb, and Tu Duc Tomb.
All these mausoleums are located in beautiful and majestic locations with mountains and rivers in harmony. From architecture, sculpture, painting to the legendary stories of each mausoleum, there are many attractions that you should experience when coming to Hue.
Read more: 8 places to visit in Da Nang that make you love this city than ever
Visit Quoc Hoc Hue 
In addition to the heritage and scenic spots, Hue is also famous for being a land of talented people, with many ancient schools – the birthplace of many talented soldiers for the country. Which, it must be mentioned that Quoc Hoc Hue School is more than 100 years old, the pride of Hue.
Please take the time to visit the school every day and bring back beautiful photos.
Walking around Hue city by "xich lo"
Have you ever sat on a xich lo walking around romantic Hue city? To truly appreciate the tranquil, rural lifestyle here, you should try this out once in your life. Walking around the city by xich lo, you not only immerse yourself in the poetic space, but slowly explore each street, each alley, and small masterpieces with ancient beauty. On the way, you can choose a few stops to stop at the street vendors to enjoy some snacks, buy some souvenirs, talk a few stories with the people of Hue.
Check-in Infinity Staircase
The beautiful, unique and strange infinity staircase in Hue is a brand new place that makes young people stand still. The white stairs are decorated with small flower pots on both sides, and at the end of the bridge is a large heart, symbolizing eternal love.
You just need to move to Con Toc restaurant, on the way to Epark Tam Giang Lagoon, you can come here to check in and bring back the photo of your life with "Infinity Stairs".
Check-in A Luoi – Vietnam – Laos border pole
Thua Thien Hue has a highland district called A Luoi. Coming to the wild and rustic A Luoi land, you can comfortably enjoy the feeling of peace and freshness, soak in the hot mineral stream or relax in the cool natural stream. Besides, do not forget to enjoy mountain specialties such as wild boar, salamander, wild vegetables, stream fish and remember to try a sip of can wine, and experience the cozy and vibrant night campfire atmosphere.
You're Luoi trip will be more complete when you check in at the sacred Vietnam – Laos border landmark. Standing between the border of the two countries feels so new and hard to describe in words.
Visit Vi Da village
Vietnamese poetry has always found limitless inspiration in the splendor of Vi Da Hue village. Referring to Vi Da village, people immediately remember a peaceful and pure scene. If one day, you feel tired of the hustle and bustle of the city, somewhere, Vi Da village still has small houses with the appearance of ancient features.
During the day, Hue is bustling and bustling. But when night comes, Hue puts on a calm and contemplative look. The beauty of Hue at night is also brilliant and romantic, not inferior to any other place. So, don't miss the sweet and beautiful night scenes of Hue.
Shopping at Dong Ba Market in Hue
Dong Ba Market is one of the largest and oldest markets in Vietnam. This is a market of small traders, but it is quite busy and crowded with buyers and sellers.
The goods in Dong Ba market are very rich and diverse such as seafood, handicrafts, clothes, brocade, silk, fine jewelry, souvenirs… Moreover, Dong Ba market is the place. great to enjoy Hue cuisine. So, what should you eat when coming to Hue? The answer will be short!
Discover Hue cuisine
Coming to Hue without once eating Hue dishes is a huge omission. Hue cuisine can be said to be extremely rich and unique. Every dish is delicious, rich, has its unique features and is only the most delicious when eaten in Hue.
If you have come to Hue, you must try special dishes such as Hue beef noodle soup, Hue tea, mussel vermicelli, Truong Tien bread, spring rolls, … The typical cakes of Hue such as Banh Beo, Banh Nam, Banh Ram, Banh Khot,…
To be continued
The best center Vietnam tour: Tour in Vietnam