Landmark 81 Vietnam is considered the tallest skyscraper in Vietnam until now. This is a building complex with a total floor area of 141,000m2 including hotels, serviced apartments, official commercial apartments, shopping centers, bars/restaurants, observation decks and other amenities.
The building is also the tallest in Ho Chi Minh City. In Southeast Asia, LandMark 81 is the second tallest building. In the world, it ranks number 17. This complex building has office space, luxury apartments, a 5-star hotel, and a multi-story observation deck. This building is the symbol of the development of Ho Chi Minh city.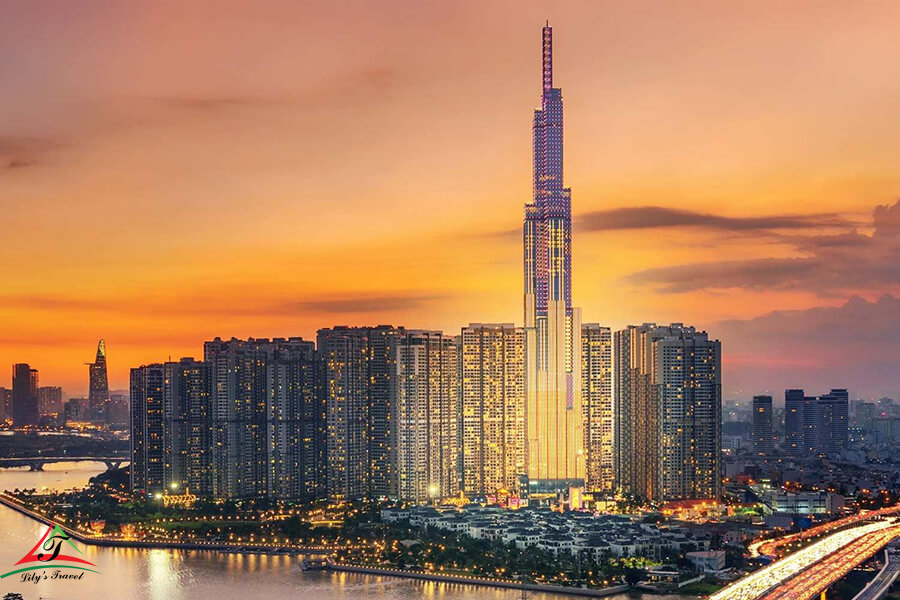 Location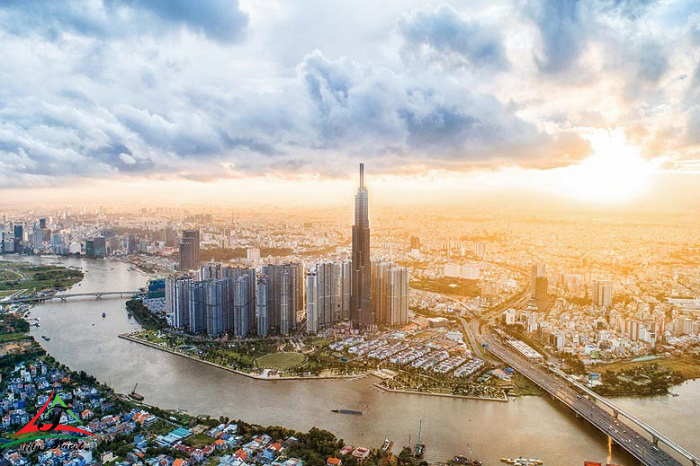 Landmark 81 building in Ho Chi Minh City has 81 floors and a gross floor area is about 241,000m2. The tower's design follows the traditional bamboo bundle to show off the represented strength and unity of Vietnamese culture.
The Landmark 81 is the tower that recorded many first-time outstanding features and breaks the record for the highest building in Vietnam. It also brings many other records such as the highest observation deck in Vietnam, the tallest skyscraper in Vietnam and the highest bar and restaurant in Southeast Asia.
Especially, this tower is the most luxurious building in Vietnam and was designed by famous architects and consultants. Atkins –  a company that frequently designs world-class projects such as the Bahrain World Trade Center, King Abdulaziz International Airport (Saudi Arabia), Lotus Hotel (Shanghai, China)… take responsibility for this tower. 
In addition, it is regarded as Vietnam's largest green building because of its special structure. The exterior of the Landmark 81 is made of Low-E glass which is the category of glass providing light transmission, temperature control and radiation prevention. These functions help to make the interior receive enough light and ensure a fantastic space and temperature.
Read more: Nha Rong wharf – Ho Chi Minh Museum: A place to imprin
General information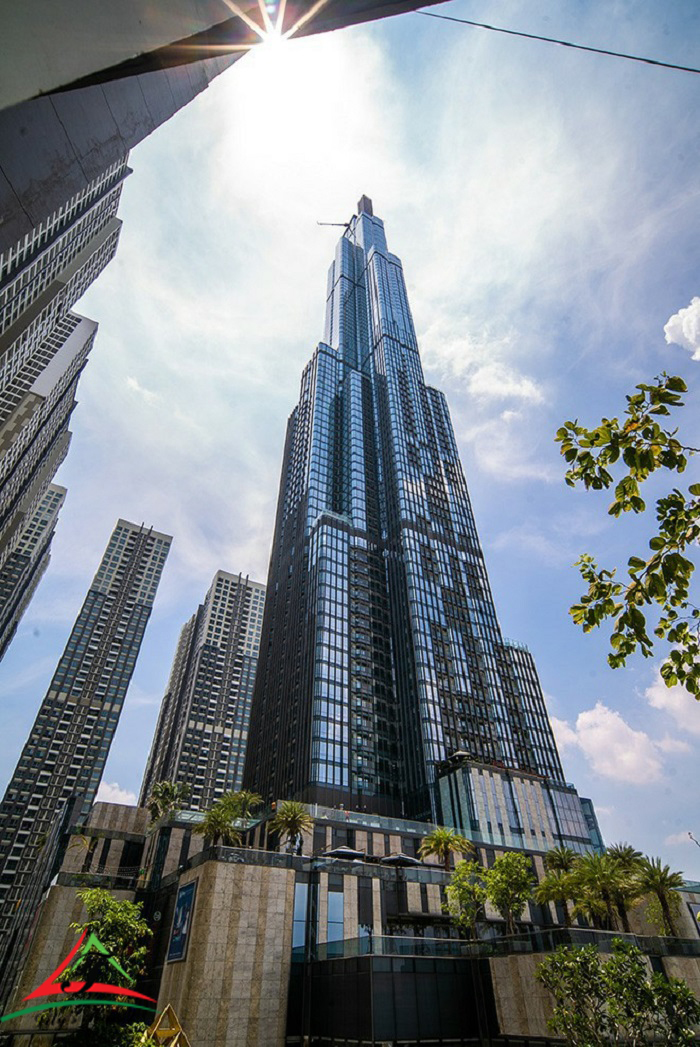 Address: 720 A Dien Bien Phu, Ward 22, Binh Thanh District, Ho Chi Minh City
Some information, you should remember: 
If you like shopping, remember Vincom Center –  a high-end shopping center that occupies the bottom three floors.
The residential spaces are on the 4th to 41st floors.
On the 21st, 46th, 64th, and 78th floors, there are technical rooms
The Vinpearl Luxury Landmark 81 starts from the 47th floor and upward, includes  223 rooms and suites with spectacular views for guests. 
The observation deck is on the uppermost floors, that is 79th to 81st floors 
On the  66th and 67th floors of the tower, there are systems of restaurants and bars 
Read more: Independence Palace: Keep A Part Of Saigon's History
Direction
Landmark 81 is one of the most well-known locations in Ho Chi Minh City so you can quickly move to this place by bus, motorbike, and taxi.
Some activities you should do at Landmark 81
Make an overview of Ho Chi Minh City from Landmark 81 Skyview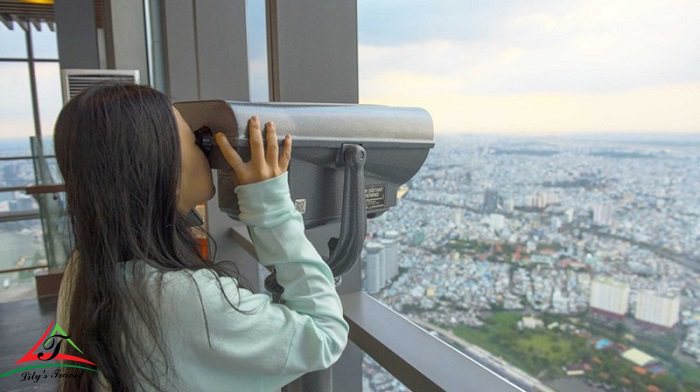 The highest tower in Ho Chi Minh city allows visitors to see the entire city of Ho Chi Minh from above. Furthermore, the sky view observatory has a dining area, cafe and thrilling games.
On each floor of the observation deck, you can experience unique activities such as feeling sitting on the "cloud chair" on the 79th floor as well as a coffee lounge. On the 80th floor, there is a virtual reality game called "Top of Vietnam". When playing this game, you can feel like jumping from the top of Landmark 81 Vietnam. On the 81st floor, the space is an open-air terrace called SkyTouch for visitors to feel the air and wind at 383 meters above the ground. 
Note: Operation hours: 8:30 am – 11 pm every day. You can buy tickets directly at the Observation Deck Ticket Counter. To get there, enter Vincom Center Mall and then go down to the floor, you can see the ticket store at the corner. 
Vincom Ice Rink
Landmark 81 ice rink is located on the B1 floor with international standards. Vincom Ice Rink is also one of the major attractions at Landmark 81 with an area of over 2000m2 and accommodation for up to 150 visitors. 
Landmark 81 Park
Considered an outdoor space, Vinhomes Park Central Riverside Park follows the design of famous parks in New York City. With an area of 14 hectares,equipped with green grass, tree streets to bring the visitors a green living space. Things to note when visiting the park: walk, relax, and engage with nature. You can choose the park to hold events or parties but remember to check with the management board first. 
Opening hours: 5 am – 9:30 pm
CGV cinema complex
CGV cinema complex is a famous cinema system in Vietnam with the most modern equipment, located on the B1 floor.  CGV cinemas will provide you with a complete experience of the new digital world.
Infinity pool
The area of the infinity pool is about 120m2 wide and has a stunning view of the Saigon River
to give you a great feeling of relaxation to tourists while being in a pool designed a resemble a lake that extends to the horizon,
Vinpearl Luxury Landmark 81
It starts from the 47th floor and upward, including 223 luxury rooms with 5-star standards. It will be one of the best hotels to make you a luxury trip. 
Cafes in Landmark 81
Landmark 81 is a cafe with beautiful views. It is a crowd for many well-known, long-standing coffee brands. You can have time to try many delicious and high-quality drinks. 
The best restaurants
With 30 restaurants from all over the world, Landmark 81 Vietnam is a culinary paradise complex. You can have the chance to try many foods from many countries such as Italian dishes, Japanese food, Thailand's foods and Vietnamese food – of course. 
In particular, you can try the cuisines in Oriental Pearl Restaurant at Vinpearl Luxury Landmark.
Find out more about Ho Chi Minh city tours here: Click here