Traveling to Cu Chi Tunnels is an experience to explore the "underground labyrinth". This place is one of the famous national monuments in Ho Chi Minh city. This location is an interesting experience in the traveling routes in the city named after Uncle Ho.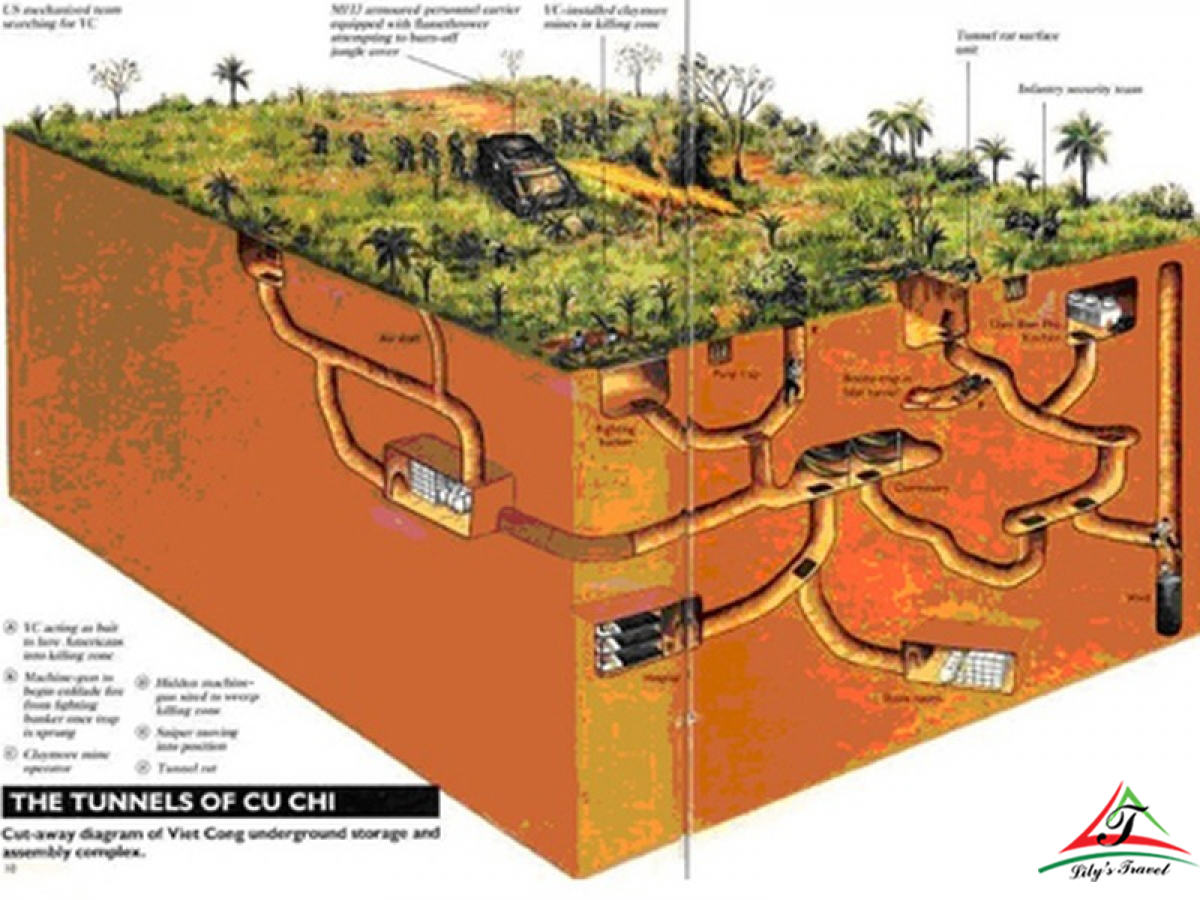 General information
Cu Chi Tunnels is not only a destination bringing the historical and cultural value of the Vietnam war but also an attractive tourist destination associated with famous military construction in Vietnam. Exploring Cu Chi tunnels will help you and your family have an experience and a meaningful trip in Vietnam. 
This tourist spot has a total length of up to 250km, with 3 different depths: the first floor is about 3m from the ground, the middle floor is 6m from the ground and the deepest floor is up to 12m. This is one of 6 famous "hand-made" constructions in the world. Besides, Cu Chi tunnel tourist area is also ranked one of the 7 most exotic destinations in Southeast Asia.
Cu Chi tunnel's history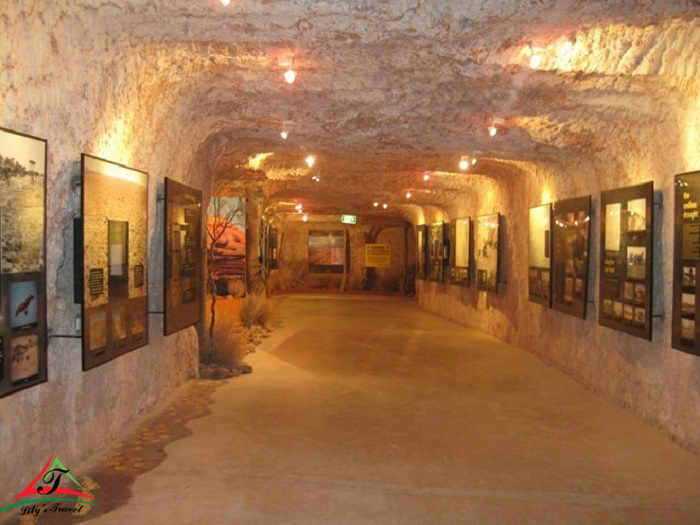 The history of Cu Chi tunnels is associated with the resistance Vietnam war against the French, period 1946 – 1948. "This city" was carried out by Tan Phu Trung and Phuoc Vinh An communes' people to hide and store weapons and troops for soldiers. 
Initially, each commune had its base bunker but people wanted to move more conveniently so they decided to connect by the path under the ground – that is the way to create a continuous system. Currently, Cu Chi tunnels connect 6 northern communes. From the center of Cu Chi tunnels, the military can easily communicate, conceal forces and discuss plans.
From 1961 to 1965, Cu Chi tunnels were developed into many branches connecting. The top of this building is also equipped with many nail pits, bell tunnels, minefields…. to prevent the enemy. 
Direction
Cu Chi tunnel is far from Ho Chi Minh city about 70 km – not too far for you and your family. You can choose for yourself many forms of vehicles that are suitable.
Motorbikes, self-driving cars: As a tourist destination, you can easily find out the way to get to Cu Chi Tunnels. Google Maps will be very useful. 
Take a taxi/hire a car: If you have a lot of luggage and want a comfortable and convenient trip, a taxi is probably the most suitable means of transport.
Bus: If you have a lot of time on your trip and want to save money, the bus is also considered a suitable form. Visitors can go to Ben Thanh to take bus no.13 to Cu Chi bus station, then continue to take bus no.79 to Cu Chi tunnels. This vehicle will take you about 2 and a half hours.
Boat: This vehicle will be the most unique and strange means of traveling to Cu Chi tunnels. In addition, the boat can also help visitors comfortably admire, visit the beautiful scenery on both sides of the river and have time to "check in". 
The route to explore the Cu Chi tunnels
Discover the bunkers and tunnels
Traveling to Cu Chi tunnels would be incomplete if you don't explore the bunkers and the tunnels deep underground. Visitors can admire the tunnels – where the Vietnamese army operated during the war. The length of the tunnel is about 120m with 2 floors that will bring you so many exciting experiences.
Besides, you can also enjoy delicious local dishes – these are the dishes that people in ancient times still ate in the tunnels such as Potatoes, cassava, grated tubers with salt sesame,…
Read more: Nha Rong wharf – Ho Chi Minh Museum: A place to imprin
Explore the war zone
As one of the famous historical sites, the meaning of Cu Chi tunnels is also associated with history and war. There, Lily's travel advises you experience the re-enactment of the war zone.
Here, you will watch slow-motion movies of the entire life and battle scene of the Vietnamese army and people living in the tunnels. In addition, many famous historical and monument models of Vietnam are reproduced such as Long Bien Bridge, One Pillar Pagoda, Nha Rong Wharf, Saigon Bridge…
Try shooting at the shooting range inside
We are certainly sure that, you will be interested in disassembling guns and testing your shooting skills. You will be enthusiastically guided by the staff of this resort. Usually, this place also attracts a lot of tourists, especially foreign tourists like you. 
Visiting the swimming pool simulated the East Sea
Cu Chi Tunnels is one of the famous Cu Chi tourist areas . To attract many tourists, it is equipped with a variety of different activities. After the tour of the tunnels, military activities, visitors can immerse themselves in the clear blue water at the swimming pool simulating the East Sea.
Enjoy Trung An fruit garden in Cu Chi Tunnels relic site
In the garden, visitors can be able to enjoy a variety of delicious fruits. Trung An fruit garden is quite famous here, visitors can personally pick and enjoy many delicious fruits right at the garden such as rambutan, plum, durian…
Visit the wildlife rescue station
This place is located between Duoc wharf and Dinh wharf, far from the center of the tourist area just only 1km. This is also considered the largest rescue station in the South with more than 3,600 rare animal species
What to eat when visiting Cu Chi tunnels?
Many tourists have experience when guiding Cu Chi tunnels, they express their interest in many delicious restaurants and interesting dishes on the routes to this tourist destination. Specifically, you can enjoy some of the following dishes:
Minh Quy pork vermicelli: This will probably be the ideal dish for the morning to start the journey to visit the tourist site of Cu Chi tunnels. The restaurant is also open all day, so you can enjoy it anytime.
Boiled potatoes with salt: This is a dish associated with many locals and our army when living in this tunnel. Therefore, many tourists enjoyed this dish to somewhat feel the true life in the tunnels.
Some things to know more
Operation time: 7:00 am – 5:00 pm daily. Therefore, you should schedule your time to have the full time to explore this tourist destination.
In addition, the ticket price for the Cu Chi tunnel tourist area ranges from 20,000 to 30,000 VND/person, 20,000 VND/person for tunnels, and 50,000 VND/person for games. This price is regulated by the management board of the relic site, without any additional costs.
To have the most complete and convenient trip to Cu Chi tunnels, visitors can read more about the notes and tips below:
The dress code is not required however, visitors will go underground to explore and experience, so you should choose for yourself neat, dark clothes to facilitate movement and avoid dirt.
You should add sunscreen to accompany your trip.
For tourists who are afraid of narrow spaces or low blood pressure, they should not go into small tunnels.
Half-day Cu Chi discovery schedule
During the half-day period of exploring Cu Chi, visitors can experience Cu Chi tunnels, learn about unique weapons that were processed by our army and people in historical wars, such as Bamboo traps covered with dried leaves are very unique. 
Find out more about Ho Chi Minh city tours