At Sun World Fansipan Legend tourist area, there is a rose valley which has been recognized as the largest of its kind nationwide by Guinness Records Vietnam. Rose Valley spreads a total area of 50,000 square meters and stretches along the Muong Hoa mountain rail line that connects the town of Sa Pa with Mount Fansipan cable car station.
In the valley, you can see over 300,000 rose plants featuring approximately 150 of the most popular varieties from across the nation. Many types of roses from Sapa, Hue, Hai Phong and Son La… are converging here. But some types are from Europe, originating in France, brought by SunGroup – the owner of the valley. The flowers grow in clusters with each flower measuring between only 2cm and 3cm. 
1. Location
Sapa Rose Valley is located in hamlet 1, Muong Hoa street, Sapa town, Lao Cai province with an area of ​​about 22 hectares. It is located between two famous mountain ranges of the Northwest, which are Ham Rong and Fansipan mountains. Rose Valley is about 2.5 km from Sapa town and stretches from the train station area to climb Muong Thanh mountain to the cable car station in the Sun World Fansipan Legend area. With the locating address, surely Sapa Rose Valley will bring you a memorable vacation.
Sapa Rose Valley is also a great destination for those who love roses. You will be immersed in a space filled with brilliant pink and yellow colors… In addition, you have the opportunity to visit nearby places such as Silver Waterfall, Fansipan peak, the steps in Ta Van village…
2. The weather and climate
With the influence of temperate and subtropical climates, each season in Sapa brings many features of the high mountainous region, which make you feel cool all the time. No words can describe, what you just feel when coming to Sapa. But Lily's Travel can tell you some feature climate of each season here. 
Spring: From February to May, the temperature is only from 15 -18°C, coming to Sapa in this season, visitors will be immersed in nature, the budding season of plants and flowers. 
Summer: The average temperature is about 20 – 25°C, starting from May to August every year. Sapa is the most ideal place to avoid the heat of the summer
Autumn: The most awaited season of the year. In the fall from late August to October, when the weather in Sapa starts to get cold, it is also the best time to hunt clouds and watch the ripe rice season. 
Winter: From November to January, at this time Sapa is colder than ever, the temperature is only from 3 to 5°C. Some days, the temperature drops below -0°C. At this temperature, you can also experience such as hunting cloud – the popular activity in Sapa.
Read more: Hoang A Tuong Palace: Everything you have to know
3. How to get to Rose Valley
3.1. Motorbike 
Traveling by motorbike is a suitable vehicle for young people who like trekking or want to conquer the Hoang Lien Son mountain range or o Quy Ho pass. Nowaday, to serve tourists, there are many self-employed motorbike shops for you to choose. You should choose reputable and quality motorbike rental locations in Sapa. 
3.2. Car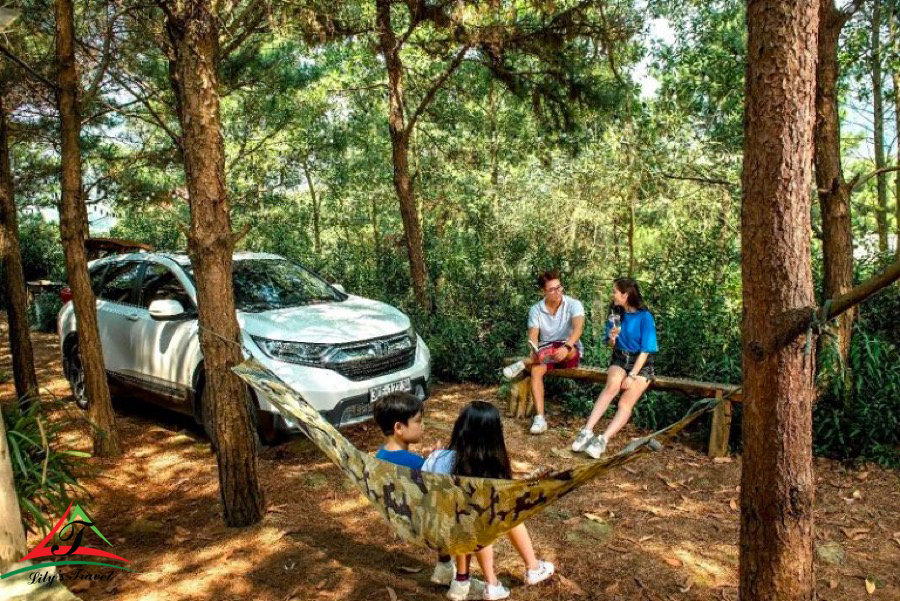 Traveling by car is suitable for family trips with the elderly and children. Sapa Rose Valley is located on the upgraded main traffic axis of many famous tourist attractions such as Glass Dragon Cloud Bridge, Silver Waterfall, Love Waterfall and O Quy Ho Pass. So when you choose to go by car, it is very convenient and safe
3.3. Climbing train/Muong Hoa mountain train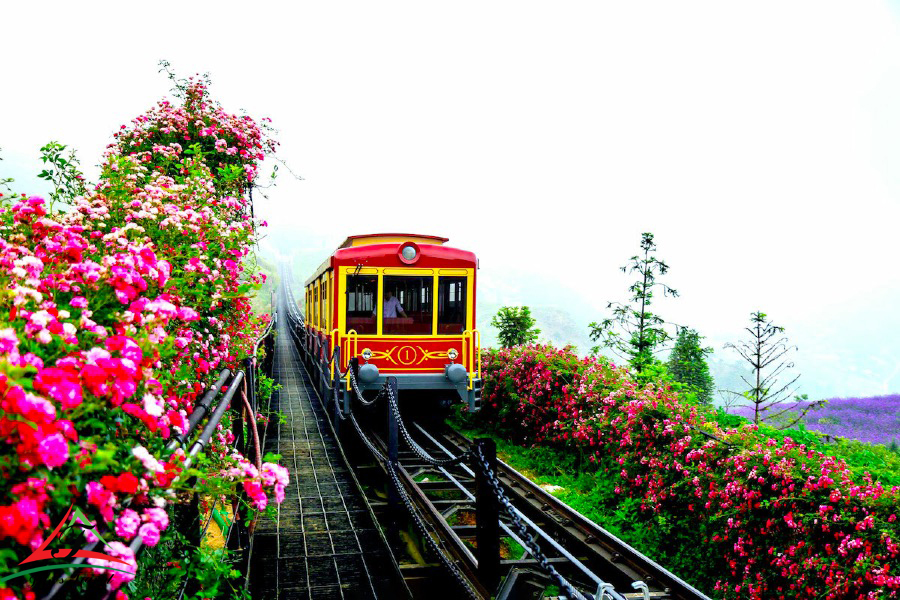 That is a kind of transportation that many people choose. It only takes about 10 minutes to get to the Rose Valley. Not only time-savin, traveling by this climbing trainbut also hepl you see the entire scenery of Muong Hoa valley and many species of climbing roses growing on the cliffs, along the two sides of the road. This is a very interesting option you should concern.
4. When is the best moment to go to Sapa Rose Valley? 
With Lily's Travel, each season bring to Sapa each unique features. The nature and landscape here also change strongly with each season. But we have to notice you that don't miss the "Sapa Rose Festival Season" which is held once a year. 
It is the festival held between March and September each year. At this time, the climate of the Northwest highlands becomes warmer. Therefore, many species of Roses race to bloom, making the whole valley more brilliant and beautiful than ever. 
Walking on the Rose Valley, visitors feel like be entering the fairy tale of rose garden with the beauty is so heartbreaking, sobbing that makes unforgettable.
Sapa Rose Valley is one of the most beautiful highlights in the wild mountains and forests, if you can just walk to see the flowers and take beautiful photos.
Sapa Rose Valley is also a place chosen by many couples to take wedding photos. Many foreigners traveling to Vietnam and fall in love with Sapa at the first sight and decide to choose this place to make a proposal and create a mamony to their partners. 
With a poetic and romantic space, it promises to bring you unique and new photos. During the peak flower season, many domestic and foreign tourists also come here to visit and save the best photos for themselves and their loved ones.
5. The garden of 150 species of roses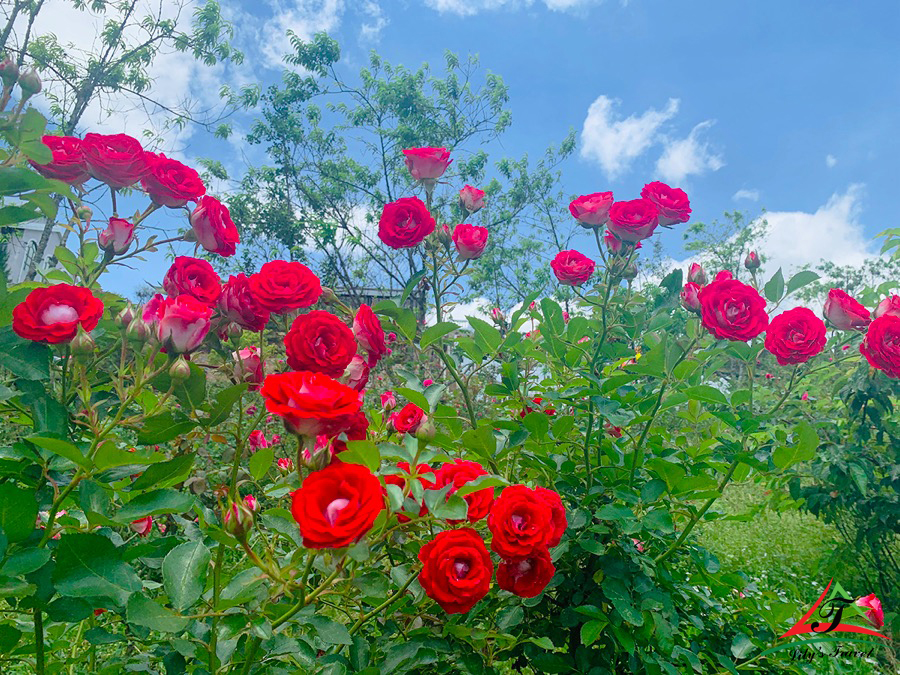 In Sapa Rose Valley, there are many rare species of roses. In particular, the most mentioned rose species such as: Sapa ancient rose which appeared in the 19th century and was planted in Vietnam by the French. This kind of rose is famous for the gentle lotus pink tone, but with a very sweet fragrance. 
Red climbing roses, along the way to the valley, you have encountered the walls are dressed in a luxurious shirt that makes everyone want to own it. 
The Ecuadorian rose is known as the queen of flowers. Always carry with you a passionate charm and arrogant appearance. 
In Sapa Rose Valley, there are many other beautiful and strange species of roses, come here once and discover more. The most beautiful time for you to admire the beauty of the whole Rose Valley is early in the morning, when the rose petals are just budding, standing from afar, you can already feel the passionate fragrance.
6. Combine visiting Rose Valley and other tourist attractions in Sapa 
Not only can you see the beauty of the flower valley but you can also explore many more famous and attractive tourist attractions surrounding the Valley
6.1. Roof of Indochina – Fansipan peak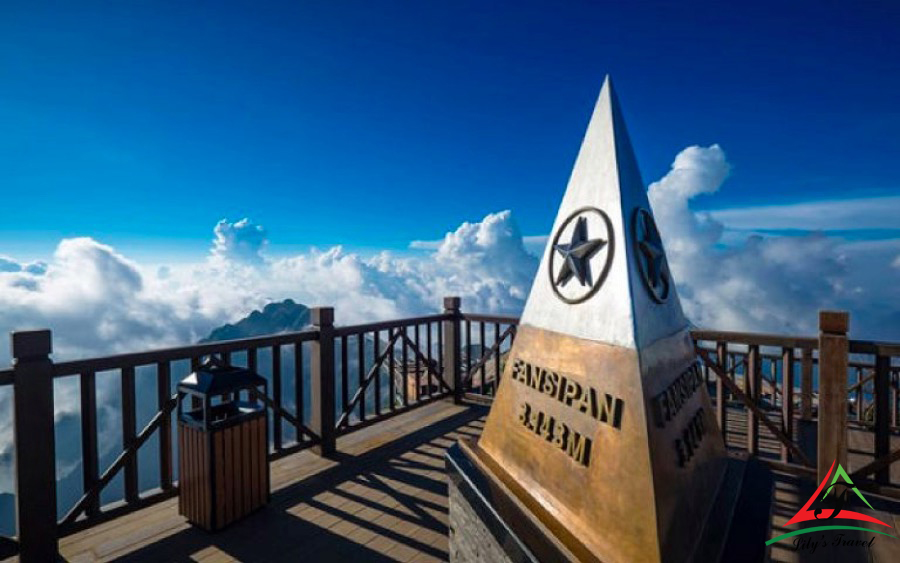 Located at an altitude of 3,143m in the Hoang Lien Son mountain range. Fansipan peak is known as the "Roof of Indochina", a most famous tourist wonder in the country and the world. The recovery point is not to be missed for those who like adventure.
6.2. Ham Rong Mountain 
Hunting clouds at Ham Rong mountain, the intersection and meeting place of heaven and earth, located at an altitude of 1800m, going up Ham Rong mountain you will have a panoramic view of Sapa town and Hoang Lien mountain range. Paint.
6.3. Sapa Glass Bridge/Cloud Dragon Glass Bridge/Kinh Rong May Bridge
Dragon Cloud Glass Bridge is a place for those of you who like to experience thrills, you should try this unique bridge in Vietnam.
6.4. O Quy Ho Pass 
O Quy Ho Pass is the longest and most beautiful pass in the Northwest mountains, a destination not to be missed by backpackers when going to Sapa.
Read more: Sapa Church: The stone church in misty Sapa Town
Find out more Sapa Tour here: Tours in Sapa