Hon Gai is one of the central zones in Ha Long Bay and Quang Ninh Province. But actually, Hon Gai is not focused on building multi-entertainment complexes like Tuan Chau Island, Bai Chay… So in some characters, Hon Gai still keeps the close natural beauty. Somehow, Hon Gai, among other beautiful islands of Ha Long Bay, still has its own unique attraction for tourists.
1. A land to resort activities
Ha Long city is divided into 2 main areas, includs: Bai Chay entertainment area and Hon Gai cultural and political center. These two areas are separated by Cua Luc Bay and if you want to go to Hon Gai, you need to cross Bai Chay Bridge. 
Many visitors, after staying on Bai Chay Island, still move to Hon Gai to stay for some days before coming back to the crowded city. 
This resort is 165km from Hanoi and 5km from Bai Chay, very suitable for weekend trips and resorts. Therefore, you should immediately pocket a detailed Quang Ninh travel guide with impressive destinations and attractive specialties to be able to freely explore this place.
2. Which places do you have to visit?
Hon Gai is divided into small areas including: Hon Gai is known as the economic and cultural center; Political center in Column 8; Residential areas: Column 5 and Cao Xanh; Coal mines include Ha Lam, Ha Khanh and Ha Tu.
2.1. Hon Gai Beach
Go to Hon Gai to take a rest, so many tourists spend almost all their time on the beach. Tell you something, Hon Gai Beach is an artificial beach but it does not mean, Hon Gai beach lost its beauty. This beach is built as the largest scale and most invested beach in the north of Vietnam. The beach has a length of 900m, a width of 185m with road items, sidewalks, trees…
This beach has just been opened on 8/6/2021. From that, Hon Gai beach has become a Ha Long tourist destination that has won a lot of love from domestic and foreign tourists.
2.2. Quang Ninh Museum
Quang Ninh Museum is a destination to help you explore the history, culture and people in Quang Ninh Province. 
With an unique architectural construction, Quang Ninh Museum has become a symbol for the famous scenic area – Ha Long Bay. With a box-shaped design with a black glass shell, the museum brings a sense of mystery and stimulates curiosity and discovery for visitors. The museum is divided into 3 floors with 3 different themes.
The first floor is the simulated world of the sea and nature
The second floor is a display area of artifacts in the timeline from prehistoric to modern times, from peace to war.
The 3rd floor is a place to simulate coal mines, mining tools…
If you want to find out more about this museum, please back to the article's name: Quang Ninh Museum – "Must – Visit" Place near Ha Long Bay to get more information about this special museum.
2.3. Bai Chay Bridge 
With the locals, Bai Chay Bridge is an important economic and traffic strategic position to connect between Hon Gai and Bai Chay but with the tourists, the bridge is the "check-in place". Many people call this bridge the place you must go one time when you are in Ha Long Bay.
The bridge is simultaneous with the design of a cable-stayed bridge with a cable plane.
2.4. "Take a coffee"
Come to Hon Gai to have resort time, so another main activity many people choose is spending time at a coffee shop. There are so many coffees in Hon Gai having a flawless view of the beach and Ha Long Bay. Especially, Old Town Cafe is one of the most beautiful coffee shops with a great view of Hon Gai.
Others such as Sky Bar on the 16th floor of Royal Lotus Ha Long hotel (Dong Hung Thang tourist residential area 2), Wander Station – Cake & Coffee at 32 Van Lang, Hong Gai ward, Cam Cafe at 3 Hai Phuc, Ha Long city…
2.5. Hon Gai Church
Going to the church is also recommended activity when your'e here. Hon Gai Church is located in the territory of Nui Dao, Bach Dang ward, Ha Long city. The church is inspired by Roman style with a length of 42m, a width of about 11m and a bell tower 33m high. Visiting the church you can know more about religion and beliefs of Quang Ninh people.
2.6. Hon Gai harbor and seafood market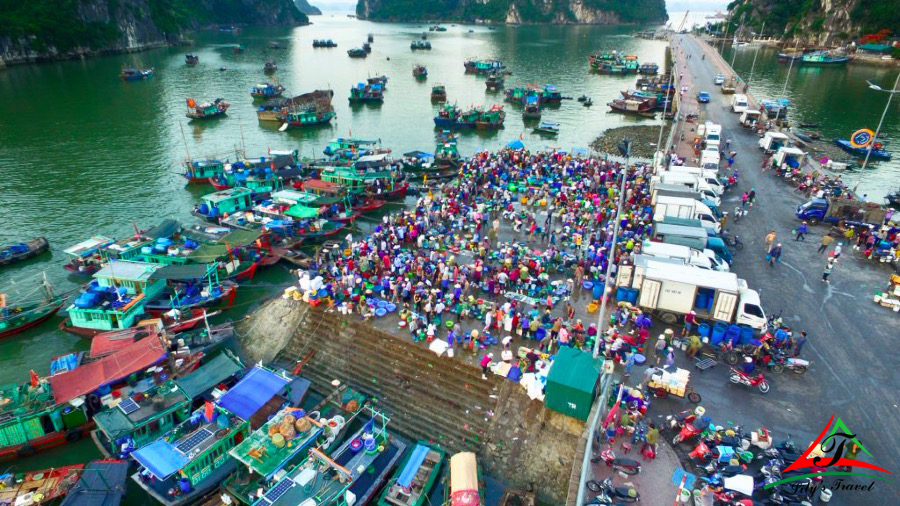 Hon Gai Wharf is a national general seaport, the regional hub of Vietnam. In which, Hon Gai passenger terminal is specialized for transporting tourists from the North to the South and transporting goods.
Hon Gai Market is the oldest and most popular market in Ha Long Bay. The market sells a variety of fresh seafood at extremely reasonable prices. The fishermen after catching will bring to the market to wholesale all kinds of seafood. However, if you want to buy goods with delicious – nutritious – cheap criteria, you must definitely visit the market early in the morning.
2.7. Bai Tho Mountain and Long Tien Pagoda
Bai Tho Mountain is a pride of Ha Long Bay and Quang Ninh Province. There are many caves and a diversity of plants such as an orchid. Standing on the top of Bai Tho Mountain, you can see the overview of Ha Long Bay. This is a famous place to check-in and take a picture. However, recently, going to Bai Tho Mountain needs permission and approval from the local government. This law is necessary to prevent people from danger and also protect nature. 
At the foot of the mountain is the temple of the Great King Tran Quoc Nghien and Long Tien Pagoda. With the foreigners, visiting this pagoda is a time to get knowledge of historical and temple culture of north Vietnam. 
2.8. Coastal road 
This road has just been completed so it is clean, fresh, and incredibly romantic, this is also the most beautiful seafront in Ha Long city.
3. What to eat?
Foods you must try on Hon Gai are similar to other foods on these islands in Ha Long Bay such as Fried squid eggs, Sipunculus Nudus (Sa Sung), Horseshoe crab, Sea Clam,…
To know more about all this food, you can read other articles on our website.
Read more:
Find out more about Ha Long tours here: Northern Vietnam Tours