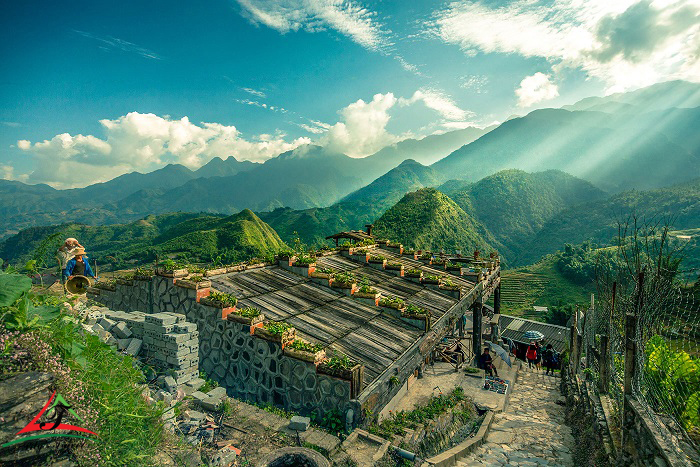 Outstanding with the natural beauty of the vast and majestic mountains, Lao Cai is a land worth experiencing in your journey. Many outstanding places make up the attraction of Lao Cai, one of which must be mentioned is Bac Ha. Bringing in the colorful beauty of the strange Northwest mountains, the vast flower fields are embraced by the mountains like a giant tray cradling the precious flower of the Northwest mountains. Traveling to Bac Ha, visitors must be immersed in the world of beauty, as if their souls are drifting along the rhythms of the guitar, which is played rhythmically by the melodies of nature.
if you want to visit North places in Vietnam, Lily's Travel wants to introduce Bac Ha township – one of the most beautiful highland districts in Lao Cai province to you.
Bac Ha is 71.1km northeast of Lao Cai city center according to the directions of Google Maps. Bac Ha is the residence of the vast majority of the Tay, Hmong, Dao, Nung… Each ethnic group in Bac Ha has many unique and interesting cultures, customs and practices. Guests can easily see through the costumes as well as typical cuisine when traveling to Bac Ha.
Review of Bac Ha tour
To experience and explore Bac Ha tourism fully, you should go on a 3 days 2 nights Bac Ha tour or 2 days 1 night. And for tourists who are planning to come to Bac Ha – Lao Cai to have a specific, detailed and reasonable schedule to explore and visit Bac Ha
If you want to go from Hanoi to Bac Ha to travel, explore this highland, you should take a car, now the infrastructure and roads are much more convenient, the roads are also simpler than before. a lot already. From Hanoi, go to Nhat Tan bridge, go along Noi Bai – Lao Cai highway => go to Pho Lu roundabout, turn over Pho Lu bridge, follow Highway 4E => continue to follow provincial road 153, go through the North sky gate Ha about 10km to come.
In addition, if you depart by car from Bac Ha town, it will take you about 3 minutes to move to Bac Ha Flower Valley. Starting by car, you will follow provincial road 159, cross Na Co road to Pac Kha street, then turn left onto the road to Valley, then move about 1.5km more and you will reach Thung Lung Hoa Bac Ha already!
Read more: 8 reasons make Sapa be one of the best places to visit in Vietnam 
Where is the best time to visit Bac Ha – Lao Cai?
It is convenient for traveling as well as watching the flowers blooming in Bac Ha. Then you should visit from March to June every year. During this period, the weather is not too hot and it is also the time when plum blossoms are in full bloom, along with all kinds of blooming flowers waiting for big holidays that you cannot miss.
What's interesting in Bac Ha's entertainment, sightseeing and tourism experience?
Traveling to Bac Ha – one of the new famous tourist spots,  you will be immersed in the unique daily culture of the local people, along with participating in festivals in the typical land of Bac Ha, experiencing the 15-step dance that is very popular. At the same time, the dishes imbued with national identity in Bac Ha also make you flutter, and don't forget to check in the beautiful pictures to capture the beautiful natural scenery. in the mountains of the Northwest. In addition, tourists who come to have fun, visit and travel to Bac Ha also do not miss places such as:
+ Bac Ha Flower Valley: Located in Thai Giang Pho – Bac Ha – Lao Cai, Bac Ha Flower Valley is attractive with a total number of more than 200 species of flowers and an area of ​​about 1 hectare, viewed from as beautiful as a colorful natural picture of flowers racing to bloom.
+ Coming to Bac Ha flower valley, you are immersed in the airy, quiet, pure, and strangely beautiful natural space of this mountainous region. , no noise and no rush like in urban places. You slowly watch hundreds of flowers racing to bloom, thousands of colors merging into one such as tulips; hydrangeas; lavender; evening primrose; Cymbidium flower; Red rose…
+ Palace Hoang A Tuong: the palace of King Cat Hoang Yen Chao, once famous in the highlands of Bac Ha, with a history of more than 100 years, this "castle" was built on a high mound with dragons. Phat Vuong circuit, U-Asian architecture combined to create a magnificent work that stands out in the middle of the ancient Northwest highlands. In 1999, Hoang A Tuong palace was recognized as a national relic and became an attractive tourist destination for tourists when coming to Bac Ha.
+ Hoang Thu Pho Waterfall: a beautiful and poetic natural waterfall that brings cool water from the upstream to the rocky shores downstream, looking far away from the waterfall is like a white silk band squeezing next to the majestic mountains. Bac Ha mountains and forests are strangely beautiful.
+ Cho Phien (Fair/ Day – market) in Bac Ha: Cho Phien is a cultural feature of the northern highland provinces, the market meets every Saturday and Sunday morning and visitors will be immersed in the exciting, bustling atmosphere, learn about the cultural diversity of the ethnic minorities in the highlands.
What are the important things to note in Bac Ha Lao Cai travel experience?
+ You should prepare light, not bulky, cumbersome luggage so that in the process of moving, it will not lose strength to carry as well as difficult to control belongings that are easily lost or stolen.
+ You should use comfortable, comfortable clothes with cool materials in the summer, warm enough when visiting in the winter and a pair of comfortable shoes will help you travel more conveniently.
+ Necessary personal travel items such as sunscreen, hats, umbrellas you should bring in case the weather can be rainy or sunny.
+ Personal medical supplies such as fever reducers, digestive enzymes, bandages or topical medications will be useful for you in the case of needing first aid when scratching the skin to avoid infection.
+ You should also pay attention to general hygiene during sightseeing, do not litter indiscriminately to lose the landscape, as well as do not arbitrarily break branches to pick flowers.
+ Flat shoes will help your journey, sightseeing in highland terrains such as Bac Ha flat shoes or sports shoes will help your feet not hurt as well as easy to move. than.
+ Experience of dining in Bac Ha has many menus for visitors to choose from. Local specialties are delicious but the cost of eating is also quite cheap, the cost per meal in Bac Ha is about 150,000 VND / serving/meal.
Tourists should also note that for overnight trips to Bac Ha, you should book a hotel or homestay before departure. Avoid the situation that on weekends, many tourists coming to Bac Ha will no longer have rooms.
+ In Bac Ha, stay is mainly homestay, but each homestay also has different services and room rates, so you can choose the standard of accommodation to suit the cost of your trip to Bac Ha. me.
+ To have a satisfactory travel schedule for Bac Ha Lao Cai, visitors can combine some other famous places in Lao Cai into the trip such as Y Ty, Lao Cai International Border Gate, Sapa, Temple Bao Ha, Fansipan …
Find out more about Sapa tours here: