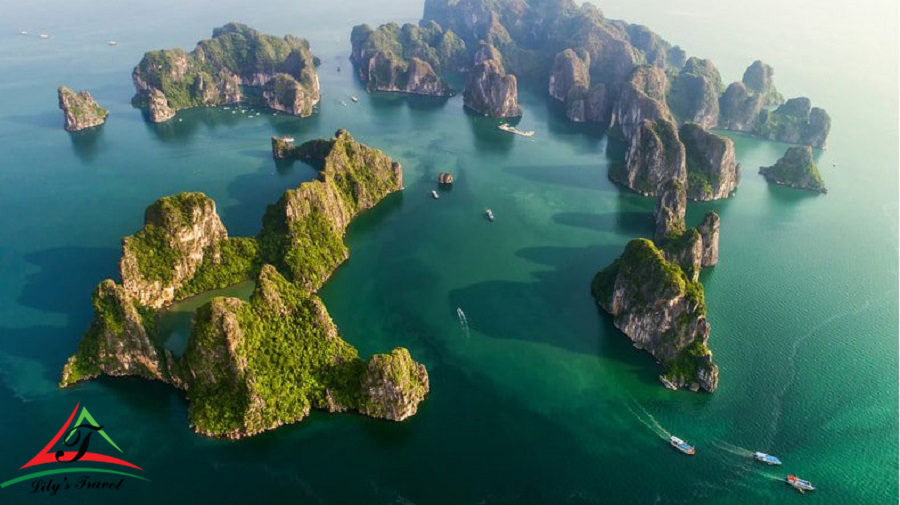 Ha Long Bay is the gift that nature gives to Vietnam with majestic mountains as beautiful as a mysterious and poetic painting. Many international tourism organizations have given a high rank for Ha Long Bay on the ranking chart of the most beautiful bay in the world. 
Recently, the world-famous travel website -Touropia voted the top 10 most beautiful bays on the planet. Accordingly, Ha Long Bay was honored to take first place in the ranking. UNESCO also recognized Ha Long Bay as a world heritage site and has become one of the destinations which have been attracting millions of visitors each year.
Location and Area
Ha Long Bay is located in the Gulf of Tonkin, the Northeast is adjacent to Bai Tu Long Bay, the Southwest is adjacent to Cat Ba Islands, the West and Northwest border the mainland, the Southeast and South are facing the Northern Gulf.
Ha Long Bay has a total area of 1553 km2, including core areas and buffer zones with 1969 large and small islands (989 named islands and 980 unnamed islands). This bay also has a coastline of 120 km. 
Environment and Climate:
The climate at Ha Long Bay separates in 2 distinct seasons: summer and winter. The summer lasts from April to October with a temperature about 27-29oC, the winter lasts from November to March next year with a lower temperature is about 16-18oC. 
The average annual temperature fluctuates about 15-25oC – this is the perfect temperature for traveling every moment a year. Not only international tourists but Ha Long Bay also attracts domestic tourists to visit, especially in long – day vocations.
Read more: Quang Ninh Museum – "Must – Visit" Place near Ha Long Bay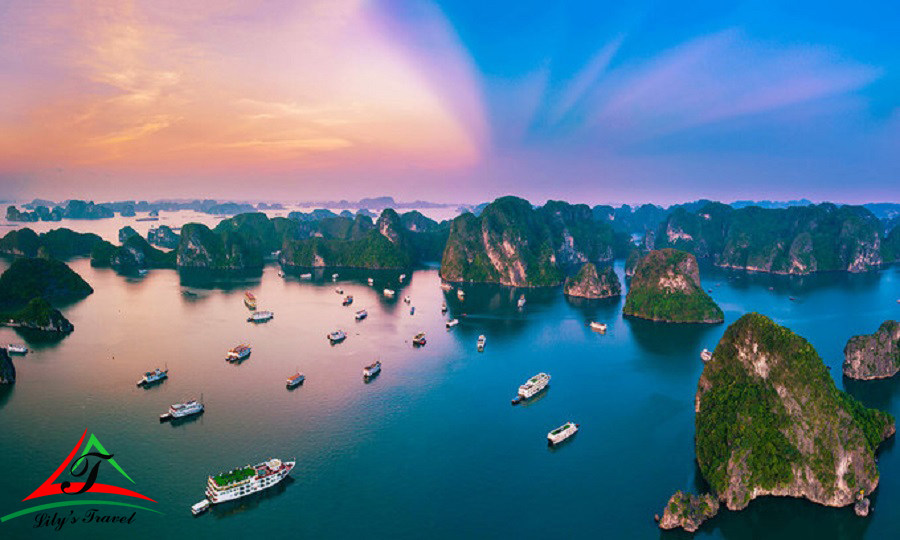 The most suitable season to go to Ha Long Bay
As we mentioned at the beginning, you can go to Ha Long bay in whatever seasons you need. But, Lily's Travel will show you the characters of Ha Long Bay month by month to let you choose the most favorous climate you like
From April to July: Almost all domestic tourists come to Ha Long Bay because this moment is the summer vacation for Vietnamese students. At this time, Vietnamese families often go to Ha Long to swim, admire the scenery of limestone mountains on yachts, explore outstanding caves. However, during this time, the sea receives many big storms so many activities may be canceled.
From September to November: Sunshine always shines, the temperature is flawless for you to swim and at the same time the number of visitors will be less than during the peak season.
From November to March: it is suitable for foreign tourists. You can go to attractions, amusement parks on the mainland and enjoy many attractive dishes.
Famous islands, islets, caves in Ha Long Bay
Tuan Chau Island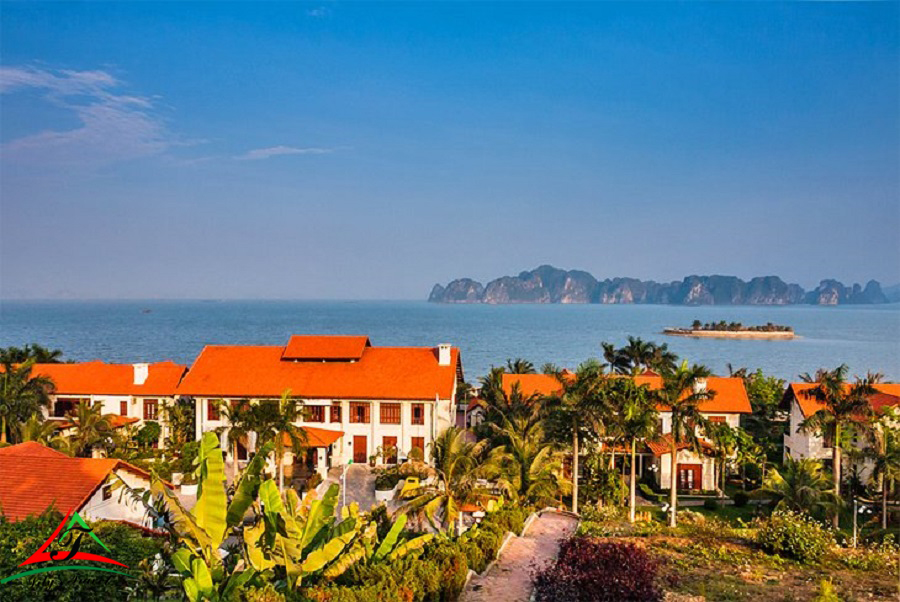 Situated 2 kilometers from Halong Bay Center, Tuan Chau is on top of tourist attractions. Dropping at Tuan Chau International Port located to the southwest of Tuan Chau Island, a safe and modern marina, with a capacity to harbor more than 1,000 ships at a time, you can take part in the overnight/day cruises embark to other areas of Halong Bay.
Soi Sim Island
Soi Sim Island is a small island nestled on the west side of Halong Bay. The island's name is derived from the rose myrtle ("sim" in Vietnamese) – this plant is found across the island and became the most ubiquitous tree. 
Titop Island
This island has been called Titov Island – named after Russian cosmonaut Gherman Titov, who visited this island with President Ho Chi Minh in 1962.
This island is located at the head of Ha Long Bay so you can take a panoramic view of magnificent Halong Bay. 
Bo Hon Island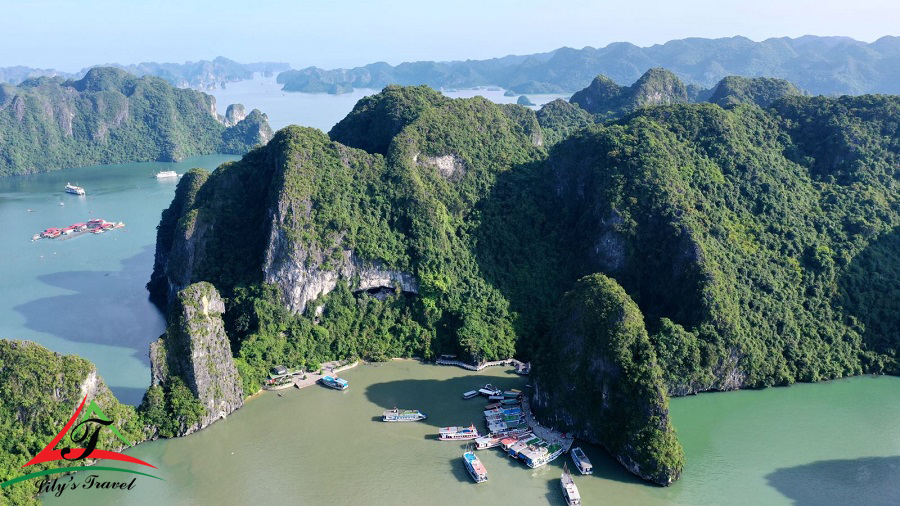 Bo Hon Island is one of the favorite islands in Ha Long Bay. This island is surrounded by many small islands to create grottoes such as Sung Sot Cave (Surprise Cave), Luon Cave, Trinh Nu Cave and Trong Cave (Drum Cave).  Its other feature is high lime-stone mountains and vertical cliffs that make unforgettable moments.
Read more: Bai Tu Long Bay: An alternative Ha Long Bay
Cat Ba Island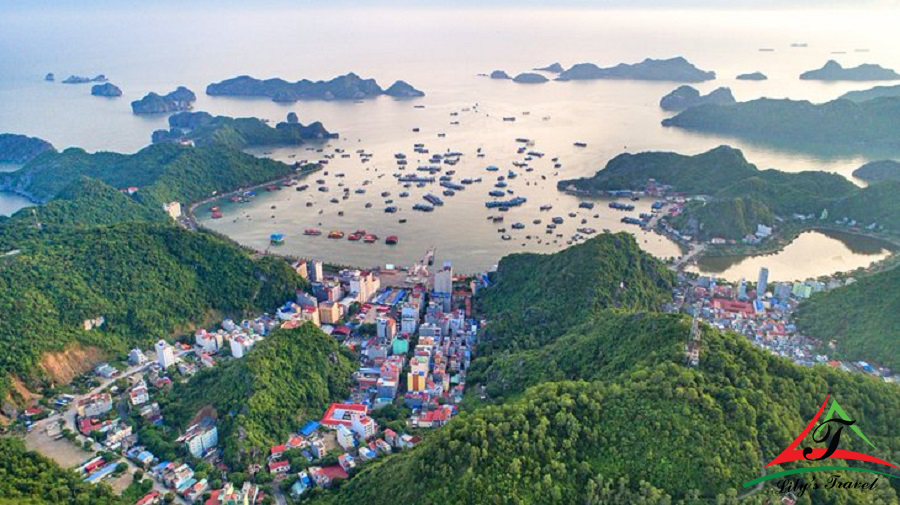 Highly recommend it whenever you come to Ha Long Bay, Cat Ba Island is known as the "Pearl Island" in the Gulf of Tonkin. This island is also the biggest and the most touristic stop you have to pass by to watch its natural beauty and biodiversity. Cat Ba National Park on this island is the first national park in Vietnam that include both ecosystems on land and in the ocean. Cat Ba National Park is a great choice if you like hiking and trekking.
Co To Island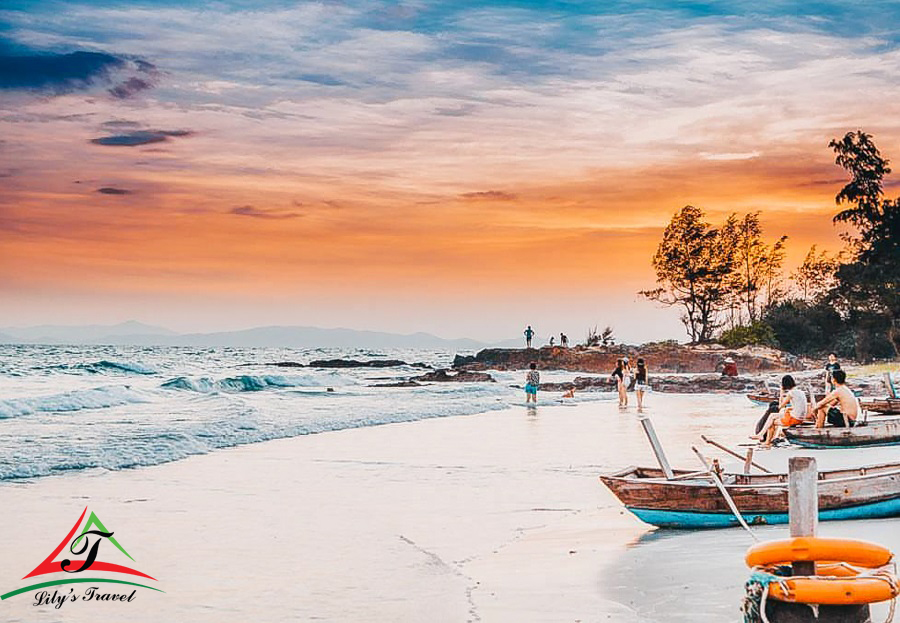 Co To Island is a complex of 50 large and small islands with many beautiful beaches, long stretches of sand and blue sea. 
We advise you should use a motorbike to move through the scattered beaches on this island, you will feel like you are trekking in a beautiful natural paradise.
Other Caves and Islets
Sung Sot Cave: Featured fossil stalactites with rich shapes. Going inside, you can have the opportunity to explore the clear lake with extremely rich flora and fauna.

Dau Go Cave: is the largest limestone cave in Ha Long with a lifespan of nearly 2 million years. The cave space with many colorful stalactites combined with moss, ferns and woody plant…. creates a unique highlight.
Luon Cave stands out with stalactite buds of different sizes and colors creating a unique and impressive feature.
Thien Cung Cave: located in the north of Dau Go Island with a 25m high cave entrance. The cave is designed with many complex blocks and layers with high and wide ceilings and walls. The stalactites and stalagmites in the cave have many interesting shapes that make this place attract many tourists. The cool atmosphere inside the cave brings a new and unique feeling to visitors.
Kim Quy cave has a length of 100m, a width of 5-10m running in the north-south direction. In the cave, there is always water flowing down the stalactites creating a magnificent and unique scene.
Ha Long Old Quarter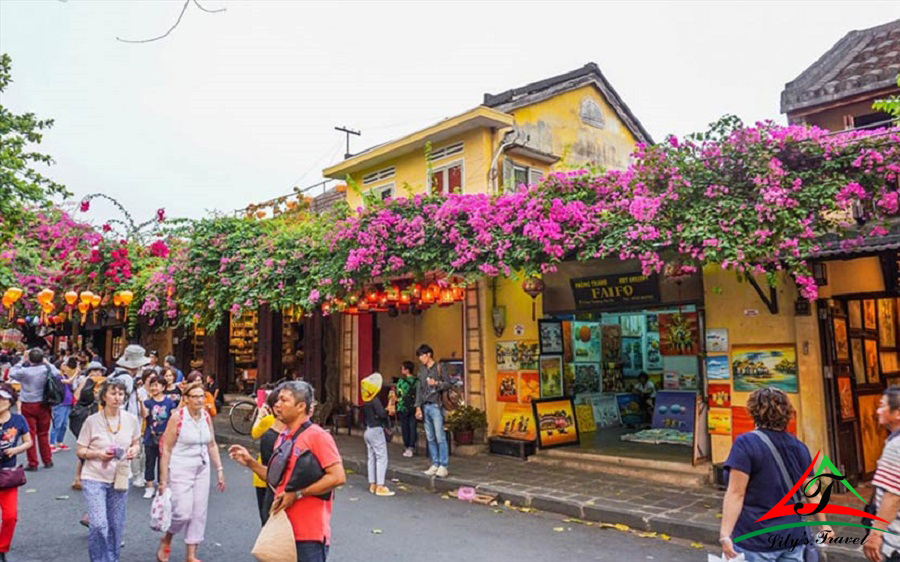 Ha Long Old Town is modeled after the architecture of Hanoi and Hoi An old town. Each street corner is meticulously designed with a narrow path combined with a house with a yellow tone as the main color. The neighborhood space brings a magical and ancient beauty. The Old Quarter sells many food and beverage products and entertainment services for tourists.
Sun World Ha Long Park
Sun World Ha Long Park is Vietnam's largest entertainment park with a large of 214 hectares and is divided into two sections: the Mystic Mountain Complex (also known as the Ba Deo Hill Park) and the Coastal Amusement Complex, including the Typhoon Water Park.
Ba Vang Pagoda and Yen Tu relic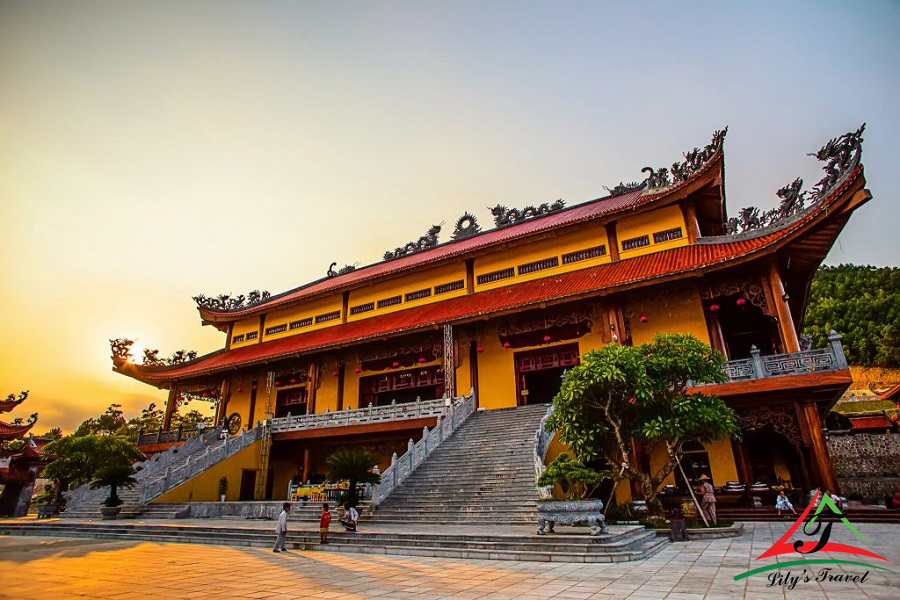 It is the spiritual tourist you also should visit. These are two famous spiritual destinations which is built following many cultural and natural beauties preserved until today.
Ba Vang Pagoda is located halfway up Thanh Dang mountain with quiet space to enjoy the fresh air. 
Yen Tu relic is located in Dong Trieu mountain range with an altitude of 1.068m above sea level. This is the place where Buddha Emperor Tran Nhan Tong chose as a place to practice and founded the Truc Lam Yen Tu. You will have the opportunity to discover the history of the temple and conquer thousands of stone steps, and mountain roads to admire Dong pagoda. At Dong Pagoda, you can see the scenery from above with clouds covering it, creating a feeling of vastness and infinity.
Find out more about Ha Long tours here.