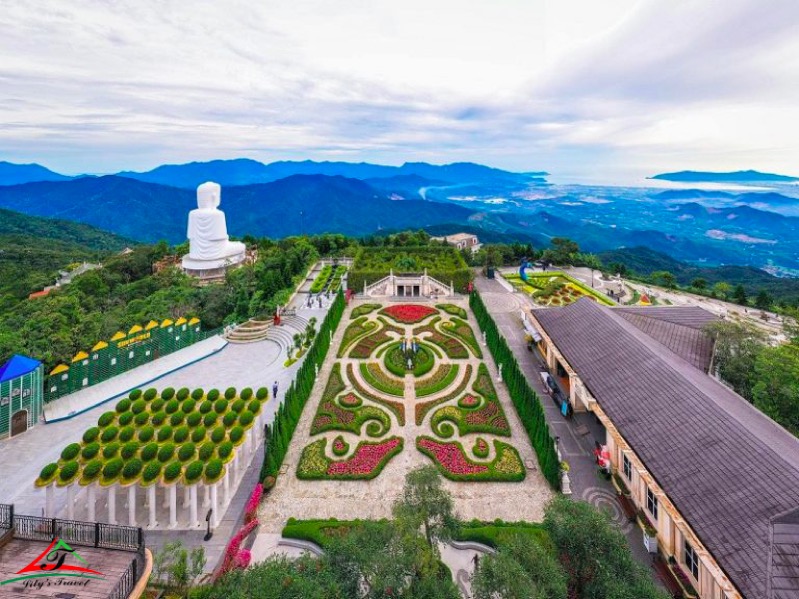 Coming to Ba Na Hills, there are many coordinates for you to explore, but most visitors cannot ignore Le Jardin D'Amour Ba Na Hills Garden. The flower garden is associated with interesting stories and is placed in a unique architectural style, which brings many emotions and unforgettable impressions to the hearts of visitors. Above all, this is also an ideal "virtual living" place that young people cannot ignore.
Location
Le Jardin D'Amour flower garden, also known as Ba Na love flower garden, is located on the east side of Ba Na mountain at an altitude of 980 m above sea level. This is one of the famous attractions of Ba Na Hills tourist area, which is known as the 'fairy ground on earth' or 'the way to heaven. This tourist complex is located on the top of Chua mountain – the highest peak of the Truong Son range, in Hoa Ninh commune, Hoa Vang district, about 30 km southwest of Da Nang city center.
To get here you only take about 40-45 minutes by car. The road to Ba Na is flat, without many turns, very easy to find and easy to go. You can choose a motorbike or a car or go on a tour.
Area and more information you should know about Le Jardin D'Amour Gardens
Le Jardin D'Amourr flower garden was built on a large scale with an area of ​​21,000 m2 stretching from the east to west slopes of the hill. A French-style flower garden is always an attractive place for tourists, especially nature lovers. Thanks to the extremely cool and fresh climate with an average temperature of only 27 degrees Celsius, it has created favorable conditions for developing many precious flowers from tropical to temperate regions. Therefore, it is considered one of the "fairy scenes" of Ba Na. All the flowers here are harmoniously arranged in different contexts, creating a backdrop with eye-catching and attractive shapes.
Read more: Tien Sa Beach: Discover the quiet beauty of the beach inside modern Da Nang city
Operation time
Opened to tourists from May 2014, this one-of-a-kind flower garden has become famous not only among domestic but also foreign tourists. Ba Na flower garden operates from 7 a.m and has no closing time limit. This means that as soon as the first cable car line opens, you can check-in.
The reasons that Le Jardin D'Amour Ba Na Hills flower garden is so attractive
The place is known as the flower garden of Ba Na's love
Any visitor coming to Le Jardin D'Amour Ba Na Hills flower garden will feel like being lost in a world of love. full of plants and flowers. Here converge nearly 1000 different flower species in the world of all colors: yellow, red, pink, purple, white, blue, … in that romantic setting, plus a cool, pleasant climate that makes your heart flutter. Everyone must be excited and fascinated.
Perhaps for that reason, the people who came here gave it the name of the flower garden of love. And also many tourists have chosen this place as a place to prove their eternal love story and record memorable moments together, next to their loved ones.
A poetic and romantic place to get a virtual living
It is not exaggerated to say that all the tourist attractions in Ba Na have beautiful pictures and flower gardens are one of them. This can be said to be the ideal place for photography enthusiasts. In the context of thousands of blooming flowers arranged in harmony, visitors standing anywhere, in any corner of the garden can easily get beautiful pictures.
In particular, every spring, this place is chosen as the venue for a flower festival with different themes. At this time, tourists from all over the world come to admire the unique designs at the flower garden and check-in.
Best time to visit
This is an issue that tourists need to pay attention to when traveling to Da Nang. According to everyone's experience, you can come here at any time of the year. The temperature in Ba Na is always 7-8 degrees lower than in Da Nang city, so it is cool and pleasant all year round (including summer). However, because Le Jardin D'Amour's love flower garden is located outdoors, you should choose the most appropriate time to be able to fully admire its beauty and take photos.
Usually, tourists choose to travel to Ba Na around March-August every year. At this time, the weather here is very beautiful, the temperature is stable, the nature is green, the scenery is full of life. Moreover, these months are mostly sunny, with very little rain, convenient for sightseeing. But this is the peak season that can happen crowded, a bit difficult if you want to have a picture without people. In addition, the time of December or November is also considered quite good, so you can arrange to go. At this time, the weather on Ba Na Hills is also quite dry, especially since fewer tourists will be quite comfortable visiting. If you choose to go in the winter, it is difficult to fully experience the flower garden, but in return, you will be able to participate in many special festivals.
Read more: Xuan Thieu Beach: The wildness of Da Nang city
Details of the kinds of flowers at Le Jardin D'Amour Ba Na Hills
At Le Jardin D'Amour flower garden, there are hundreds, even nearly thousands of beautiful and colorful flowers arranged and artistically shaped on the top of the mountain. The beauty of flowers combined with the cool climate makes it like a miniature Da Lat that anyone who comes here does not want to leave.
Coming here, visitors will surely fall in love with the pristine and beautiful hydrangea flowers from turquoise, pale pink, blue, purple, and bold. Purple lavender flowers symbolize luck and harmony – the color of the herb flowers brought from the South of France is also brilliant in a corner of the sky. Prominent in that sky background are the brilliant colors of the night petunia, jade grass, lotus, and five stars. Visitors do not forget to admire the sweet purple bar, and brilliant roses.
The meaning of 9 gardens in Le Jardin D'Amour garden
Le Jardin D'Amour has a unique feature compared to other flower gardens because of its unique flowers and architectural layout, art installation creating many areas with each distinct meaning. Currently, the flower garden is divided into 9 small gardens with 9 styles and 9 meanings. All are very flying, sweet as if they want to send visitors good things and beautiful ideas.
Suoi Mo Garden (La rivière de rêve)
Suoi Mo Garden is located on gently sloping terrain with panoramic views of Ba Na. The garden begins the story with the romantic purple color of Arapang flowers interspersed with the bright yellow of Golden Acupuncture. The steps are cleverly arranged with colorful patches of flowers, creating a harmonious highlight. Suoi Mo Garden simulates the landscape of a tourist area with streams flowing all year round.
The Garden of Secrets (Le jardin des secrets)
As its name suggests, this garden has a strange charm and mystery. It is designed with small walkways erected by tree walls leading deep inside, making visitors feel like being lost in a maze. This is also the garden with the largest total tree wall area in the world.
Garden of Eden (Le jardin d'Eden)
Just hearing the name is enough to understand that this is the place where flowers are exchanged between heaven and earth, where the life of all things originates. The Garden of Eden has a large area, gathering all kinds of unique flowers from many different countries around the world, through the care of artists that radiate fragrance and brilliance. The highlight here is the intentional arrangement of the designer with the color patches of flowers, forming motifs simulating bell peaches. This vibrant and exotic garden is great for watching the sunrise and sunset.
Garden of thought (Le Jardin au Vu)
As one of the 9 impressive gardens of Le Jardin D'Amour Ba Na Hills flower garden, the garden of meditation also creates excitement for many visitors. Designed with the image of an hourglass flowing towards a seemingly endless place that ended in a Western reflective chess game. It symbolizes the endless life of this fairyland. Visiting the garden you will find many new ideas for yourself because there is a strange and attractive way here.
The Garden of Memory (Le Jardin de memories)
The memory garden is designed in the form of a water stream, symbolizing the flow of memories in the time domain associated with the 4 kings who govern the 4 seasons of the year. Each season brings a beautiful memory of 4 different flower beds that everyone wants to return to once. You will feel the time pass slowly or quickly, or go back to the memory to find the sweet past that you have lost.
The Garden of Lovers (Le jardin des epoux)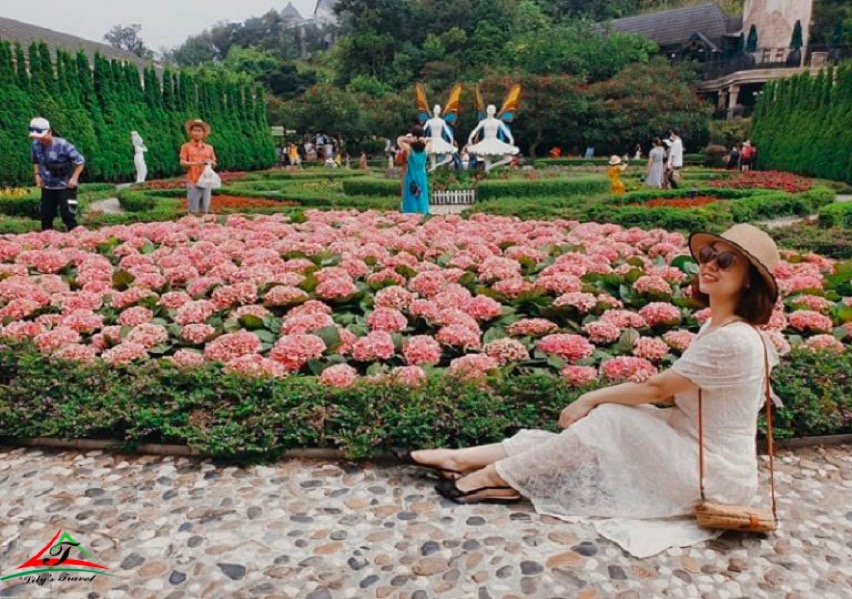 Located in the heart of Le Jardin D'Amour flower garden, this is a place that will be charming and fruitful for many couples. For a long time, the French have been known to be very romantic and delicate, they always live to the fullest in love and sweet kisses. It was this that the artist brought into the garden. Therefore, the love garden is very popular with couples, they stop by to take pictures to prove their love.
The Mythical Garden (Le jardin historique)
Its magnificent columns and pure white, with delicate colorful petals, impress visitors. Everything is cleverly arranged and arranged to make one feel like entering the world of the ancient Greeks. The mythical garden is inspired by the image of the top of Olympus with the sacred gods on the slopes of Athens, which is both a bit mystical but equally beautiful.
Sacred Garden (Le bois d'Amourr)
The sacred garden is a place to display the ancient Greek gods, a place where lovers promise everlasting love. They believe that every promise of love will always be witnessed and blessed by the gods above, so the loving couple will come together and be happy forever. It is designed in the French style, giving visitors a feeling of both intensity and tenderness, like the emotions in love.
Vines yard (Le jardin de vignes)
This place is associated with the 100-year-old Debay cellar of the French left after the war with the French ended and withdrew from Vietnam. People keep and transmit this garden as a souvenir, a beautiful culture of the French, where there is only passion and life about grapes, very idyllic and simple. The entire garden is designed very elaborately, recreating the vineyard land so that visitors can most authentically feel the South of France's beauty.
Find out more about Da Nang tours here: