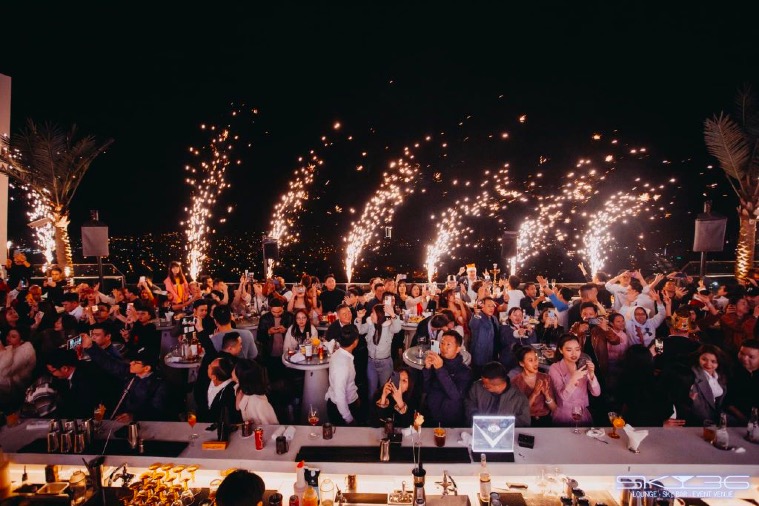 Sky Bar 36 is one of the number 1 entertainment venues in Da Nang. Along with the dynamic development of the coastal city, many services have appeared, and entertainment services with alcoholic drinks and boisterous music have also been present in Da Nang. And Sky Bar 36 is an excellent representative in that.
General information
– Address: Floor 35, 36 and 37 Novotel DaNang Premier Han River hotel – 36 Bach Dang, Thach Thang ward, Hai Chau district, Da Nang city.
– Opening hours: 18h00 – 02h00
– Phone: 0901 1515 36
– Email: info@sky36.vn
– Website: http://www.sky36.vn/
– Age allowed: 18 years old and up
– Type of business: Sky Bar, Nightclub, Lounge, Event Venue
– Music often used: Hip Hop, EDM, R&B
Located on the top of the tallest building in Da Nang, Sky Bar 36 is an ideal destination that you cannot ignore in your journey to discover Vietnam tourism. Sky Bar 36 will definitely bring guests memorable experiences when watching Da Nang city at night. Located on the 36th floor of the Novotel hotel building, when coming to Sky Bar 36 Da Nang, the landscape seems to be reduced to the eye, can see the vast sea, the poetic Han River, majestic mountains . Many people will be quite interested in the modern glass elevator system running directly from the 1st floor to the 36th floor, helping visitors come here to have a feeling of excitement before entering Sky Bar 36.
With a high-class entertainment model, delicately combining a vibrant dance floor of a modern discotheque with a luxurious and classy Lounge space, Sky Bar 36 is the right place to hold intimate parties. , private. This is a perfect design for those who are looking for a stylish, trendy experience.
What should you pay attention to when coming to Sky Bar 36?
– You must ensure that you are 18 years or older to enter the gate, by bringing your Identity Card or Citizen ID. Another small note when coming to Sky Bar 36 you should wear shoes, not shorts.
– Choose an outfit suitable for this type of entertainment.
– Learn in advance the English names of some drinks.
– Absolutely do not use stimulants, should choose beers and wines with low alcohol content. Let's entertain in a civilized way, with friends "dance" to the vibrant Dance music, sip a glass of wine and admire the beautiful city view.
– Use public transport to the bar, be it a taxi, technology car companies, etc.
Read more: Son Tra Night Market: Da Nang shopping paradise
Feel the heat from Sky Bar 36
Sky Bar 36 consists of 3 floors with an area of ​​1000m2 and an average capacity of 500 guests per floor, this Da Nang Bar is a harmonious combination of outdoor and indoor space for visitors to experience a sophisticated feeling. , fashion.
Floor 35 – Sky Bar Indoor Lounge Area 36
This is an impressive sofa area with open space and the VIP room is designed extremely elegantly, exuding luxury and modernity, majestic with high-class furniture, suitable for VIP guests, meetings, private conversations, intimate conversations.
– Capacity in common space: 700 guests
– Capacity in private room: 50 guests. Each room has a private balcony, sofa table, LCD TV screen, air conditioner, modern sound system.
Floor 36 – Outdoor Sky bar area
As a crowded outdoor area, completely conquering customers by the ideal view of Da Nang city at night, with the most modern and modern sound and light system, Sky Bar 36 promises to bring the best experiences to customers. Great entertainment experience, vibrant atmosphere in top music space. This is an area with a night club and bar space, for guests who like to dance, with a vibrant atmosphere.
– Capacity: 500 guests
– There is a VIP table
– There are stage, DJ podium, LED screen and central bar
Floor 37 – Outdoor party area
With a capacity of 200 guests, this is the ideal place for monumental, unique events, or luxurious parties: birthday parties, anniversaries, weddings, year-end parties,….
Read more: Fantasy Park: The best way to explore to get the most fun and excting
Menu at Sky Bar 36
In addition to enjoying music, Sky Bar 36 Danang always updates the new and attractive theme of different events on a weekly basis with interesting content. The menu to serve you is rich and varied. The drinks at Sky 36 are not only delicious, strange and unique, but also very eye-catching with professional service. Spirits, aromatic cocktails, smoothies… all are prepared and presented in the most perfect version that can't be mixed anywhere, in the style of Sky Bar 36.
When you enjoy a glass of fragrant cocktail and listen to the music playing, life is so light and pleasant. In addition, you can also drop your soul into the impressive bartender performances that create excitement for the spectators.
Snacks such as fruits and cakes at Sky Bar 36 are also very sophisticatedly presented, the taste is in harmony with the drinks, creating a great feeling. Combos of food and drinks are available for tourists traveling with many people, with favorable prices. Satisfy customers from each dish, satisfy the most demanding diners.
Events at Sky Bar 36
With a convenient location and great outdoor space, you will easily notice that many events on holidays and Tet are held at Sky Bar 36. Besides, Sky 36 also regularly invites guests Hot artists performing such as singer Lynk Lee, rapper MCK, T-Linh, …
If you love vibrant music, you should definitely not miss Sky Bar 36 in your schedule when coming to Da Nang. This is a place to help you relieve all stress, live in music besides the activities of visiting Da Nang , discovering Da Nang cuisine . With a great atmosphere, lively music, a few glasses of wine with friends,… will make you feel more joy in life.
Find out more about Da Nang tours here: https://lilystravelagency.com/central-vietnam-tours/