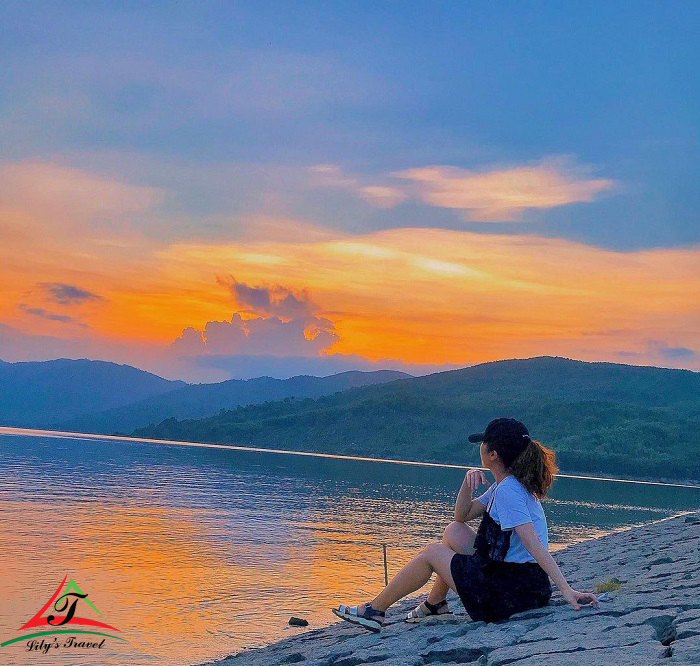 Dong Xanh – Dong Nghe Lake attracts visitors through activities such as boating, sightseeing, picnics… This is a place where you can immerse yourself in the idyllic and poetic beauty of nature. Dong Xanh – Dong Nghe Lake is one of the famous tourist destinations in Da Nang. Different from the excitement and bustle of destinations such as My Khe beach, Dragon bridge, etc., this place offers visitors relaxation and peace with poetic nature. With the idea of ​​​​picnics and camping, this is a place worth experiencing!
Location
Where is Dong Xanh – Dong Nghe Lake? This is a famous Da Nang tourist destination located on the territory of Hoa Khuong commune, Hoa Vang district, Da Nang, about 25km west of the city center. This area is divided into 2 landmarks:
The area from Khe Ngang upwards is called: Dong Xanh
The area from Khe Ngang down is called: Dong Nghe
This address is an irrigation work up to 20 years old. The main activity of the project is to provide water for irrigation and prevent flooding.
Different from the hustle and bustle of the city center, Dong Xanh – Dong Nghe Lake possesses a poetic and unspoiled natural setting. The harmony between the natural beauty and the clear blue lake creates a peaceful and enjoyable space for many visitors. Here, you can experience many attractive outdoor tourism activities such as camping, sightseeing, planting forests, boating, etc.
Directions
Dong Xanh – Dong Nghe Lake is about 40 minutes away from the city center. You can start in the direction of the Hoa Cam overpass, then follow Highway 14B to Phuoc Nhon hot spring. At this point, you will see a very large dam, right next to this address is Dong Xanh – Dong Nghe lake. Right from the moment you arrive here, you will surely be "swept" by the fresh and cool air. So, if you are planning a self-sufficient trip to Da Nang, don't miss this destination!
Read nore: Tien Sa Beach: Discover the quiet beauty of the beach inside modern Da Nang city
What to do
According to the experience of backpackers, the best time to travel in Dong Xanh – Dong Nghe is from May to July. Because it is a "green" tourist destination, during a sunny period, you will feel more clearly the beauty of nature and can combine it with many interesting activities such as a lake, boating…
Camping overnight
One of the most ideal experiences at Dong Xanh – Dong Nghe lake is camping overnight on the grass. This form is suitable for crowded trips with friends and relatives. There is a tent rental service for only 60,000 – 80,000 VND/tent/night . You can prepare a few more snacks, and drinks… to help ensure living when camping here.
Luxury check-in
Dong Xanh – Dong Nghe Lake is one of the super hot check-in places in Da Nang. Here, the scene is poetically created by green lawns, clear lake water and many undulating cliffs… promises to help you get the most unique and strange pictures.
Telling visitors a beautiful photography option is to move upstream. The fee up here is about 50,000 VND/person. From upstream, visitors will surely be ecstatic at the magnificent beauty that nature brings.
Cycling
The road around the lake has a length of several tens of kilometers, paved with flat concrete, so many tourists choose to cycle around the lake – both doing sports and enjoying the green nature. When traveling, you can also stop at many beautiful photo spots to save yourself moments at Dong Xanh – Dong Nghe Lake.
Watch sunrise and sunset
If the Da Nang tourist areas inside the city bring you interesting activities, Dong Xanh – Dong Nghe also has many equally attractive experiences. Many visitors come here especially to enjoy watching the sunrise or sunset. The gentle rays of sunlight blend into the clear blue lake, creating a romantic scene. Many colors of nature blend to create a beautiful background for you to "live virtual".
Read more: Tien Sa lighthouse: A new spot to see Da Nang overview
Kayaking
If you intend to move to the upstream or lake area, you need to rent a boat. The kayaking experience is also extremely interesting, visitors can try this new activity. However, do not forget to bring a life jacket, and pay attention to the instructions to ensure safety!
Discover the life of people
The area around Dong Xanh lake is the living area of ​​many households. Their main job is afforestation, farming, so you can come and explore the life of the people. Their friendliness and simple lifestyle will help you have more interesting experiences.
Dong Nghe Green Field Fishing
Fishing in Dong Xanh – Dong Nghe Lake is also one of the ideal activities to attract a large number of tourists to Da Nang. You can stand on the rocks along the shore or take a boat to the middle of the lake. Alternatively, visitors can also join the locals.
What do you need to prepare for Dong Xanh – Dong Nghe lake tour
Dong Xanh – Dong Nghe Lake Tourist Area is no stranger to many tourists. For those who are planning to come to Da Nang, this is one of the places to choose. For the most convenient trip, you should prepare additional items such as:
Clothing: Depending on your needs, you can choose the appropriate clothes. For example, just to visit and explore, you should wear neat and comfortable clothes. If you come to take pictures, you should prepare yourself with beautiful outfits.
Should prepare sunscreen, hat, insect repellent, and sunglasses.
If you travel by motorbike, you should check the car carefully, full of gasoline.
Prepare money for services such as buying tickets, boating, renting camping tents…
Click here to find out more about Da Nang tours.