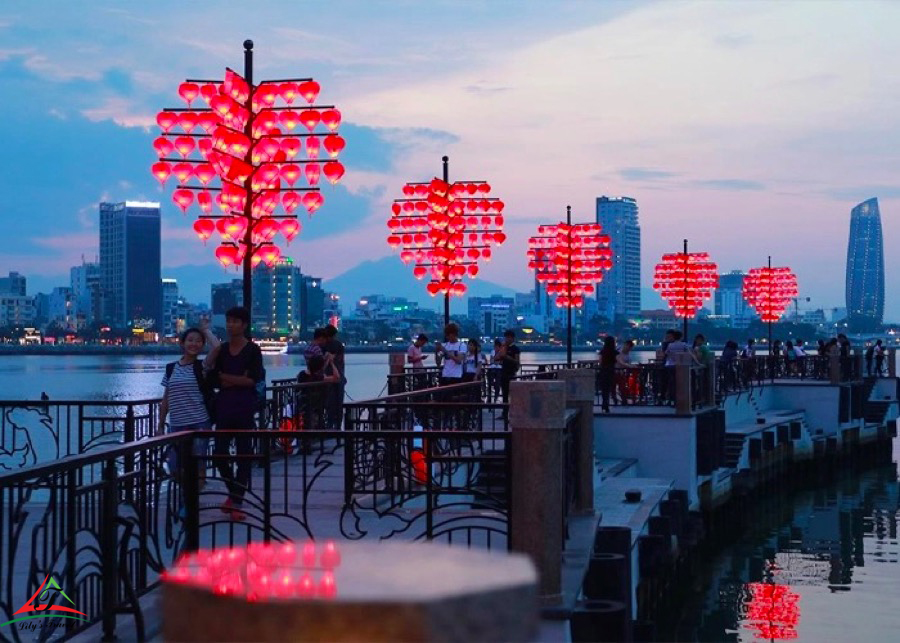 Even Da Nang Love Bridge does not have the "legend of love story' or unique architecture like other bridges in Da Nang but the pack padlock hung on this bridge is a romantic love story, attracting visitors.
Located in the heart of the city, Da Nang Love Bridge is a favorite check-in place for many young people. Not only that, some entertainment activities near the bridge are also what make every visitor want to experience once.
Location
Da Nang Love Bridge is on the East side of the Han River – the famous river of Da Nang. The bridge has an arc shape and has been in operation since 2015. The Love Bridge is located between the Dragon Bridge and the Han River Bridge, so standing from here, you can see many beautiful and famous city landscapes.
Love Bridge in Da Nang is inspired by famous love bridges in the world such as Italy, France, Russia, and Germany. This is a place for couples to show off their love and mark the period of their love stories. The love locks represent strong, eternal love. Therefore, the bridge is a suitable tourist destination in Da Nang for couples coming and making memories.
Read more: Le Jardin D'Amour Gardens: The paradise of flower
Discover the beauty of the bridge of love in Da Nang
The unique design of the bridge
With an arc design, the 68m-long love bridge is likened to a soft silk strip crossing the Han River. Although the bridge is not too long, with its special position and meaning, the bridge still receives a lot of love from tourists, becoming the love symbol of the city.
The shimmering and fanciful beauty of Da Nang's Love Lock Bridge at night
Explore the bridge of love right away to have the best check-in photos here. At night, the bridge of love also brings the splendor of Da Nang. The lights reflect on the river surface creating a romantic and fanciful scene.
In particular, next to the bridge of love, there is Happiness Cruise – a yacht inspired by the movie Titanic, you can enjoy meticulously prepared drinks and admire the beauty of
Han River Bridge, and Dragon Bridge. , Thuan Phuoc Bridge…
Da Nang Love Bridge – the love mark
Love locks without keys
Love locks came from Italy or France abou a decade ago. After that, this trend was imported to many countries, including Vietnam. Visitors can bring their locks or buy them at nearby shops.
The price of Da Nang Love Bridge locks is about 70,000 – 250,000 VND/lock.  Each padlock is molded into a heart shape with the names of couple. This lock engraves and symbolizes lasting and eternal love. Couples usually throw away the key so no one can open it.
Heart-shaped lanterns symbolize love
As if to increase the romance on the bridge, each lantern pole forms a heart shape. Many restaurants and eateries in the city have also taken this image of a lantern as proof of love and fidelity.
Read more: Linh Chua Linh Tu Temple
The statue of a carp turning into a dragon symbolizes luck and prosperity
The carp turning into a dragon is a spiritual symbol of Vietnam that representes luck and success. At the same time, only those who have the qualities of resilience, perseverance, and desire to rise in life.
Visitors look at the image of carp crossing the dance floor as a reminder to always try and consistently overcome challenges in life. Not only that, but this is also a symbol for Da Nang people to always aim for a civilized and modern life without losing the national culture's unique characteristics.
Other beautiful bridges in Da Nang you should visit
Da Nang also has many other beautiful bridges that you should visit and check in such as: Han River Swing Bridge, Nguyen Van Troi Bridge, Dragon Bridge Da Nang, Thuan Phuoc Bridge.
Besides check-in at the famous bridges in Da Nang, you should visit VinWonders Nam Hoi An to make your trip to Da Nang memorable with a lot of interesting experiences.
Have a great time at Water World with Dragon Slide, Boomerang Slide…
Visit, explore and check in at Folklore Island – where architectural space from North to South converges, and at the same time, faithfully reproduces craft villages and types of Vietnamese folk art.
Love Bridge Da Nang is a destination that you cannot ignore when traveling to Da Nang. Don't forget to consult and book vouchers, combos, Da Nang tours to make the trip more complete than ever!
Find out more about Da Nang tours here: